Una mirada a la contabilidad ambiental. Postulados y retos
Mónica Lizette Bernal Montero

Pontificia Universidad Javeriana

Estefanía Santos Betancur

Pontificia Universidad Javeriana
Palabras clave:
Contabilidad ambiental, desarrollo sostenible, legitimidad, responsabilidad social empresarial
Resumen
La relevancia que el tema medioambiental ha tomado en los últimos años ha hecho que diferentes entes regulatorios se pronuncien e intenten establecer ciertos lineamientos a lo que se considera se ha tornado un tema destacado para todos. La contabilidad, con su propósito para informar los diferentes hechos económicos, se ha pronunciado también sobre lo que se denomina contabilidad ambiental y que se entiende reporta en términos económicos, las actividades medioambientales de las compañías. En este artículo se exploran los diferentes matices que caracterizan a la contabilidad ambiental, tomando en cuenta las posturas de diversos autores nacionales e internacionales y a la vez se exponen  las críticas y las propuestas que se han concebido para mejorarla.

|Resumen = 1844 veces | PDF = 520 veces|
Descargas
La descarga de datos todavía no está disponible.
Citas
Bebbington J., Russell, S. y Thomson, I. (2017). Accounting and sustainable development: Reflections and propositions. Critical Perspectives on Accounting. 48. 21-34. https://doi.org/10.1016/j.cpa.2017.06.002
Bennett, M., y James, P. (2000). The green bottom line environmental accounting for management: current practice and future trends. Editors: Bennett, M., James, P. New York: McGraw-Hill Professional. ISBN: 1874719241.
Brundtland, G. H. (Ed.) (1987). Report of the World Commission on Environment and Development: Our Common Future. New York: Naciones Unidas. Obtenido de http://www.un-documents.net/our-common-future.pdf
Cho, C. H., y Patten, D. M. (2013). Green accounting: Reflections from a CSR and environmental disclosure perspective. Critical Perspectives on Accounting. 24. 443– 447. Recuperado de: https://doi.org/10.1016/j.cpa.2013.04.003>
Correa-Garcia, J. A., Garcia-Benau, M. A., & Garcia-Meca, E. (2018). CSR communication strategies of Colombian business groups: An analysis of corporate reports. Sustainability, 10(5), 1–19. https://doi.org/10.3390/su10051602
Deegan, C. (2013). The accountant will have a central role in saving the planet . . . really? A reflection on 'green accounting and green eyeshades twenty years later. Critical Perspectives on Accounting. 24. 448–458. https://doi.org/10.1016/j.cpa.2013.04.004
Deegan, C. (2016). Twenty-five years of social and environmental accounting research within Critical Perspectives of Accounting: Hits, misses and ways forward. Critical Perspectives on Accounting. 43. 65–87. https://doi.org/10.1016/j.cpa.2016.06.005
Gray, R., Bebbington, J. y Walters, D. (1999). Contabilidad y auditoría ambiental. (Traductor Samuel Mantilla). Bogotá: ECOE. ISBN 958-648-206-5. (Trabajo original publicado en 1992).
Gray, R. (2013). Back to basics: What do we mean by environmental (and social) accounting and what is it for?—A reaction to Thornton. Critical Perspectives on Accounting. 24. 459–468. https://doi.org/10.1016/j.cpa.2013.04.005
Hernández, D. (2011). Contabilidad ambiental: Fundamentos epistemológicos, humanistas y legales. Revista Económicas CUC. 32(1). 35-44.
Hopwood, A.G. (2009). Accounting and the environment. Accounting, Organizations and Society. 34. 433–439. https://doi.org/10.1016/j.aos.2009.03.002
Ignat, G, Timofte A. A, y Acostăchioaie, F. (2016). Green Accounting Vs Sustainable Development. Agronomy Series of Scientific Research/Lucrari Stiintifice Seria Agronomie. 2016, Vol. 59 Issue 1, 245-248.
Macías, H. y Velásquez, S. (2017). Avances de la contabilidad social y ambiental en su contexto original. Contaduría Universidad de Antioquia, 70, 13-41.
Mejía, E. y Serna, C. A. (2016). Contabilidad Ambiental: enfoque de publicaciones en Colombia (2009-2012). Revista Electrónica de Investigación en Ciencias Económicas.4 (7).74-104.
Quiñonez, E., Balladares, K. y Estrada, F. (2016). Reflexiones sobre la Contabilidad Ambiental. Revista Publicando, 3(7).156-166. ISSN 1390-9304.
Rout, H. S. (2010). Green Accounting: Issues and Challenges. IUP Journal of Managerial Economics. Aug, Vol. 8 Issue 3, p46-60.
Spence, C., Chabrak, N. y Pucci, R. (2013). Doxic sunglasses: A response to "Green accounting and Green Eyeshades: Twenty years later". Critical Perspectives on Accounting.September 24(6): 469-473. https://doi.org/10.1016/j.cpa.2013.05.002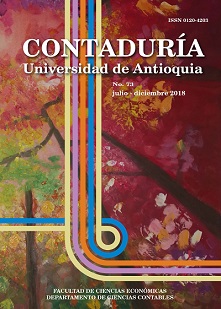 Los derechos de autor sobre los artículos son cedidos a la Revista para disponer de resúmenes y el texto completo en bases de datos que difunden los contenidos de cada edición.