Inequidad, violencia y pobreza en los municipios de Colombia
Palabras clave:
desigualdad del ingreso, violencia, modelo lineal, variables instrumentales, Colombia
Resumen
La desigualdad en los ingresos, la pobreza y la violencia han sido asociadas en la teoría aunque actualmente no existe una evidencia causal sólida sobre las relaciones entre estas en los países en desarrollo. El trabajo utiliza datos municipales de 1993 y 2005 para estimar el vínculo entre la pobreza y la desigualdad con la violencia. El modelo usado es Tobit, constituido por variables instrumentales que permiten solucionar los problemas de causalidad inversa. Los resultados muestran que en el período analizado un incremento de un punto porcentual en el coeficiente de Gini se traduce en un aumento del 4% en la tasa de homicidios por cada 100.000 habitantes, mientras que en la pobreza la tasa se incrementa un 7%.
|Resumen = 396 veces | PDF = 363 veces|
Descargas
Los datos de descargas todavía no están disponibles.
Citas
Baharom, A. H., y Habibullah, M. S. (2014). "Crime and income inequality: The case of Malaysia". Journal of politics and law, 2 (1), p55.
Becker, G. (1968). "Crime and punishment: An economic approach", Journal of Political Economy,
Vol 76, No.2, (marzo-abril).
Bejarano, J.A. (1996). "Inseguridad y violencia: sus efectos económicos en el sector agropecuario". Revista Nacional de Agricultura, No. 914- 915.
Bircan, C., Brück, T., y Vothknecht, M. (2010). "Violent conflict and inequality". Discussion
papers German Institute for Economic Research No. 1013).
Blau, J. R., y Blau, P. M. (1982). "The cost of inequality: Metropolitan structure and violent
crime". American Sociological Review, 114-129.
Breen, R., y Jonsson, J. O. (2005). "Inequality of opportunity in comparative perspective: Recent
research on educational attainment and social mobility".Annual review of sociolog y, 223-243.
Brush, J. (2007) "Does income inequality lead to more crime? A comparison of cross-sectional
and time-series analyses of United States counties," Economics Letters, 96: 264-268.
Cárdenas, M. (2007). "Economic Growth in Colombia: A Reversal of Fortune?" Ensayos sobre
política económica, 25(53), 220-258.
Ceccato, V. (2014). "The geographic, socioeconomic, and cultural determinants of violence".
Oxford Textbook of Violence Prevention: Epidemiolog y, Evidence, and Policy, 77.
Chintrakarn, P; y D. Herzer. (2012). "More inequality, more crime? A panel cointegration
analysis for the United States," Economic Letters, 116(3): 389-391.
Demombynes, G; y B. Özler. (2005). "Crime and local inequality in South Africa," Journal of
Development Economics, 76(2): 265-292.
Elgar, F. J., y Aitken, N. (2011). "Income inequality, trust and homicide in 33 countries". The
European Journal of Public Health, 21(2), 241-246.
Enamorado, Ted; Lopez-CALVA, Luis-Felipe; Rodriguez-Castelan, Carlos y Winkler,
Hernan. (2014) "Income inequality and violent crime: evidence from Mexico's drug
war" Policy Research working paper; no. WPS 6935. Washington, DC: World Bank Group.
http://documents.worldbank.org/curated/en/2014/06/19705699/income-inequalityviolent-crime-evidence-mexicos-drug-war
Fernández, M., Hernández, C., Ibáñez, A. M., y Jaramillo, C. (2009). "Dinámicas departamentales de pobreza en Colombia 1993-2005". Los dilemas territoriales del desarrollo en
América Latina. RIMISPIDRC.
Fajnzylber, P; Lederman, D; and N. Loayza. (1998). Determinants of Crime Rates in Latin
America and the World. The World Bank, Washington, DC.
Fajnzylber, P; Lederman, D; and N. Loayza. (2002a). "What Causes Violent Crime?" European
Economic Review, 46(7): 1323-1356.
Fajnzylber, P; Lederman, D; and N. Loayza. (2002b). "Inequality and Violent Crime," Journal
of Law and Economic, 45(1): 1-40.
Freeman, R (1999). The Economics of Crime, Handbook of Labor Economics, 3c, edited by
O. Ashenfelter and D. Card. Elsevier Science
Hofstetter, M. (1998). "La violencia en los modelos de crecimiento económico". Revista de
Economía del Rosario, 1(2).
Hsieh, C. C., y Pugh, M. D. (1993). "Poverty, income inequality, and violent crime: a meta-analysis
of recent aggregate data studies". Criminal Justice Review, 18(2), 182-202.
Kennedy, B. P., Kawachi, I., Prothrow-Stith, D., Lochner, K., y Gupta, V. (1998). "Social
capital, income inequality, and firearm violent crime". Social science & medicine, 47(1), 7-17.
Nadanovsky, P; and J. Cunha-Cruz. (2009). "The relative contribution of income inequality
and imprisonment to the variation in homicide rates among developed (OECD), South
and Central American countries." Social Science y Medicine, 69: 1343–1350.
Poveda, A. (2011). "Economic Development, Inequality and Poverty: An Analysis of Urban
Violence in Colombia," Oxford Development Studies, 39(4): 453–468.
Pridermore, W. A. (2011). "Poverty Matters: A Reassessment of the Inequality-Homicide Relationship in Cross-National Studies," The British Journal of Criminolog y, 51(5): 739-772.
Querubin, Pablo, (2004), "Crecimiento departamental y violencia criminal en Colombia",
Documentos Cede, Universidad de los Andes-Cede, http://EconPapers.repec.org/
RePEc:col:000089:002214
Restrepo, J. A. (2009). Análisis económico de conflictos internos. Guerra y violencias en
Colombia, 275-314.
Rubio, M. (1995). "Crimen y crecimiento en Colombia". Coyuntura Económica. V. XXV, No. 1
(Marzo).
Whitworth, A. (2012). "Local Inequality and Crime: Exploring how Variation in the Scale
of Inequality Measures Affects Relationships between Inequality and Crime," Urban
Studies, 50(4): 725-741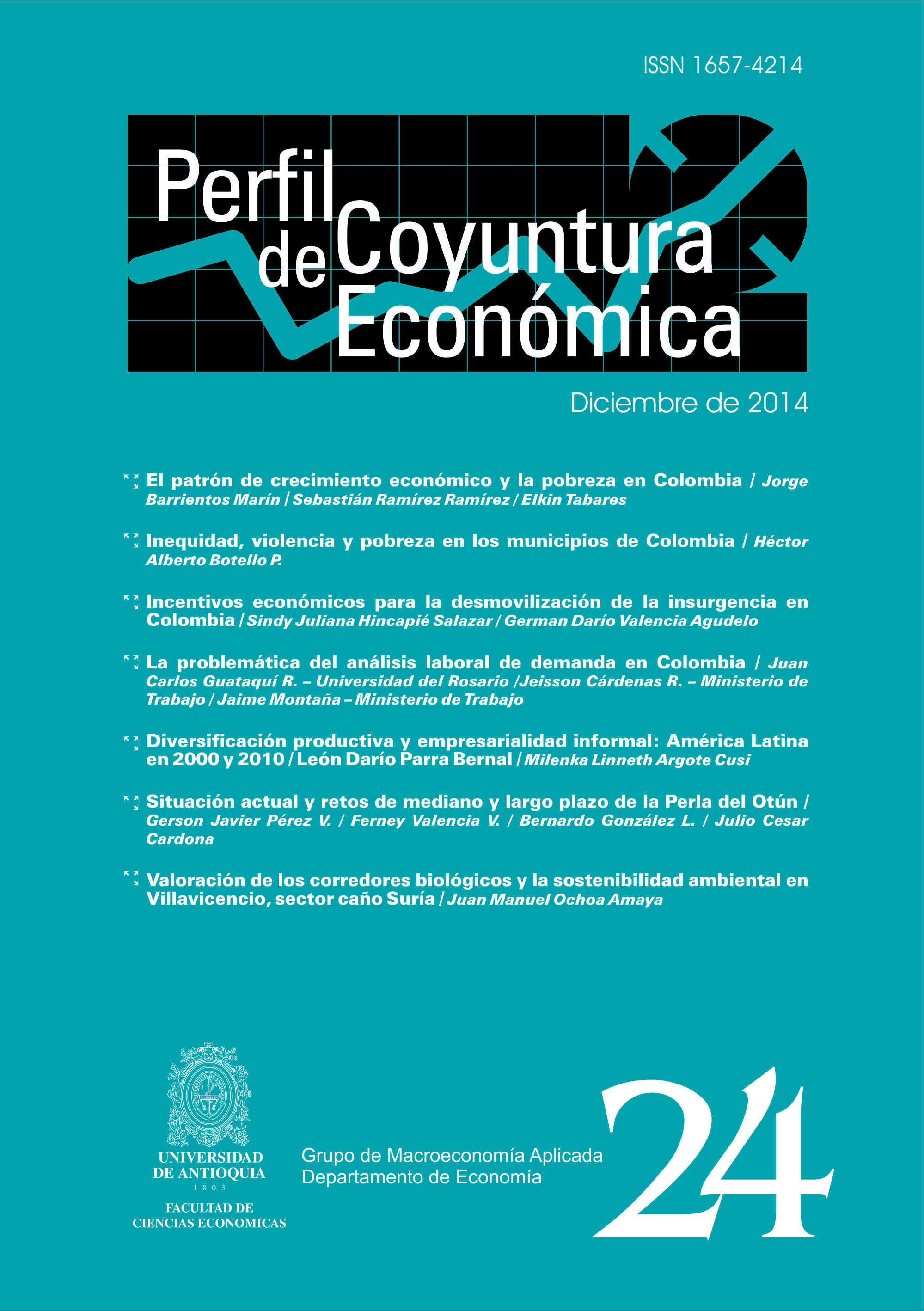 Descargas
Cómo citar
Botello P, H. A. (2014). Inequidad, violencia y pobreza en los municipios de Colombia. Perfil De Coyuntura Económica, (24), 33–48. Recuperado a partir de https://revistas.udea.edu.co/index.php/coyuntura/article/view/udea.pece.n24a02