Modeling the Effect of Communication Skills on the Quantum Management Model and Organizational Trust in Sport Managers
Nehleh Nazari Jahromi

Masoud Naderian Jahromi

Hossein Dast Bar Haqh
Resumen
The present study aims to develop a model of the effect of communication skills on the quantum management model and organizational trust of sport managers in Fars Province, Iran. In terms of application and data collection, the research is applied and descriptive-correlative, respectively. The population of the study includes managers of various departments of Sport and Youth in Fars Province and cities directing under supervision of it, active managers in sport clubs, faculty members of Fars province universities, active sports managers in education system. The statistical population of this study was 277.740825356 = 278 people. Therefore, in total, 235 samples were selected for this study, out of which 202 questionnaires were analyzed. Research tools included Barton & Jay Communication Skills Questionnaire (1990), Theoretical and Visual Quantum Management Questionnaire (2015) and Elonen et al. (2008) Organizational Confidence Questionnaire. Descriptive statistics (frequency, mean, standard deviation, graphs) and inferential statistics were used to analyze the data. Cronbach's alpha and confirmatory factor analysis were used to determine the validity and reliability of the research instrument. Skewness and elongation indices were used to check the normality of the data distribution. Structural equations were also used to investigate the relationships between variables. SPSS and AMOS software were used to do the tests. The results showed that communication skills had a significant effect on quantum management (regression coefficient of 5.652), communication skills on trust (regression coefficient of 4.150) and quantum management on trust (regression coefficient of 2.482). also, it can be said that the resulting model has a good fit.
|Resumen = 68 veces |
Descargas
La descarga de datos todavía no está disponible.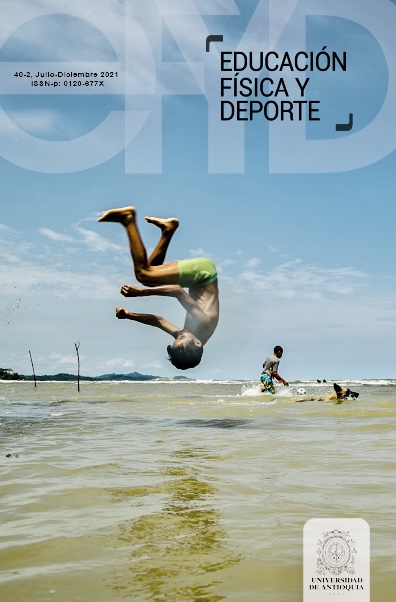 Cómo citar
Nazari Jahromi N., Naderian Jahromi M., & Bar Haqh H. D. (2021). Modeling the Effect of Communication Skills on the Quantum Management Model and Organizational Trust in Sport Managers. Educación Física Y Deporte, 40(2). https://doi.org/10.17533/udea.efyd.v40n2a05
Sección
Artículos de Investigación
Política de acceso abierto a contenidos y derechos de autor
El material contenido en la revista puede ser distribuido, mezclado y ajustado para construir a partir de su obra, incluso con fines comerciales, siempre que le sea reconocida la autoría de la creación original.

Esta obra está bajo una licencia de Creative Commons Reconocimiento 4.0 Internacional
Con relación al acceso abierto Educación Física y Deporte, revista editada por la Universidad de Antioquia, adhiere a las declaraciones de:
Educación Física y Deportes no cobra tasas o cargos a autores o caloboradores por la recepción, revisión o publicación de artículos (APC - Article Processing Charges/ publication fee).