Fiebre amarilla: de nuevo, una preocupación global
Palabras clave:
fiebre amarilla, arbovirus, Aedes, Colombia, América Latina
|Resumen = 478 veces | PDF 1-3 = 332 veces|
Descargas
Los datos de descargas todavía no están disponibles.
Citas
Rifakis PM, Benitez JA, De-la-Paz-Pineda J, Rodri-guez-Morales AJ. Epizootics of yellow fever in Ve-nezuela (2004-2005): an emerging zoonotic disease. Ann N Y Acad Sci. 2006;1081:57-60.
Risquez A, Marrero A, Naranjo N, Palacios Y, Ros-somando MT, Rodriguez-Morales AJ. Diseases and injuries associated with travel among students, em-ployees and teachers of the Central University of Ve-nezuela during the national summer vacations. Travel Med Infect Dis. 2010;8:41-6.
Rodríguez-Morales AJ, García-Loaiza CJ, Galindo-Marquez ML, Sabogal-Roman JA, Marin-Loaiza S, Lozada-Riascos CO, at al. Zika infection GIS-based mapping suggest high transmission activity in the border area of La Guajira, Colombia, a northeastern coast Caribbean department, 2015-2016: implications for public health, migration and travel. Travel Med In-fect Dis. 2016. doi: 10.1016/j.tmaid.2016.03.018.
Villamil-Gómez WE, González-Camargo O, Rodri-guez-Ayubi J, Zapata-Serpa D, Rodríguez-Morales AJ. Dengue, Chikungunya and Zika co-infection in a patient from Colombia. J Infect Public Health. 2016. doi: 10.1016/j.jiph.2015.12.002.
Rodriguez-Morales AJ, Cárdenas-Giraldo EV, Mon-toya-Arias CP, Guerrero-Matituy EA, Bedoya-Arias JE, Ramírez-Jaramillo V, et al. Mapping chikungun-ya fever in municipalities of one coastal department of Colombia (Sucre) using Geographic information system (GIS) during 2014 outbreak: implications for travel advice. Travel Med Infect Dis. 2015; 13:256-258.
Carmelo Dueñas Castell. WHO. Yellow fever urban outbreak in Angola and the risk of extension. Wkly Epidemiol Rec. 2016;91:186-92
Rodriguez-Morales AJ. Chikungunya Virus Infection: Ecoepidemiological considerations of a new threat forLatin America. One Health Newsletter 2015; 8:7-9.
Alfaro-Toloza P, Clouet-Huerta DE, Rodríguez-Mo-rales AJ. Chikungunya, the emerging migratory rheu-matism. Lancet Infect Dis. 2015; 15:510-512.
Segura ÁM, Cardona D, Garzón MO. Tendencias de la mortalidad por fiebre amarilla, Colombia, 1998-2009. Biomedica. 2013;33 Suppl 1:52-62.
WHO. Yellow fever in Africa and South America, 2013. Wkly Epidemiol Rec. 2014;89:297-306.
Monath TP. Yellow fever: an update. Lancet Infect Dis. 2001;1:11-20.
Barnett ED. Yellow fever: epidemiology and preven-tion. Clin Infect Dis. 2007;44:850-6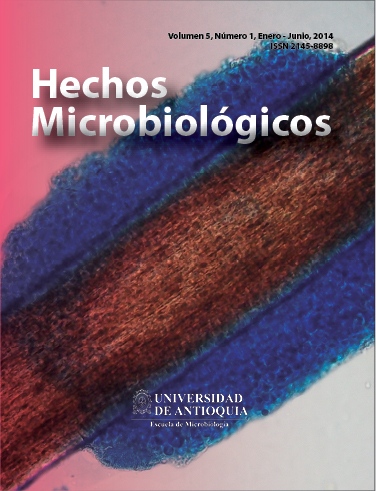 Descargas
Cómo citar
Rodríguez Morales, A. J., & Villamil Gómez, W. E. (2016). Fiebre amarilla: de nuevo, una preocupación global. Hechos Microbiológicos, 5(1), 1–3. https://doi.org/10.17533/udea.hm.323243