Prevalencia de mielolipoma como diagnóstico incidental de masas adrenales en tomografías abdominales realizadas en el Hospital Universitario San Vicente Fundación de Medellín
Palabras clave:
Cushing, Feocromocitoma, Incidentaloma Adrenal, Mielolipoma Adrenal, Tomografía
Resumen
Objetivo: el mielolipoma es un tumor suprarrenal poco frecuente, benigno y no funcional. Representa el 2,6-3 % de los casos reportados de masas adrenales incidentales. Es más frecuente en adultos entre la quinta y séptima década de la vida. El objetivo del estudio es evaluar la prevalencia de mielolipoma como masa adrenal incidental en tomografías abdominales en 1 año, en un hospital universitario de cuarto nivel.
Metodología: estudio retrospectivo. Se revisaron todas las tomografías de abdomen simples o contrastadas realizadas en el periodo 2014 al 2015 en el Hospital Universitario San Vicente Fundación de Medellín. De estas, se extrajeron las que reportaban masas adrenales incidentales con diagnóstico de mielolipoma. Se revisaron las historias clínicas de los pacientes con este hallazgo y sus características clínicas respectivas.
Resultados: se revisaron 4.288 estudios tomográficos de abdomen correspondientes a 3.709 pacientes. Se encontraron 108 masas adrenales incidentales y los mielolipomas fueron el 1,85 % de estos. En los pacientes evaluados con TAC abdominal por diferentes razones, la posibilidad de identificar mielolipomas fue de 0,05 %. El promedio de edad de presentación fue 57 años. Ambos casos de mielolipomas fueron masas unilaterales, derechas, con un tamaño promedio de 31 mm y con un promedio de -84,5 unidades Hounsfield (UH). En ningún caso se realizó estudio hormonal o de manejo quirúrgico.
Discusión: en este estudio se presenta la prevalencia y características clínicas del mielolipoma adrenal con presentación inicial como masas adrenales incidentales. Se encontró que el 1,85 % de las masas adrenales incidentales tienen como etiología el mielolipoma. En nuestro conocimiento no hay estudios en Colombia que evalúen la prevalencia de mielolipoma en TAC abdominales. En conclusión, el mielolipoma es un tumor adrenal infrecuente.
|Resumen = 49 veces | PDF = 24 veces| HTML = 0 veces|
Descargas
La descarga de datos todavía no está disponible.
Citas
(1.) Young WF Jr. Clinical practice. The incidentally discovered adrenal mass. N Engl J Med. 2007 Feb;356(6):601-10.
(2.) Román-González A, Londoño M, Diaz J, Builes Barrera CA, Gutiérrez J. Incidentaloma adrenal. Estado del Arte. Act Med Col. 2015;40(4):318-25.
(3.) NIH state-of-the-science statement on management of the clinically inapparent adrenal mass ("incidentaloma"). NIH Consens State Sci Statements. 2002 Feb;19(2):1-25.
(4.) Tang YZ, Bharwani N, Micco M, Akker S, Rockall AG, Sahdev A. The prevalence of incidentally detected adrenal enlargement on CT. Clin Radiol. 2014 Jan;69(1):e37-42. DOI 10.1016/j.crad.2013.08.017.
(5.) Comlekci A, Yener S, Ertilav S, Secil M, Akinci B, Demir T, et al. Adrenal incidentaloma, clinical, metabolic, follow-up aspects: single centre experience. Endocrine. 2010 Feb;37(1):40-6.
(6.) Menegaux F, Chéreau N, Peix JL, Christou N, Lifante JC, Paladino NC, et al. Management of adrenal incidentaloma. J Visc Surg. 2014 Oct;151(5):355-64. DOI 10.1016/j.jviscsurg.2014.07.002.
(7.) Roman-Gonzalez A, Londoño MP, Diaz J, Builes-Barrera CA, Gutierrez J. Adrenal Incidentaloma in Real Clinical Practice in a Developing Country Are Not Studied for Hormonal Production. Endocr Rev. 2015;36(2):LBT-074. DOI 10.1210/endo-meetings.2015.AHPAA.11.LBT-074.
(8.) Román-González A, Sierra-Zuluaga J, Gutiérrez-Restrepo J, Builes-Barrera C, Jiménez-Vásquez C. Feocromocitoma-Paraganglioma: revisión de tema. Medicina y Laboratorio. 2015;21(5-6):111-30.
(9.) Gershuni VM, Bittner JG 4th, Moley JF, Brunt LM. Adrenal myelolipoma: operative indications and outcomes. J Laparoendosc Adv Surg Tech A. 2014 Jan;24(1):8-12. DOI 10.1089/lap.2013.0411.
(10.) Yalagachin GH, Bhat BK. Adrenal incidentaloma does it require surgical treatment? Case report and review of literature. Int J Surg Case Rep. 2013;4(2):192-4. DOI 10.1016/j.ijscr.2012.09.014.
(11.) Mantero F, Masini AM, Opocher G, Giovagnetti M, Arnaldi G. Adrenal incidentaloma: an overview of hormonal data from the National Italian Study Group. Horm Res. 1997;47(4-6):284-9.
(12.) Ramirez M, Misra S. Adrenal myelolipoma: To operate or not? A case report and review of the literature. Int J Surg Case Rep. 2014;5(8):494-6. DOI 10.1016/j.ijscr.2014.04.001.
(13.) Rao P, Kenney PJ, Wagner BJ, Davidson AJ. Imaging and pathologic features of myelolipoma. Radiographics. 1997 Nov-Dec;17(6):1373-85.
(14.) Bovio S, Cataldi A, Reimondo G, Sperone P, Novello S, Berruti A, et al. Prevalence of adrenal incidentaloma in a contemporary computerized tomography series. J Endocrinol Invest. 2006 Apr;29(4):298-302.
(15.) Jakka N, Venkateshwarlu J, Satyavani N, Neelaveni K, Ramesh J. Functioning adrenal myelolipoma: A rare cause of hypertension. Indian J Endocrinol Metab. 2013 Oct;17(Suppl 1):S249-51. DOI 10.4103/2230-
119588.
(16.) Fajardo R, Kattah L, Rojas I, Jaimes OL, Perdomo CF. Mielolipoma suprarrenal: reporte de un caso y revisión de la literatura. Rev Colomb Cir. 2009;24(2):123-9.
(17.) Quintero G, Agudelo JF. Mielolipoma suprarrenal incidental. Medicas UIS. 2014 May-Ago;27(2):105-7.
(18.) Shaaban AM, Rezvani M, Tubay M, Elsayes KM, Woodward PJ, Menias CO. Fat-containing Retroperitoneal Lesions: Imaging Characteristics, Localization, and Differential Diagnosis. Radiographics. 2016 May-Jun;36(3):710-34. DOI 10.1148/rg.2016150149.
(19.) Anis-Ul-Islam M, Qureshi AH, Zaidi SZ. Adrenal myelolipoma in a young male – a rare case scenerio. J Pak Med Assoc. 2016 Mar;66(3):342-4.
(20.) Baisakh MR, Chattoraj A, Narayanan R, Mohanty R, Mishra M. Adrenal myelolipoma: A rare lesion of adrenal gland. Indian J Cancer. 2015 Oct-Dec;52(4):597-8. DOI 10.4103/0019-509X.178402.
(21.) Sajjanar AB, Athanikar VS, Dinesh US, Nanjappa B, Patil PB. Non Functional Unilateral Adrenal Myelolipoma, A Case Report. J Clin Diagn Res. 2015 Jun;9(6):ED03-4. DOI 10.7860/JCDR/2015/13209.6070.
(22.) Moore JL, Jackson CR, Ellis JC, Norrid C. You're the flight surgeon: myelolipoma. Aerosp Med Hum Perform. 2015 Apr;86(4):421-3. DOI 10.3357/AMHP.4026.2015.
(23.) Shenoy VG, Thota A, Shankar R, Desai MG. Adrenal myelolipoma: Controversies in its management. Indian J Urol. 2015 Apr-Jun;31(2):94-101. DOI 10.4103/0970-1591.152807.
(24.) Wani NA, Kosar T, Rawa IA, Qayum A. Giant adrenal myelolipoma: Incidentaloma with a rare incidental association. Urol Ann. 2010 Sep;2(3):130-3. DOI 10.4103/0974-7796.68865.
(25.) Sandoval MA, Anel-Quimpo J. A giant myelolipoma discovered as an adrenal incidentaloma: radiological, endocrine and pathological evaluation. BMJ Case Rep. 2010 Dec;2010. pii: bcr0520103005. DOI 10.1136/bcr.05.2010.3005.
(26.) Doddi S, Singhal T, Leake T, Sinha P. Management of an incidentally found large adrenal myelolipoma: a case report. Cases J. 2009 Sep;2:8414. DOI 10.4076/1757-1626-2-8414.
(27.) Han M, Burnett AL, Fishman EK, Marshall FF. The natural history and treatment of adrenal myelolipoma. J Urol. 1997 Apr;157(4):1213-6.
(28.) Pasimeni G, Rossi F, Ragazzo M, Guerrini L, Markouizou A, Santiemma V. [Adrenal adenoma and myelolipoma in an elderly patient with Conn's syndrome]. Recenti Prog Med. 2000 Mar;91(3):116-8. Italian.
(29.) Al Harthi B, Riaz MM, Al Khalaf AH, Al Zoum M, Al Shakweer W. Adrenal myelolipoma a rare benign tumour managed laparoscopically: Report of two cases. J Minim Access Surg. 2009 Oct;5(4):118-20. DOI 10.4103/0972-9941.59312.
(30.) Guerrieri M, De Sanctis A, Crosta F, Arnaldi G, Boscaro M, Lezoche G, et al. Adrenal incidentaloma: surgical update. J Endocrinol Invest. 2007 Mar;30(3):200-4.
(31.) Daneshmand S, Quek ML. Adrenal myelolipoma: diagnosis and management. Urol J. 2006 Spring;3(2):71-4.
(32.) Chakraborty PP, Patra S, Biswas SN, Bhattacharjee R. Adrenal myelolipoma(s) as presenting manifestation of subclinical Cushing's disease (eutopic ACTHdependent Cushing's syndrome). BMJ Case Rep. 2017 Aug;2017. pii: bcr-2017-221674. DOI 10.1136/bcr-2017-221674.
(33.) Ozturk E, Onur Sildiroglu H, Kantarci M, Doganay S, Güven F, Bozkurt M, et al. Computed tomography findings in diseases of the adrenal gland. Wien Klin Wochenschr. 2009;121(11-12):372-81. DOI 10.1007/s00508-009-1190-y.
(34.) Mayo-Smith WW, Boland GW, Noto RB, Lee MJ. Stateof-the-art adrenal imaging. Radiographics. 2001 Jul-Aug;21(4):995-1012.
(35.) Elsayes KM, Emad-Eldin S, Morani AC, Jensen CT. Practical Approach to Adrenal Imaging. Radiol Clin North Am. 2017 Mar;55(2):279-301. DOI 10.1016/j.rcl.2016.10.005.
(36.) Antonino A, Rosato A, Zenone P, Ranieri R, Maglio M, Lupone G, et al. Transperitoneal laparoscopic adrenalectomy. Our experience. Ann Ital Chir. 2013 Jul-Aug;84(4):423-7.
(37.) Park BH, Lee SL, Seo KJ, Bae SR, Lee YS, Kang SH, et al. Laparoscopic hand-assisted adrenal sparing surgery for a giant adrenal myelolipoma: A case report. Int Surg. 2015 May.
(38.) Lee J, El-Tamer M, Schifftner T, Turrentine FE, Henderson WG, Khuri S, et al. Open and laparoscopic adrenalectomy: analysis of the National Surgical Quality Improvement Program. J Am Coll Surg. 2008 May;206(5):953-9; discussion 959-61. DOI 10.1016/j.jamcollsurg.2008.01.018.
(39.) Castro D, Abaúnza MC, Vargas EJ, Márquez JM, Guevara A. Cirugía laparoscópica en un paciente con mielolipoma suprarrenal derecho. Rev Colomb Cir. 2015;30:317-24.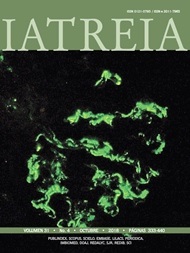 Cómo citar
1.
Román-González A, Agredo-Delgado V, Aristizábal-Barón J, Arizmendy-Acosta D. Prevalencia de mielolipoma como diagnóstico incidental de masas adrenales en tomografías abdominales realizadas en el Hospital Universitario San Vicente Fundación de Medellín. Iatreia [Internet]. 1 de octubre de 2018 [citado 20 de septiembre de 2021];31(4):342-50. Disponible en: https://revistas.udea.edu.co/index.php/iatreia/article/view/328734
Sección
Artículo original
Los artículos publicados en la revista están disponibles para ser utilizados bajo la licencia Creative Commons, específicamente son de Reconocimiento-NoComercial-CompartirIgual 4.0 Internacional.
Los trabajos enviados deben ser inéditos y suministrados exclusivamente a la Revista; se exige al autor que envía sus contribuciones presentar los formatos: presentación de artículo y responsabilidad de autoría completamente diligenciados.