Eficacia de los canabinoides en epilepsia refractaria. Una revisión narrativa de la literatura
Palabras clave:
cannabis, epilepsia refractaria, revisión
Resumen
La epilepsia es un desorden neurológico común que afecta aproximadamente al 1% de la población mundial. Alrededor de un tercio de los pacientes sufren de epilepsia resistente al tratamiento, que se define como la falla de parar las crisis epilépticas a pesar de haber recibido tratamiento con dos medicamentos a dosis terapéuticas. Se ha visto interés en el desarrollo de medicamentos antiepilépticos con diferentes mecanismos de acción. Esta revisión narrativa se basó en 42 referencias extraídas de Scopus y Medline, que discuten hallazgos científicos sobre estudios en humanos y animales acerca de la eficacia del cannabis para el tratamiento de epilepsia. Los beneficios se describieron en estudios pre-clínicos y clínicos en niños, sin embargo investigaciones en curso clarificarán el papel real de los cannabinoides para la epilepsia resistente al tratamiento.
|Resumen = 494 veces | PDF = 187 veces| | HTML (ENGLISH) = 16 veces| | VISOR (ENGLISH) = 2 veces|
Descargas
Los datos de descargas todavía no están disponibles.
Citas
(1.) Robson P. Therapeutic aspects of cannabis and cannabinoids. Br J Psychiatry. 2001 Feb;178:107-15. DOI 10.1192/bjp.178.2.107.
(2.) O'Connell BK, Gloss D, Devinsky O. Cannabinoids in treatment-resistant epilepsy: A review. Epilepsy Behav. 2017;70(Pt B):341-8. DOI 10.1016/j.yebeh. 2016.11.012.
(3.) Kwan P, Arzimanoglou A, Berg AT, Brodie MJ, Allen Hauser W, Mathern G, et al. Definition of drug resistant epilepsy: consensus proposal by the ad hoc Task Force of the ILAE Commission on Therapeutic Strategies. Epilepsia. 2010;51(6):1069-77. DOI 10.1111/j.1528-1167.2009.02397.x.
(4.) Friedman D, Devinsky O, Killestein J. Cannabinoids in the treatment of epilepsy. N Engl J Med. 2016;374(1):1048-58. DOI 10.1056/NEJMra1407304.
(5.) Ashton CH. Biomedical benefits of cannabinoids? Addict Biol. 1999;4(2):111-26. DOI 10.1080/13556219971623.
(6.) Rosenberg EC, Tsien RW, Whalley BJ, Devinsky O. Cannabinoids and epilepsy. Neurotherapeutics. 2015;12(4):747-68. DOI 10.1007/s13311-015-0375-5.
(7.) Perucca E. Cannabinoids in the treatment of epilepsy: Hard evidence at last? J Epilepsy Res. 2017;7(2):61-76. DOI 10.14581/jer.17012.
(8.) Reddy DS, Golub VM. The pharmacological basis of cannabis therapy for epilepsy. J Pharmacol Exp Ther. 2016;357(1):45-55. DOI 10.1124/jpet.115.230151.
(9.) Cunha JM, Carlini EA, Pereira AE, Ramos OL, Pimentel C, Gagliardi R, et al. Chronic administration of cannabidiol to healthy volunteers and epileptic patients. Pharmacology. 1980;21(3):175-85. DOI 10.1159/000137430.
(10.) Alger BE. Endocannabinoids and their implications for epilepsy. Epilepsy Curr. 2004;4(5):169-73. DOI 10.1111/j.1535-7597.2004.04501.x.
(11.) Abood ME, Martin BR. Molecular neurobiology of the cannabinoid receptor. Int Rev Neurobiol. 1996;39:197-
DOI 10.1016/S0074-7742(08)60667-4.
(12.) Lutz B. On-demand activation of the endocannabinoid system in the control of neuronal excitability and epileptiform seizures. Biochem Pharmacol. 2004;68(9):1691-8. DOI 10.1016/j.bcp.2004.07.007.
(13.) Cohen S. Marijuana: Does it have a possible therapeutic use? JAMA. 1978;240(16):1761-3. DOI 10.1001/ jama.240.16.1761.
(14.) Hirst RA, Lambert DG, Nottcutt WG. Pharmacology and potential therapeutic uses of cannabis. Br J Anaesth. 1998;81(1):77-84. DOI 10.1093/bja/81.1.77.
(15.) Di Marzo V. Biosynthesis and inactivation of endocannabinoids: relevance to their proposed role as neuromodulators. Life Sci. 1999;65(6-7):645-55. DOI 10.1016/S0024-3205(99)00287-8.
(16.) Zogopoulos P, Vasileiou I, Patsouris E, Theocharis S. The neuroprotective role of endocannabinoids against chemical-induced injury and other adverse effects. J Appl Toxicol. 2013;33(4):246-64. DOI 10.1002/jat.2828.
(17.) Marsicano G, Goodenough S, Monory K, Hermann H, Eder M, Cannich A, et al. CB1 cannabinoid receptors and on-demand defense against excitotoxicity. Science. 2003;302(5642):84-8. DOI 10.1126/science.1088208.
(18.) Consroe P. Brain cannabinoid systems as targets for the therapy of neurological disorders. Neurobiol Dis. 1998;5(6):534-51. DOI 10.1006/nbdi.1998.0220.
(19.) Turkanis SA, Karler R. Different cannabinoids exhibit different electrophysiological properties. NIDA Res Monogr. 1987;79:67-81. DOI 10.1037/e496672006-007.
(20.) Ludányi A, Eross L, Czirják S, Vajda J, Halász P, Watanabe M, et al. Downregulation of the CB1 cannabinoid receptor and related molecular elements of the endocannabinoid system in epileptic human hippocampus. J Neurosci. 2008;28(12):2976-90. DOI 10.1523/JNEUROSCI.4465-07.2008.
(21.) Goffin K, Van Paesschen W, Van Laere K. In vivo activation of endocannabinoid system in temporal lobe epilepsy with hippocampal sclerosis. Brain. 2011;134(4):1033-40. DOI 10.1093/brain/awq385.
(22.) Lattanzi S, Brigo F, Trinka E, Zaccara G, Cagnetti C, Del Giovane C, et al. Efficacy and safety of cannabidiol in epilepsy: A systematic review and meta-analysis. Drugs. 2018;78(17):1791-804. DOI 10.1007/s40265-018-0992-5.
(23.) Lattanzi S, Brigo F, Cagnetti C, Trinka E, Silvestrini M. Efficacy and safety of adjunctive cannabidiol in patients with Lennox-Gastaut syndrome: A systematic review and meta-analysis. CNS Drugs. 2018;32(10):905-16. DOI 10.1007/s40263-018-0558-9.
(24.) Elliott J, DeJean D, Clifford T, Coyle D, Potter BK, Skidmore B, et al. Cannabis-based products for pediatric epilepsy: A systematic review. Epilepsia. 2019;60(1):6-19. DOI 10.1111/epi.14608.
(25.) Stockings E, Zagic D, Campbell G, Weier M, Hall WD, Nielsen S, et al. Evidence for cannabis and cannabinoids for epilepsy: a systematic review of controlled and observational evidence. J Neurol Neurosurg Psychiatry. 2018;89(7):741-53. DOI 10.1136/jnnp-2017-317168.
(26.) Gloss D, Vickrey B. Cannabinoids for epilepsy. Cochrane Database Syst Rev. 2014;5(3):CD009270. DOI 10.1002/14651858.CD009270.pub3.
(27.) Vezyroglou K, Eltze C, Varadkar S, Carr L, O'Sullivan C, Ninnis E, et al. Efficacy and safety of cannabidiol as add-on therapy in drugresistant epilepsy, a single center experience. Eur J Paediatr Neurol. 2017;21:e87-e87. DOI 10.1016/j.ejpn.2017.04.699.
(28.) McCoy B, Wang L, Zak M, Al-Mehmadi S, Kabir N, Alhadid K, et al. A prospective open-label trial of a CBD/THC cannabis oil in dravet syndrome. Ann Clin Transl Neurol. 2018;5(9):1077-88. DOI 10.1002/acn3.621.
(29.) Szaflarski JP, Bebin EM, Comi AM, Patel AD, Joshi C, Checketts D, et al. Long-term safety and treatment effects of cannabidiol in children and adults with treatment-resistant epilepsies: Expanded access program results. Epilepsia. 2018;59(8):1540-8. DOI 10.1111/epi.14477.
(30.) Hess EJ, Moody KA, Geffrey AL, Pollack SF, Skirvin LA, Bruno PL, et al. Cannabidiol as a new treatment for drug-resistant epilepsy in tuberous sclerosis complex. Epilepsia. 2016;57(10):1617-24. DOI 10.1111/epi.13499.
(31.) Maa E, Figi P. The case for medical marijuana in epilepsy. Epilepsia. 2014;55(6):783-6. DOI 10.1111/epi.12610.
(32.) Tzadok M, Uliel-Siboni S, Linder I, Kramer U, Epstein O, Menascu S, et al. CBD-enriched medical cannabis for intractable pediatric epilepsy: The current Israeli experience. Seizure. 2016;35:41-4. DOI 10.1016/j.seizure.2016.01.004.
(33.) Devinsky O, Cross JH, Wright S, Tang R, Fang F. Trial of cannabidiol for drug-resistant seizures in the Dravet syndrome. N Engl J Med. 2017;377(7):699. DOI 10.1056/NEJMc1708349.
(34.) Kaplan EH, Offermann EA, Sievers JW, Comi AM. Cannabidiol treatment for refractory seizures in Sturge-Weber syndrome. Pediatr Neurol. 2017;71:18-23. DOI 10.1016/j.pediatrneurol.2017.02.009.
(35.) Neubauer D, Perkovic Benedik M, Osredkar D. Cannabidiol for treatment of refractory childhood epilepsies:
Experience from a single tertiary epilepsy center in Slovenia. Epilepsy Behav. 2018;81:79-85. DOI 10.1016/j.yebeh.2018.02.009.
(36.) Thiele EA, Marsh ED, French JA, Mazurkiewicz-Beldzinska M, Benbadis SR, Joshi C, et al. Cannabidiol in patients with seizures associated with Lennox-Gastaut syndrome (GWPCARE4): a randomised, double-blind, placebo-controlled phase 3 trial. Lancet. 2018;391(10125):1085-96. DOI 10.1016/S0140-6736(18)30136-3.
(37.) Devinsky O, Patel AD, Cross JH, Villanueva V, Wirrell EC, Privitera M, et al. Effect of cannabidiol on drop seizures in the Lennox-Gastaut syndrome. N Engl J Med. 2018;378(20):1888-97. DOI 10.1056/NEJMoa1714631.
(38.) Devinsky O, Marsh E, Friedman D, Thiele E, Laux L, Sullivan J, et al. Cannabidiol in patients with treatment-resistant epilepsy: an open-label interventional trial. Lancet Neurol. 2016;15(3):270-8. DOI 10.1016/S1474-4422(15)00379-8.
(39.) National Academies of Sciences, Engineering, and Medicine. The health effects of cannabis and cannabinoids: the current state of evidence and recommendations for research. Washington, DC: The National Academies; 2017.
(40.) De Caro C, Leo A, Citraro R, De Sarro C, Russo R, Calignano A, et al. The potential role of cannabinoids in epilepsy treatment. Expert Rev Neurother. 2017;17(11):1069-79. DOI 10.1080/14737175.2017.1373019.
(41.) Hussain SA, Zhou R, Jacobson C, Weng J, Cheng E, Lay J, et al. Perceived efficacy of cannabidiolenriched cannabis extracts for treatment of pediatric epilepsy: A potential role for infantile spasms and Lennox-Gastaut syndrome. Epilepsy Behav. 2015;47:138-41. DOI 10.1016/j.yebeh.2015.04.009.
(42.) Press C, Knupp K, Chapman K. Parental reporting of response to oral cannabis extracts as adjunctive treatment for medically refractory epilepsy. Epilepsy Curr. 2015;15:153. DOI 10.1016/j.yebeh.2015.02.043.
(43.) Mechoulam R, Parker LA, Gallily R. Cannabidiol: An overview of some pharmacological aspects. J Clin Pharmacol. 2002;42(11 SUPPL.):11S-19S. DOI 10.1002/j.1552-4604.2002.tb05998.x.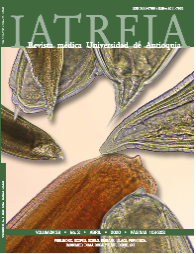 Descargas
Cómo citar
1.
Ferreiros A, Beltrán-Carrascal E, Restrepo P, Pantoja C, Castañeda-Cardona C, Lasalvia P, Van der Werf L, Nariño D, Rosselli D. Eficacia de los canabinoides en epilepsia refractaria. Una revisión narrativa de la literatura. Iatreia [Internet]. 4 de diciembre de 2019 [citado 5 de diciembre de 2023];33(2):167-76. Disponible en: https://revistas.udea.edu.co/index.php/iatreia/article/view/339081
Sección
Artículos de revisión
Licencia
Derechos de autor 2019 Universidad de Antioquia
Esta obra está bajo una licencia internacional Creative Commons Atribución-NoComercial-CompartirIgual 4.0.
Los artículos publicados en la revista están disponibles para ser utilizados bajo la licencia Creative Commons, específicamente son de Reconocimiento-NoComercial-CompartirIgual 4.0 Internacional.
Los trabajos enviados deben ser inéditos y suministrados exclusivamente a la Revista; se exige al autor que envía sus contribuciones presentar los formatos: presentación de artículo y responsabilidad de autoría completamente diligenciados.