Experiencias investigativas basadas en cursos, análisis de sus fundamentos y resultados en la Educación Médica
Palabras clave:
Aprendizaje , Educación de Pregrado en Medicina , Educación Médica, Educación Superior
Resumen
Introducción: las experiencias investigativas durante el pregrado son diversas y tienen como objetivo la formación de competencias en ese mismo ámbito de investigación.
Objetivo: recopilar la información relacionada a las experiencias investigativas basadas en cursos (EIBC) que se han implementado en el contexto de la educación médica.
Métodos: se realizó una revisión de la literatura narrativa donde se indagaron las bases de datos ERIC, SciELO, Redalyc, Scopus y PubMed a través de los términos: "ciencia", "basados en cursos", "investigación", "en el aula", "experiencia(s)", "pasantía(s)", "pregrado", "licenciatura", "formación". De las 780 fuentes iniciales, se analizaron 35. La información fue descrita según las categorías de: resultados de las mediciones, fundamentos teóricos, beneficios de la experiencia, limitaciones/desventajas.
Resultados: las EIBC se consideran como experiencias positivas y atractivas para los estudiantes, pues permiten exponerlos al proceso investigativo, desarrollar habilidades y oportunidades para futuros proyectos de investigación, permitir establecer redes y trabajo en equipo, brindar la oportunidad para trabajar en equipos de investigación y laboratorios de experimentación, y comprometer a los estudiantes y docentes a difundir los hallazgos a través de publicaciones científicas. Sus fundamentos se encuentran en el aprendizaje situado, las comunidades de práctica, el aprendizaje basado en problemas y el aprendizaje constructivista. El objetivo en común es el de involucrar a los estudiantes de pregrado en la investigación científica y que logren formar sus competencias a través del mismo acto investigativo. 
Conclusión: las EIBC permiten mejorar el aprendizaje estudiantil, la formación de competencias investigativas, otorgan ganancias en su identidad científica, autoconfianza, y persistencia en su carrera de estudios.
|Resumen = 371 veces | PDF = 195 veces|
Descargas
Los datos de descargas todavía no están disponibles.
Citas
(1) van Wijk IJ, Daelmans HEM, Wouters A, Croiset G, Kusurkar RA. Exploring the timing of medical student research internships: before or after clerkships? BMC Med Educ. 2018 Nov 12;18(1):259. DOI 10.1186/s12909-018-1367-z.
(2) Dekker FW, Halbesma N, Zeestraten EA, Vogelpoel EM, Blees MT, de Jong PG. Scientific training in the Leiden Medical School preclinical curriculum to prepare students for their research projects. J Int Assoc Med Sci Educ. 2009;19(2S):2-6.
(3) Laidlaw A, Aiton J, Struthers J, Guild S. Developing research skills in medical students: AMEE Guide No. 69. Med Teach. 2012;34(9):e754-71. DOI 10.3109/0142159X.2012.
(4) Linn MC, Palmer E, Baranger A, Gerard E, Stone E. Education. Undergraduate research experiences: impacts and opportunities. Science. 2015;347(6222):1261757. DOI 10.1126/science.1261757.
(5) Langhammer CG, Garg K, Neubauer JA, Rosenthal S, Kinzy TG. Medical student research exposure via a series of modular research programs. J Investig Med. 2009; 57(1):11-7. DOI 10.2310/JIM.0b013e3181946fec.
(6) Laursen S, Hunter AB, Seymour E, Thiry H, Melton G. Undergraduate research in the sciences: engaging students in real science. New York: Jossey-Bass; 2010.
(7) Bangera G, Brownell SE. Course-based undergraduate research experiences can make scientific research more inclusive. CBE Life Sci Educ. 2014 Winter;13(4):602-6. DOI 10.1187/cbe.14-06-0099.
(8) Beckman M, Hensel N. Making explicit the implicit: defining undergraduate research. CURQ. 2009;29(4):40–4.
(9) Roth WM. Authentic school science: Knowing and learning in open-inquiry science laboratories. Dordrecht, Netherlands: Kluwer Academic; 1995.
(10) Lopatto D. Survey of Undergraduate Research Experiences (SURE): first findings. Cell Biol Educ. 2004;3:270–7. DOI 10.1187/cbe.04-07-0045.
(11) Lopatto D. Undergraduate research as a high-impact student experience. Peer Rev. 2010;12:27-30.
(12) Seymour S, Hunter AB, Laursen SL, De Antoni T. Establishing the benefits of research experiences for undergraduates in the sciences: First findings from a three-year study. Science Educ. 2004;88(4):493-534.
(13) Robnett RD, Chemers MM, Zurbriggen EL. Longitudinal associations among undergraduates' research experience, self-efficacy, and identity. J Res Sci Teach. 2015;52:847-67.
(14) Auchincloss LC, Laursen SL, Branchaw JL, Eagan K, Graham M, Hanauer DI, Et al. Assessment of course-based undergraduate research experiences: a meeting report. CBE Life Sci Educ. 2014 Spring;13(1):29-40. DOI 10.1187/cbe.14-01-0004.
(15) Shapiro C, Moberg-Parker J, Toma S, Ayon C, Zimmerman H, Roth-Johnson EA, et al. Comparing the impact of course-based and apprentice-based research experiences in a life science laboratory curriculum. J Microbiol Biol Educ. 2015;16:186–97. DOI 10.1128/jmbe.v16i2.1045.
(16) Esparza D, Wagler AE, Olimpo JT. Characterization of Instructor and Student Behaviors in CURE and Non-CURE Learning Environments: Impacts on Student Motivation, Science Identity Development, and Perceptions of the Laboratory Experience. CBE Life Sci Educ. 2020 Mar;19(1):ar10. DOI 10.1187/cbe.19-04-0082.
(17) Brownell SE, Hekmat-Scafe DS, Singla V, Chandler Seawell P, Conklin Imam JF, Eddy SL, et al. A high-enrollment course-based undergraduate research experience improves student conceptions of scientific thinking and ability to interpret data. CBE Life Sci Educ. 2015 Summer;14(2):14:ar21. DOI 10.1187/cbe.14-05-0092.
(18) Olimpo JT, Fisher GR, DeChenne-Peters SE. Development and Evaluation of the Tigriopus Course-Based Undergraduate Research Experience: Impacts on Students' Content Knowledge, Attitudes, and Motivation in a Majors Introductory Biology Course. CBE Life Sci Educ. 2016 winter;15(4):ar72. DOI 10.1187/cbe.15-11-0228.
(19) Russell CB, Weaver GC. A comparative study of traditional, inquiry-based, and research-based laboratory curricula: Impacts on understanding of the nature of science. Chem Educ Res Pract. 2011;12(1):57-67. DOI 10.1039/C1RP90008K.
(20) Caruso JP, Israel N, Rowland K, Lovelace MJ, Saunders MJ. Citizen Science: The Small World Initiative Improved Lecture Grades and California Critical Thinking Skills Test Scores of Nonscience Major Students at Florida Atlantic University. J Microbiol Biol Educ. 2016 Mar 1;17(1):156-62. DOI 10.1128/jmbe.v17i1.1011.
(21) Rodenbusch SE, Hernandez PR, Simmons SL, Dolan EL. Early Engagement in Course-Based Research Increases Graduation Rates and Completion of Science, Engineering, and Mathematics Degrees. CBE Life Sci Educ. 2016 Summer;15(2):ar20. DOI 10.1187/cbe.16-03-0117.
(22) Corwin LA, Runyon CR, Ghanem E, Sandy M, Clark G, Palmer GC, et al. Effects of Discovery, Iteration, and Collaboration in Laboratory Courses on Undergraduates' Research Career Intentions Fully Mediated by Student Ownership. CBE Life Sci Educ. 2018 Jun;17(2):ar20. DOI 10.1187/cbe.17-07-0141.
(23) Gin LE, Rowland AA, Steinwand B, Bruno J, Corwin LA. Students Who Fail to Achieve Predefined Research Goals May Still Experience Many Positive Outcomes as a Result of CURE Participation. CBE Life Sci Educ. 2018 Dec;17(4):ar57. DOI 10.1187/cbe.18-03-0036.
(24) Ayella A, Beck MR. A course-based undergraduate research experience investigating the consequences of nonconserved mutations in lactate dehydrogenase. Biochem Mol Biol Educ. 2018 May;46(3):285-96. DOI 10.1002/bmb.21115.
(25) Sadler TD, Burgin S, Mckinney L, Ponjuan L. Learning science through research apprenticeships: A critical review of the literature. J Res Sci Teach. 2010;47(3):235–56.
(26) Krim JS, Coté LE, Schwartz RS, Stone EM, Cleeves JJ, Barry KJ, et al. Models and Impacts of Science Research Experiences: A Review of the Literature of CUREs, UREs, and TREs. CBE Life Sci Educ. 2019 Dec;18(4):ar65. DOI 10.1187/cbe.19-03-0069.
(27) National Academies of Sciences, Engineering, and Medicine. Under¬graduate research experiences for STEM students: Successes, challeng¬es, and opportunities. Washington, DC: National Academies Press; 2017.
(28) Stoeckman AK, Cai Y, Chapman KD. iCURE (iterative course-based undergraduate research experience): A case-study. Biochem Mol Biol Educ. 2019 Sep;47(5):565-72. DOI 10.1002/bmb.21279.
(29) Chan PE, Graham-Day KJ, Ressa VA, Peters MT, Konrad M. Beyond Involvement: Promoting Student Ownership of Learning in Classrooms. Intervention in School and Clinic. 2014;50(2):105–13.
(30) Bell S. Project-based learning for the 21st century: skills for the future. Clear House. 2010;83(2):39-43.
(31) Chen CH, Yang YC. Revisiting the effects of project based learning on students' academic achievement: a meta-analysis investigating moderators. Educ Res Rev. 2019;26:71-81. DOI 10.1016/j.edurev.2018.11.001.
(32) Ott LE, Godsay S, Stolle-McAllister K, Kowalewski C, Maton I, LaCourse WR. Introduction to Research: A Scalable, Online Badge Implemented in Conjunction with a Classroom-Based Undergraduate Research Experience (CURE) that Promotes Students Matriculation into Mentored Undergraduate Research. UI J. 2020;11:1.
(33) Webb OJ, Cotton DRE. Deciphering the sophomore slump: Changes to student perceptions during the undergraduate journey. High Educ. 2019;77(1):173-90. DOI 10.1007/s10734-018-0268-8.
(34) Wolkow TD, Jenkins J, Durrenberger L, Swanson-Hoyle K, Hines LM. One Early Course-Based Undergraduate Research Experience Produces Sustainable Knowledge Gains, but only Transient Perception Gains. J Microbiol Biol Educ. 2019 Jun 28;20(2):20.2.32. DOI 10.1128/jmbe.v20i2.1679.
(35) Kloser M, Brownell S, Shavelson R, Fukami T. Effects of a research-based ecology lab course: a study of non-volunteer achievement, self-confidence, and perception of lab course purpose. J Coll Sci Teach. 2013;42:72-81.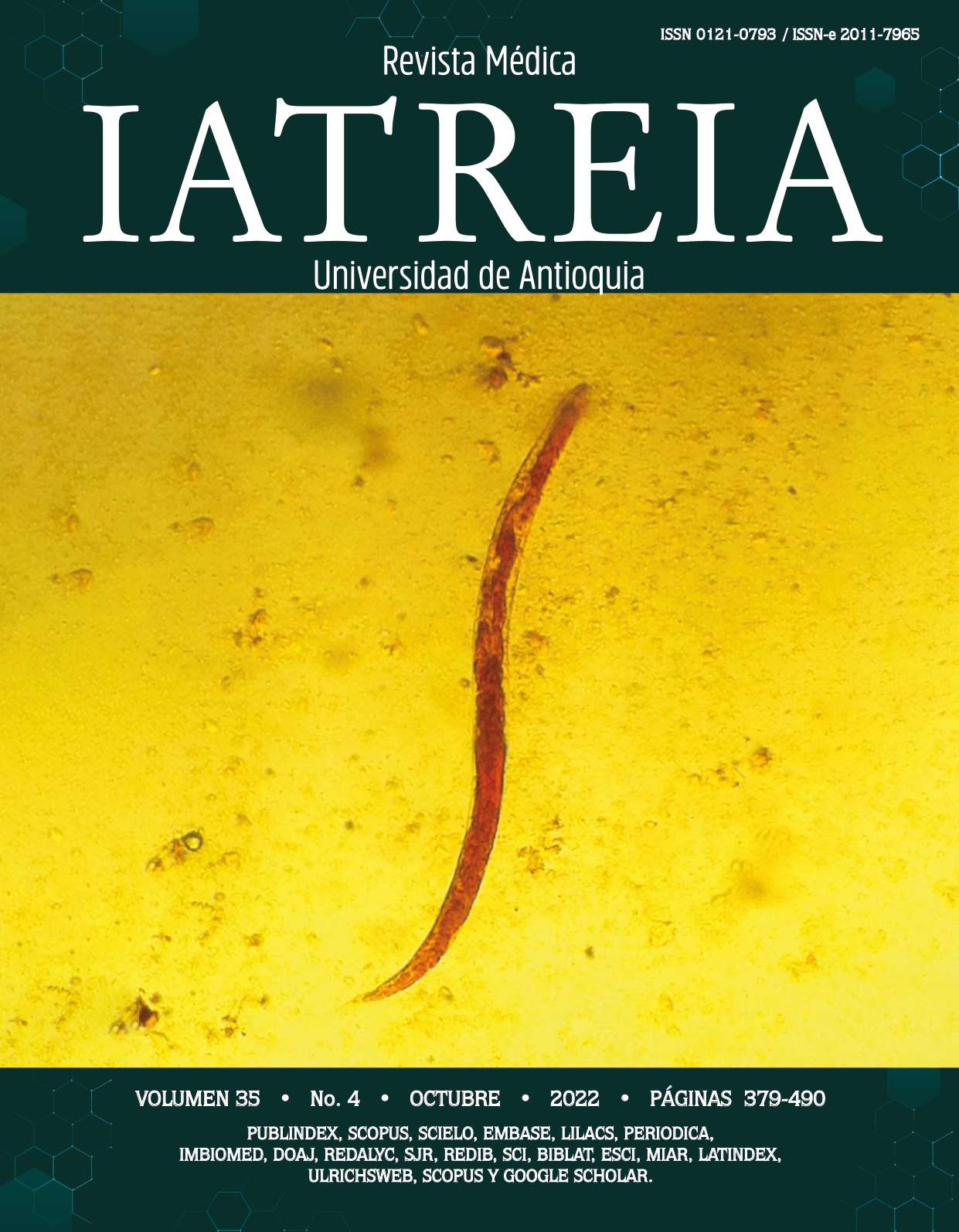 Descargas
Cómo citar
1.
Castro-Rodríguez Y. Experiencias investigativas basadas en cursos, análisis de sus fundamentos y resultados en la Educación Médica. Iatreia [Internet]. 3 de octubre de 2022 [citado 8 de diciembre de 2023];35(4):458-65. Disponible en: https://revistas.udea.edu.co/index.php/iatreia/article/view/347395
Licencia
Derechos de autor 2022 Iatreia
Esta obra está bajo una licencia internacional Creative Commons Atribución-CompartirIgual 4.0.
Los artículos publicados en la revista están disponibles para ser utilizados bajo la licencia Creative Commons, específicamente son de Reconocimiento-NoComercial-CompartirIgual 4.0 Internacional.
Los trabajos enviados deben ser inéditos y suministrados exclusivamente a la Revista; se exige al autor que envía sus contribuciones presentar los formatos: presentación de artículo y responsabilidad de autoría completamente diligenciados.