Nursing work in care practice at Emergency Care Units
Keywords:
Nursing services; emergency medical services; emergency relief; prehospital care; health services
Abstract
Objective. To characterize nurses' work process in care practice at Emergency Care Units.
Methodology. The research technique used was mixed-method research. In the quantitative phase, a questionnaire was applied to 47 nurses; in the qualitative phase, a sample of events was observed at an emergency unit.
Results. The activities the nurses most frequently developed were: a) care: risk assessment and classification (66%) and registering of clinical data (62%); b) management: task distribution (62%), shift organization (40%) data processing (36%), and material provision (28%). The nurses highlighted the users' forwarding to appropriate care levels as the goal of their work (70%). The work instruments most frequently used were clinical decision-making (87%), listening and monitoring (83%) and the risk assessment protocol (68%).
Conclusion. Nurses' work at Emergency Units is predominantly focused on care, with a great burden of management activities related to resource planning and provision for care practice.
|Abstract = 35 veces | RESUMEN | RESUMO = 7 veces| | PDF (ENGLISH) = 22 veces| | HTML (ENGLISH) = 5 veces| | HTML (PORTUGUÊS) = 15 veces|
Downloads
Download data is not yet available.
References
(1) Brasil. Ministério da Saúde. Institui a Política Nacional de Atenção às Urgências, a ser implantada em todas as unidades federadas, respeitadas as competências das três esferas de gestão. Portaria n° 1863 (Sept. 29, 2003).
(2) 2. Furtado BMASM. O trabalho do enfermeiro em emergência: representação social, comprometimento, satisfação e condições de trabalho - O caso do Hospital da Restauração [Dissertation]. Recife: Fundação Oswaldo Cruz; 2009.
(3) Marques GQ, Lima MADS. Demandas de usuários a um serviço de pronto atendimento e seu acolhimento ao sistema de saúde. Rev Latino-am Enfermagem. 2007; 15(1)13-9.
(4) Mendes Gonçalves RB. Práticas de saúde: processo de trabalho e necessidades. São Paulo: Centro de Formação dos Trabalhadores em Saúde da Secretaria Municipal de Saúde; 1992.
(5) Almeida MCP. O trabalho de enfermagem. São Paulo: Cortez; 1997.
(6) Hausmann M, Peduzzi M. Articulação entre as dimensões gerencial e assistencial do Processo de Trabalho do Enfermeiro. Texto Contexto Enferm. 2009; 18(2):258-65.
(7) Rossi FR, Silva MADS. Fundamentos para processos gerenciais na prática do cuidado. Rev Esc Enferm USP. 2005; 39(4):.460-8.
(8) Silva AM. Processo de trabalho e atividades educativas de trabalhadores de enfermagem em hospitais públicos [Dissertation]. São Paulo: Escola de Enfermagem da USP. Universidade de São Paulo; 2010.
(9) Creswell JW. Projeto de pesquisa: métodos qualitativos, quantitativo e misto. 3rd ed. Trad: Magda Lopes. Porto Alegre: Artmed; 2010.
(10) Vieira S. Como elaborar questionários. São Paulo: Atlas; 2009.
(11) Minayo MCS. O desafio do conhecimento: pesquisa qualitativa em saúde. 12nd. ed. São Paulo: Hucitec; 2010.
(12) Brasil. Ministério da Saúde. Conselho Nacional de Saúde. Resolução 196. Diretrizes e normas regulamentadoras de pesquisa envolvendo seres humanos. (Oct. 10, 1996).
(13) Shiroma LMB, Pires DEP. Classificação de risco em emergência - um desafio para as/os enfermeiras/os. Rev Enferm Foco. 2011; 2(1):14-7.
(14) Pires PS. Tradução para o português e validação de instrumento para triagem de pacientes em serviço de emergência: 'Canadian Triage and Acuity Scale' (CTAS) [Mestrado em Enfermagem]. São Paulo: Escola de Enfermagem da USP. Universidade de São Paulo; 2003.
(15) Garlet ER, Lima MADS, Santos JLG, Marques GQ. Organização do trabalho de uma equipe de saúde no atendimento ao usuário em situações de urgência e emergência. Texto Contexto Enferm. 2009; 18(2):266-72.
(16) Sá MC, Carreteiro TC, Fernandes MIA. Limites do cuidado: representações e processos inconscientes sobre a população na porta de entrada de um hospital de emergência. Cad Saude Publica. 2008; 24(6):1334-43.
(17) Santos JLG, Lima MADS. Gerenciamento do cuidado: ações dos enfermeiros em um serviço hospitalar de emergência. Rev Gaucha Enferm. 2011; 32(4):695-702.
(18) Gaidzinski RR, Fugulin FMT. Castilho V. Dimensionamento de Pessoal de Enfermagem em Instituições de Saúde. In: Kurcgant P. (Org.) Gerenciamento em enfermagem. São Paulo: Guanabara Koogan; 2005.
(19) Peres AM, Ciampone MHT. Gerência e competências gerais do enfermeiro. Texto Contexto Enferm. 2006; 15(3): 492-9.
(20) Brusamolin L, Montezeli JH, Peres AM. Use of the managerial abilities by nurses of a ready attendance hospital. Rev Enferm UFPE. 2010; 4(2):818-24.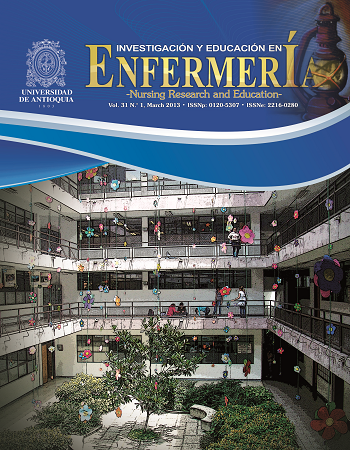 How to Cite
Cabreira Gehlen, G., & da Silva Lima, M. A. D. (2013). Nursing work in care practice at Emergency Care Units. Investigación Y Educación En Enfermería, 31(1). Retrieved from https://revistas.udea.edu.co/index.php/iee/article/view/15048
Section
ORIGINAL ARTICLES / ARTÍCULOS ORIGINALES / ARTIGOS ORIGINAIS
License
Derechos de propiedad / Direitos de Propriedade
English: If the article is accepted for publication, all copyright will be of exclusive property of Investigación y Educación en Enfermería. The text and the graphics included in the publication are exclusive responsibility of the authors and not necessarily reflect the thought of the Editorial Committee.
Español: Si el artículo es aprobado para publicación, todos los derechos son de propiedad de Investigación y Educación en Enfermería. El texto y las gráficas incluidas en la publicación son de exclusiva responsabilidad de los autores y no necesariamente refleja el pensamiento del Comité Editorial.
Português: Se o artigo for aceito para publicação, todos os direitos autorais serão de propriedade exclusiva de Investigación y Educación en Enfermería. O texto e os gráficos incluídos na publicação são de responsabilidade exclusiva dos autores e não refletem necessariamente o pensamento do Comitê Editorial.