Development of a delivery continued care model
Keywords:
Patient care planning; delivery rooms; nurse midwives.
Abstract
Objective. To describe the obstetric nurses' experiences related with the development of a delivery care model.
Methodology. Case study type research. Four obstetric nurses who developed the delivery care model proposed by the Sao Paulo university testimonies were analyzed. The obtained information was analyzed using an inductive interpretative way.
Results. Four descriptive categories came up from the testimonies: a) Coping with ambivalence feelings, b) Work with ease and difficulties with the new model adoption, c) the delivery concept changes and d) the nurses recognized the model viability, but its implementation depends in the philosophical and management guidelines related with delivery care and professionals' commitment.
Conclusion. The diverse aspects involved were recognized in the implementation of the delivery model.
|Abstract = 39 veces | PDF (PORTUGUÊS) = 17 veces| | HTML (PORTUGUÊS) = 0 veces|
Downloads
Download data is not yet available.
References
(1) Brasil. Dispõe sobre o Programa de Humanização no Pré-natal e Nascimento. Diário Oficial, 569, (Jun 2000).
(2) Serruya SJ, Cecatti JG, Lago TG. O Programa de Humanização no Pré-natal e Nascimento do Ministério da Saúde no Brasil: resultados iniciais. Cad Saúde Públ. 2004; 20(5):1281-9.
(3) Hodnett ED, Osborn RW. Effects of intrapartum professional support on childbirth outcomes. Res Nurs Health. 1989; 12(2):289-297.
(4) Stake RE. Case studies. En: Denzin NK, Lincoln YS. Handbook of qualitative research. Califórnia: Sage; 1994. p. 236-46.
(5) Blasco JS. Estudio de casos. En: Batzan AA. Etnografia: metodologia cualitativa en la investigación sociocultural. Barcelona: Macambo; 1995. p. 203-208.
(6) André M. Estudo de caso: seu potencial na educação. Cad Pesq. 1984; 49(1):51-54.
(7) Kvale S. Interviews: an introduction to qualitative research interviewing. Thousand Oaks: Sage; 1996. p. 30.
(8) Brasil. Ministério da Saúde. Conselho Nacional de Saúde. Resolução nº 196, diretrizes e normas regulamentadoras de pesquisa em seres humanos. Brasilia: Ministério da Saúde;1996.
(9) Meadows LM, Morse JM. Constructing evidence within the qualitative project. En: Morse JM, Swanson JM, Kuzel AJ, editors. The nature of qualitative evidence. Thousand Oaks: Sage; 2001. p. 187-200.
(10) Bom Meihy JCS. Manual de história oral. São Paulo: Loyola; 1998. p. 17.
(11) Massarollo MCKB. Estrutura organizacional e os serviçosde enfermagem. São Paulo: Pedagógica Universitária Ltda; 1991. p. 23-40.
(12) Hoga LAK. A dimensão subjetiva do profissional na humanização da assistência à saúde: uma reflexão. Rev Esc Enf USP. 2004; 38(1):13-20.
(13) Ministério da Saúde. Programa nacional de humanização da assistência hospitalar. Brasília: MS; 2001.
(14) Caron OAF. Parturiente e equipe obstétrica: a difícil arte de comunicação. São Paulo: Universidade de São Paulo; 1998.
(15) Queiroz MVQ, Jorge MSB, Marques JF, Cavalcante AM, Moreira KAP. Indicadores de qualidade da assistência ao nascimento baseado na satisfação de puérperas. Texto & Contexto Enferm. 2007; 16(3):479-487.
(16) Manzolli MC. Relacionamento em enfermagem: aspectos psicológicos. São Paulo: Sarvier; 1987. p. 30-32
(17) Amorim MHC. Princípios da humanização na assistência à parturiente no período de dilatação: conhecimento de aplicação por enfermeiros. São Paulo: Universidade Federal de São Paulo; 1987. p. 112.
(18) Gualda DMR. A experiência, o significado e a realidade da enfermeira obstétrica: um estudo de caso. São Paulo: Universidade de São Paulo; 1998. p. 132.
(19) Fustinoni SM. As necessidades de cuidado da parturiente: uma perspectiva compreensiva da ação social. São Paulo: Universidade de São Paulo; 2000. p. 153.
(20) Beck CLC, González RMB, Denardin JM, Trindade LL, Lauterf L. A humanização na perspectiva dos trabalhadores de enfermagem. Texto & Contexto Enferm. 2007; 16(3):503-510.
(21) Mazzieri SPM. O pai acompanhante no processo de nascimento e parto: narrativas sobre a experiência. São Paulo: Universidade de São Paulo; 2005. p. 218.
(22) Geertz C. A interpretação das culturas. Rio de Janeiro: Zahar; 1978. p. 57.
(23) Evans R. The pedagogic principal. Edmonton: Qual Institute Press; 1999. p.120.
(24) Vargens OMC, Progianti JM, Silveira ACF. O significado de desmedicalização da assistência ao parto no hospital: análise da concepção de enfermeiras obstétricas. Rev Esc Enferm. 2008; 42(2): 339-46.
(25) Florentino LC, Soares AVN, Souza TM, Spir EG, Andreoni S, Bálsamo AC. Elaborando e desenvolvendo padrões e critérios de qualidade na assistência perinatal. En: Cianciarullo TI, Gualda DMR, Melleiro MM, organizadoras. Indicadores de qualidade: uma abordagem perinatal. São Paulo: ícone; 1998. p. 77-137.
(26) Zagonel IP. Contribuição do cuidado de enfermagem à humanização da parturição. Cogitare Enferm. 1997; 2(2):34-38.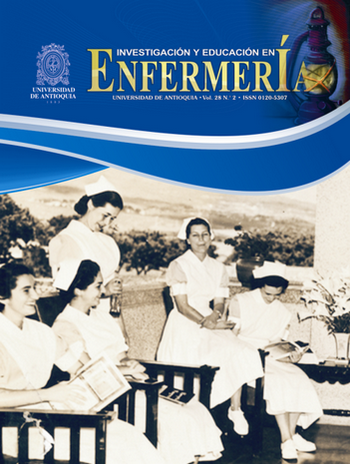 Downloads
How to Cite
Silveira Lambert, A. C., Komura Hoga, L. A., & Temer Jamas, M. (2010). Development of a delivery continued care model. Investigación Y Educación En Enfermería, 28(2). Retrieved from https://revistas.udea.edu.co/index.php/iee/article/view/6387
Section
ORIGINAL ARTICLES / ARTÍCULOS ORIGINALES / ARTIGOS ORIGINAIS
License
Derechos de propiedad / Direitos de Propriedade
English: If the article is accepted for publication, all copyright will be of exclusive property of Investigación y Educación en Enfermería. The text and the graphics included in the publication are exclusive responsibility of the authors and not necessarily reflect the thought of the Editorial Committee.
Español: Si el artículo es aprobado para publicación, todos los derechos son de propiedad de Investigación y Educación en Enfermería. El texto y las gráficas incluidas en la publicación son de exclusiva responsabilidad de los autores y no necesariamente refleja el pensamiento del Comité Editorial.
Português: Se o artigo for aceito para publicação, todos os direitos autorais serão de propriedade exclusiva de Investigación y Educación en Enfermería. O texto e os gráficos incluídos na publicação são de responsabilidade exclusiva dos autores e não refletem necessariamente o pensamento do Comitê Editorial.