Hope and family resilience promotion. Appreciative prac-tices
Keywords:
Resilience, psychological; family.
Abstract
Review article in which family assessment and intervention expe-riences are described stressing the Appreciative Inquiry as a mean to privilege the competitions celebration, and the families' creative potential with views to a more positive change of their strengths, virtues, and abilities. In the positive psychology approach focus the mutual help groups, hospital care, and primary attention care are highlighted as main experiences.
|Abstract = 103 veces | PDF (ESPAÑOL) = 35 veces| | HTML (ESPAÑOL) = 6 veces|
Downloads
Download data is not yet available.
References
(1) Slepoj V. As Relações de Família. Lisboa: Editorial Presença; 2000.
(2) Figueiredo M, Vilar A, Sousa C. Resilência: Abordagem apreciativa da família como sistema social. En: Sociedade portuguesa de enfermeiros de saúde mental, A saúde mental e a vulnerabilidade social. Porto: Sociedade portuguesa de enfermeiros de saúde mental; 2009. p.1-17.
(3) Alarcão M. (Des) Equilíbrios familiares, uma visão sistémica. Coimbra: Quarteto Editora; 2002.
(4) Andolfi M. A Terapia Familiar. Lisboa: Editorial Veja; 1981.
(5) Minuchin S. Famílias. Funcionamento e tratamento. Porto Alegre: Artes Médicas; 1990.
(6) Barker P. Fundamentos da terapia familiar. Lisboa: Climepsi; 2000.
(7) Gimeno A. A família, o desafio da diversidade. Lisboa: Instituto Piaget; 2001.
(8) Minuchin S, Lee W, Simon G. Dominando a terapia familiar. São Paulo: Artmed; 2006.
(9) Silva L, Figueiredo M. Cuidar a família: Um compartilhar de experiências Luso- Brasileiras. En: Associação portuguesa de enfermeiros. 9ª Conferência internacional de investigação em enfermagem. 2006; p.22-32.
(10) Figueiredo, M. Sistema familiar e cuidados de enfermagem. SERVIR. 2006;54(1):11-14.
(11) Osório L, Valle M. Manual de Terapia familiar. São Paulo: Artmed; 2009.
(12) Vasconcellos M. Pensamento distêmico: O novo paradigma da ciência. Campianas, SP: Papirus; 2006.
(13) Capra F. A Teia da Vida. São Paulo: Editora Cultrix;1996.
(14) Gameiro A. Famílias monoparentais-aspectos sociais. Hospitalidade.1994;229: 62-76.
(15) Bertalanffy LV. Teoria Geral dos sistemas. Petrópolis: Editora Vozes; 1977.
(16) Bénoit J. Tratamentos das perturbações familiares. Lisboa : Climepsi; 2004.
(17) Whyte D. Explorations in family nursing. London: Routledge; 1997.
(18) Hanson S. Enfermagem de cuidados de saúde à família: teoria, prática e investigação. Camarate: Lusociência; 2005.
(19) Vaughan-Cole B, Jonhson M, Malone J, Walker B. Family nursing practice. Philadelphia: W.B. Saunders Company; 1998.
(20) Wright L, Leahey M. Enfermeiras e famílias. Um guia para a avaliação e intervenção na família. São Paulo: Roca; 2008.
(21) Friedman M. Family nursing : Research, theory and practice. Stamford: Appleton & Lange; 1998.
(22) Friedemann M. The concept of family nursing. En: Wegner G, Alexander R. Readings in family nursing. Philadelphia: J.B.Lippincott Company; 1999.
(23) International Council of Nurses. Nurses always there for you: caring for families. Geneva: ICN, 2002.
(24) Ângelo M, Bousso R. A enfermagem e o Cuidado na saúde da família. Manual de enfermagem [Internet]. 2008 [acesso em 22 de Maio de 2008]. Disponible en: www.ids-saude.org.br/enfermagem.
(25) Ausloos G. A competência das famílias. Lisboa: Climepsi; 2003.
(26) Cutcliffe J, Grant G. What are the principles and processes of inspiring hope in cognitively impaired older adults within a continuing care environment?. J Psychiatr Ment Health Nurs. 2001;8(5):427–36.
(27) Wright L. Espiritualidade, sofrimento e doença. Coimbra: Ariadne Editora; 2005.
(28) Mednick L, Cogen F, Henderson C, Rohrbec C, Kitessa D, Streisand R. Hope More, Worry Less: Hope as a potential resilience factor in mothers of very young children with type 1 diabetes. Child Health Care. 2007;36(4):385-96.
(29) Snyder C, Lopez S. Psicologia positiva. Porto alegre: Artmed; 2009.
(30) Cutcliffe J, Herth K. The concept of hope in nursing 2: hope and mental health nursing. Br J Nurs. 2002; 11(13):885-93.
(31) Silva L, Silva D, Gonçalves L, Costa M, Martins M, Figueiredo M. Família uma unidade de cuidado para seus membros: Inquietações reflexivas. Servir. 2008;56(5-6):159-166.
(32) Walsh F. Fortalecendo a resiliência familiar. São Paulo: Roca; 2005.p.328.
(33) Anaut M. A resiliência: ultrapassar os traumatismos. Lisboa: Climepsi; 2005.
(34) Whitney D, Trosten-Bloom A. The power of appreciative inquiry. A practical guide to positive change. San Francisco: Berrett-Koehler Publishers; 2003.
(35) Neto L, Marujo H. Optimismo e inteligência emocional. Lisboa: Editorial Presença; 2002.
(36) Cooperrider D, Whitney D, Stavros J. Appreciative inquiry handbook. United States of America: Lakeshore Communications; 2003.
(37) Charepe Z. O Encontro com a ajuda mútua: Percepções dos pais de crianças com doença crónica. Dissertação de mestrado. Lisboa: Universidade Aberta; 2006.
(38) Charepe Z. Construir a esperança nos pais de crianças com doença crónica-guia orientador de boa prática. Setúbal: Centro Hospitalar de Setúbal E.P.E. Serviço de Pediatria; 2008.
(39) Figueiredo M. Enfermagem de família: Um contexto do cuidar. Tese de doutoramento em ciências da enfermagem. Porto: Instituto de Ciências Biomédicas Abel Salazar, Universidade do Porto; 2009
(40) Figueiredo M, Martins M. Dos contextos da prática à (co)construção do modelo de cuidados de enfermagem de família. Rev Esc Enferm USP. 2009;43(3):615–21.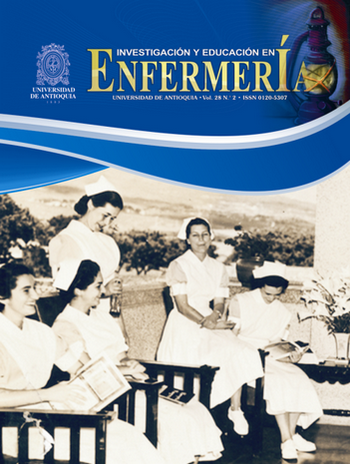 Downloads
How to Cite
Borges Charepe, Z., & Silva Figueir, M. H. . de J. (2010). Hope and family resilience promotion. Appreciative prac-tices. Investigación Y Educación En Enfermería, 28(2). Retrieved from https://revistas.udea.edu.co/index.php/iee/article/view/6395
Section
REVIEW ARTICLE / ARTÍCULO DE REVISIÓN / ARTIGO DE REVISÃO
License
Derechos de propiedad / Direitos de Propriedade
English: If the article is accepted for publication, all copyright will be of exclusive property of Investigación y Educación en Enfermería. The text and the graphics included in the publication are exclusive responsibility of the authors and not necessarily reflect the thought of the Editorial Committee.
Español: Si el artículo es aprobado para publicación, todos los derechos son de propiedad de Investigación y Educación en Enfermería. El texto y las gráficas incluidas en la publicación son de exclusiva responsabilidad de los autores y no necesariamente refleja el pensamiento del Comité Editorial.
Português: Se o artigo for aceito para publicação, todos os direitos autorais serão de propriedade exclusiva de Investigación y Educación en Enfermería. O texto e os gráficos incluídos na publicação são de responsabilidade exclusiva dos autores e não refletem necessariamente o pensamento do Comitê Editorial.