Research: a placebo for the recognition way.
Keywords:
Research; placebo effect; education.
Abstract
The sense research should have as an approximation tool to the daily reality and the role of researcher as agents of social change is discussed in the article.
|Abstract = 35 veces | RESUMEN = 7 veces| | RESUMO = 0 veces| | PDF (ESPAÑOL (ESPAÑA)) = 10 veces| | PDF (ESPAÑOL) = 6 veces| | PDF (PORTUGUÊS (BRASIL)) = 1 veces| | HTML (ESPAÑOL) = 2 veces| | MCORREAHOYOS, CARTA DERECHOS AUTOR.BMP = 0 veces| | MCORREAHOYOS, FORMATOCURRICULUMAUTORES.DOC = 0 veces|
Downloads
Download data is not yet available.
References
(1) Hoyos NE, Posada E. Los estímulos a la investigación en Colombia. Interciencia. 1996;20(2):109-14.
(2) Royero J. Gestión de sistemas de investigación universitaria en América Latina. [Internet] 2003. [acceso: octubre 15 de 2009]. Disponible en: http://www.rieoei.org/deloslectores/412Royero.pdf
(3) Calero JL. Investigación cualitativa y cuantitativa. Problemas no resueltos en los debates actuales. Rev Cubana Endocrinol. 2000;11(3):192-8.
(4) Mateo J. La Investigación Educativa. Dossier de Doctorado. Departamento de Métodos de Investigación y Diagnóstico: Universidad de Barcelona; 2001.
(5) Henao M. El papel de la investigación en la formación universitaria. [Internet] 2005. [acceso: abril 21 de 2010]. Disponible en: http://www.universia.net.co/docentes/articulos-de-educacion-superior/el-papel-de-la-investigacion-en-la-formacion-universitaria.html
(6) Thackeray R, Brown KR. Creating successful price and placement strategies for social marketing. Health Promot Pract. 2010;11(2):166-8.
(7) Ossa J. Para soñar y construir la universidad. Medellín: Facultad de Medicina de la Universidad de Antioquia; 1999.
(8) Vessuri H. La calidad de la investigación en Venezuela: Elementos para el debate en torno al programa de promoción del investigador. Interciencia. 1996;21(2):98-102.
(9) Tunnermann C. Universidad y Sociedad: Balance histórico y perspectivas desde Latinoamérica. Caracas: Comisión de estudios de postgrado, UCV, /Ministerio de Educación, Cultura y Deportes; 2000.
(10) El Congreso. Ley 1286 de 2009. Diario Oficial No. 47.241 de 23 de enero de 2009.
(11) 13. Rosselli DA. La investigación biomédica en Colombia: Un análisis de Medline. Colomb Méd. 1998; 29(3):108-11.
(12) Serrano NC. Semilleros de investigación: Una estrategia de iniciación en la vida científica. Med UNAB. 2004;7( 21):155-6.
(13) Londoño F. Un análisis sobre la dinámica de los grupos de investigación en Colombia* de su conformación a su supervivencia. Invest Desarro. 2005;13(1):184-203.
(14) Zikmund W. Investigación de Mercados. 6ta. Ed. México: Editorial: Prentice Hall; 1998.
(15) Hernández U. Propuesta Curricular para la consolidación de los Semilleros de Investigación como espacios de Formación Temprana en Investigación. Rev Electrón Red Invest Educ [Internet] 2005. [acceso 19 de octubre de 2010]; 1(2). Disponible en: http://revista.iered.org
(16) Royero J. Contexto mundial sobre la evaluación en las instituciones de educación superior. Rev Iberoamericana Educ. [Internet] 2002. [acceso 11 de marzo de 2011]. Disponible en: www.unmsm.edu.pe/occaa/articulos/contexto.pdf
(17) 16.T orres LC. Para qué los semilleros de investigación. [Internet] 2005. [acceso: abril 12 de 2010]. Disponible: http://www.revistamemorias.com/edicionesAnteriores/8/semilleros.pdf
(18) González J. Semilleros de Investigación: una estrategia formativa. Psychologia. 2008; 2(2):185-90.
(19) Gómez GE, Molina ME. Evaluación ética de proyectos de investigación: una experiencia pedagógica. Invest Educ Enferm. 2006;24(1):68-77.
(20) Lewison G. Beneficios de la investigación Médica para la sociedad. Med clín. 2008;131(5):42-7.
(21) Joliot P. La investigación apasionada. México: Fondo de Cultura Económica; 2004:
(22) Robledo VJ, Tamayo LI, Monsalve MX. Hacia una caracterización de las estrategias investigativas de los grupos de investigación universitarios. Altec: XI Seminario Latino-Iberoamericano de Gestión Tecnológica; 2005.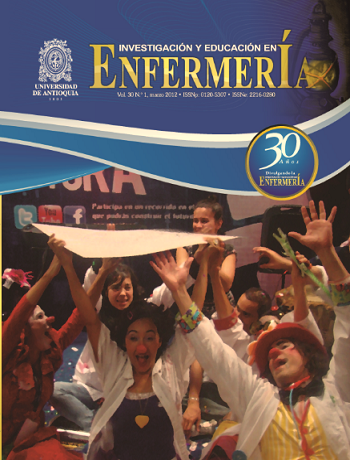 How to Cite
Lopera Valle, J. S. (2012). Research: a placebo for the recognition way. Investigación Y Educación En Enfermería, 30(1). Retrieved from https://revistas.udea.edu.co/index.php/iee/article/view/9638
Section
REFLECTION ARTICLES / ARTÍCULO DE REFLEXION / ARTIGO DE REFLEXÃO
License
Derechos de propiedad / Direitos de Propriedade
English: If the article is accepted for publication, all copyright will be of exclusive property of Investigación y Educación en Enfermería. The text and the graphics included in the publication are exclusive responsibility of the authors and not necessarily reflect the thought of the Editorial Committee.
Español: Si el artículo es aprobado para publicación, todos los derechos son de propiedad de Investigación y Educación en Enfermería. El texto y las gráficas incluidas en la publicación son de exclusiva responsabilidad de los autores y no necesariamente refleja el pensamiento del Comité Editorial.
Português: Se o artigo for aceito para publicação, todos os direitos autorais serão de propriedade exclusiva de Investigación y Educación en Enfermería. O texto e os gráficos incluídos na publicação são de responsabilidade exclusiva dos autores e não refletem necessariamente o pensamento do Comitê Editorial.