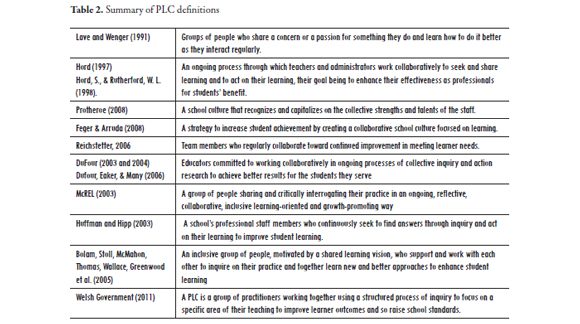 These definitions share a vision of group work, continuous improvement, common interest, collaborative work, and mutual goals. In this article, I conceive a PLC as a group of professionals, in this specific case in the field of education (professional), who gather together to share experiences and undertake research (learning), resulting in improved practices in the short term and in influence on policy makers in the long term (community).
The literature on PLCs and learning often mentions the following five core organizational principles:
1. Supportive and shared leadership
2. Collective creativity/responsibility
3. Shared values and vision
4. Supportive conditions
5. Shared personal practice
Supportive and shared leadership.
Any change in the academic community demands the involvement of its administrators, whose leadership engages staff in professional development activities. Thus, Caine and Caine (2000) say that PLCs develop teacher-leaders. While administrators share knowledge, decisionmaking and provide opportunities for exchanging ideas, teachers increase their leadership capacities and use their experience, practices and inquiries to construct knowledge.
Collective creativity/responsibility.
Louis and Kruse (1995) report that a learning community is constituted by people from diverse backgrounds who conduct a reflective dialogue about students, teaching and learning. They take part in various tasks that demand proactivity and the rigor to pursue a goal. In this article the reflective dialogue is suggested around research practices. As a way of example, by organizing online collaborative groups participants may find a place in the academic world.
Shared values and vision.
According to Reichstetter (2006) and Huffman (2003), participants in PLCs have in common the vision of commitment to improvement. In fact, special attention is devoted to how not just students but also the community participants can learn. Additionally, as with any organization, the vision and mission are stated and are followed by all the members.
Supportive conditions.
Offering space and time for gathering together and setting clear conditions for operationalizing the network are two pillars to guarantee the accomplishment of goals. Support should come from the inside, meaning the learning community itself, and from the outside, meaning the current affiliation of participants.
Shared personal practice.
Teachers work and learn together as they continually evaluate their practices and the needs, interests and skills of their students (McREL, 2003). The Colombian educational system would benefit from a learning community like the one described in this paper since it allows educators from different educational contexts, backgrounds and areas of expertise to work together toward a common goal. Furthermore, knowing what others are doing in other contexts and understanding how colleagues address common issues may enrich individual methods.
Unlike other forms of professional development, PLCs give each member the chance to be a leader, which means participants are not mere receivers of knowledge but also knowledge producers. The five principles mentioned before provide the path to put into operation any PLC and lead to research on the benefits, characteristics and impact on students´ performance as the Center for Comprehensive School Reform and Improvement (http://www. centerforcsri.org/plc/) explains.
Stoll, Bolam, McMahon, Wallace, and Thomas (2006) argue that due to greater job satisfaction, shared responsibility, and reduction of isolation, the main benefit concerns the impact on students' performance. Many educators face the same problems or have the same academic interests, but take diverse approaches to common situations. In consequence, a PLC is a space where different visions of the world may be shared and thus modified and improved. Although there is recent evidence on PLCs, Stanley (2011) reports teachers working together dates back to 1973 with the study on "Federal Programs Supporting Educational Change" and a 1980 study by Joyce and Shower. In this report Rand conducted a twophase study to spread and introduce best practices in US public schools.
Other evidence of how PLCs work emerges and benefits both primary and secondary education is presented by some school districts. South Elementary in Missouri (2007) and Boones Mill Elementary in Virginia (2002) reported student improvement, the former by implementing common assessment in their literacy instruction and problem-solving for at-risk learners, the latter by organizing research teams of teachers who looked for measurable student achievement goals. Other examples at the middle school level are the case of Lewis and Clark Middle School in Missouri (2003) and of Woodsedge Middle School in Texas (2003). In the first case participants evaluated data and later implemented an approach that included professional development. In the second case, educators designed curricula to help low achievers. In both cases results showed student improvement and collaborative research by teachers. At the high school level and in 2007, a school in Bogotá, Colombia did a study on how bilingual education was implemented in some schools of the same city. Results showed different understanding as to what the concept of bilingual education entails.
Other reports refer to the impact of PLC. In 2001 the National Staff Development Council (NSDC) stated that "the most powerful forms of staff development occur in ongoing teams that meet on a regular basis . . . [These] learning communities or communities of practice operate
with a commitment to the norms of continuous improvement and experimentation and engage their members in improving their daily work to advance the achievement of school district and school goals for student learning." (p. 1)
The Department for Education and Skills (DfES), the General Teaching Council for England (GTCe) and the National College for School Leadership (NCSL) from January 2002 to October 2004 also funded a project entitled Creating and Sustaining Effective Professional Learning Communities (EPLC). Their main conclusion was that the creation of PLCs is worth pursuing for promoting school and systemwide capacity building. They identified eight characteristics: shared values and vision, collective responsibility for pupils' learning, collaboration focused on learning, individual and collective professional learning, reflective professional inquiry, openness, networks and partnerships, inclusive membership and mutual trust, respect and support. PLCs change over time while also providing a model to follow. The above study gives more insights for this paper, not only because it explains the key factors for execution but also because it gives some general recommendations for future implementations. These conclusions resulted from answering five broad questions:
•What are professional learning communities and how has the concept developed?
• What makes professional learning communities effective?
• What processes do professional learning communities use, and how do they contribute to the development of an effective professional learning community?
• What other factors help or hinder the creation and development of effective professional learning communities?
• Are professional learning communities sustainable?
Other studies have focused on the characteristics of PLCs. In 2008 the Education Alliance at Brown University in partnership with Hezel Associates conducted a literature review on PLCs using different databases. Besides the questions posed in the previous study, they also asked, "What is known about technology use to facilitate PLCs? What further studies and research is recommended? How do schools/districts support the development of such communities?"
Also worth mentioning is Kline's (2007) case study of three teacher communities of practice. The most relevant aspect of this study has to do with the conclusion, in which the researcher affirms that PLCs have a better chance of success if viewed as voluntary activities rather than mandatory. This study also supports the idea of inviting teachers by asking them "What do you do in case…? How do you handle…? What if….?" This approach results in increased motivation and the creation of a real sense of belonging.
Haneda (2006) explains that communities of practice may be focused on different areas. In her case she talks about second language research. One of the main concerns and proposals in this paper has to do with Haneda´s assertion that group work and approaches to practices are better dealt with when addressed from different perspectives and that interdisciplinary work lets participants gain knowledge while providing input.
As it can be seen, there are many reports on how schools implement PLCs. However, less research has focused on these communities in university settings. It can be argued that there is a need to foster the creation of and evaluate the benefits, impact and caracteristics of PLCs in the Colombian context. As Huffman and Hipp (2003) argue, the PLC is "the most powerful professional development and change strategy available" (p. 4).
PLCs Operationalization – The PLC Colombian Model
Professional development through PLCs may only occur if there is a change in the paradigm of how professional knowledge is gained. Educators need to understand that the basis of any improvement relies on interaction and the exchange of ideas. Of course, this demands time and cannot be linked to a certain number of hours. PD is continuous and calls for commitment if participants want to succeed. As stated earlier, a community of this kind only exists because of the sustained contribution of each participant. In that sense, it is plausible that educators belonging to different affiliations, namely private and public institutions in rural or urban areas, go into partnership.
This section presents the concept and operationalization of a PLC, including its outcomes. The PLC in this article has its origins in the heart of an academic group integrated by educators of different backgrounds (schools and universities) who gathered together to do research. It is expected that the example shown in this section can serve as a model in Colombia.
To start with, as in any organization, participants set clear goals and principles to implement. The former set the purpose and the latter the norms that result in a sense of belonging.
PLC goals:
1. Support educators and administrators by means of a national professional community.
2. Create a learning organization where foreign language educators and administrators in Colombia cooperate, learn together, and show research results.
3. Impact national policies through research.
PLC principles:
a. Open-Mindedness: the ability to accept feedback and apply learning according to each member´s educational setting.
b. Mutual respect: value and respect cooperative work by reflecting on different practices.
c. Trustworthiness: dependent and interdependent loyalty.
d. Supportive leadership: as representatives of each institution, each member becomes a leader for his/her community or educational system.
e. Understanding: build knowledge together.
f. Commitment: ensure the effectiveness of the PLC through active participation.
g. Collegiality: all members share power, authority and decision-making that support the operation of the network.
PLC action plan:
As with all organizations, PLCs require an action plan. This plan provides the journey to achieve the established goals and follow the principles within the organization. One may say there are two types of actions. The first set of actions has to do with the operationalization of the community itself and provides the foundation. The second set of actions has to do with how to handle the PD endeavor and sets the work plan. As it was said before, the proposed PLC is focused on research practices.
Some of the actions that should be considered are:
• Set when, where and how participants can come together.
• Evaluate the role of technology. It may be vital as a communication channel.
• State the vision and mission of the PLC.
• Register the PLC (for instance on the Colombia Aprende website)
• Set a work plan.
• Identify research lines.
• Pose research projects.
• Study current educational policies and plan to intervene.
PLC outcomes:
PLCs need to establish clear outcomes. These should be evident and measurable.
Examples of desired outcomes include what Harris and Jones (2010) sum up in three words, "improved learner outcomes," in addition to current methodologies:
• Improve practices
• Do research
• Publish for the educational community
• Impact institutional and national policies
In the Colombian context, like any in the world, these outcomes have a great impact in the academic community. Sharing let other practitioners learn from other practices which is another way to expand the community.
PLC structure.
Although most of the literature on PLCs suggests teachers be the members of such groups, administrators, teachers, and teacherresearchers may also facilitate the creation of these organizations. In the Colombian context there is no restriction as to the kind and number of members; mainly if one considers participants need to be replicators in their own communities. Figure 1 shows six members as a way of example; however, there may be as many members as desired.
Figure 1 displays how the PLC brings together community personnel from various organizations. Coming from different groups opens the world of possibilities for academic work. In any case participants gain knowledge or complete assignments that involve their communities. In this example, member three and four come from the same organization.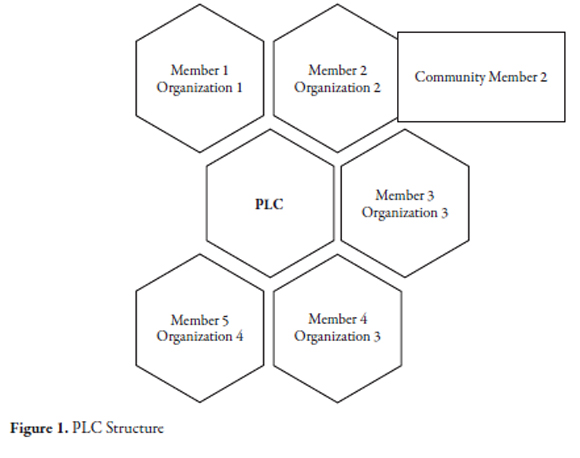 Members´ contributions are relevant for a richer experience. Eaker and Gonzalez (2006) mention how collaborative work results in specific products which depending on the plan set forth for the PLC.

The figure 2 is proposed in light of previous information and dynamics in many institutions of the Colombian educational system. Professors, for instance, are required to do research and belong to networks where they can both conduct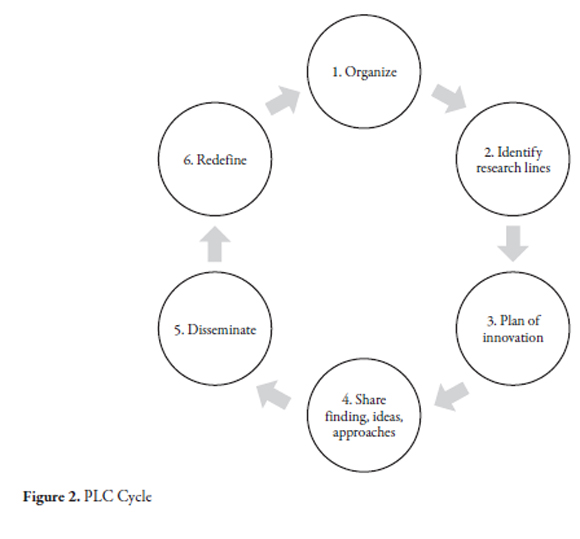 research and disseminate it. These professionals usually belong to research groups. However, this PLC does not necessarily act as a research group since participants may belong to different research groups and use the learning gained in this community as a strategy to expand their own. It means the PLC acts as a means to gather researchers together.

Each stage in the cycle is explained as follows:

• Organize groups: call participants to belong to the PLC. Explain the PLC structure, goals, norms, principles and expectations. Establish the group of participants and group them according to research interests. Name the PLC coordinator and distribute leadership responsibilities. Each member acts as facilitator for his/her area of expertise.

• Identify research lines or areas of interest: consider the needs in terms of improvement, and consider the common problems or issues for each academic community. If necessary, organize subgroups within the community. It is advisable to have leaders for each of the research lines, although responsibility is shared.

• Plan for innovation: set a schedule, activities, and/or sponsorship for events. State tasks and how to carry out research projects. Schedule meetings to report progress and a calendar of activities. Keep in mind participants' affiliation since institutional policies may bias work.

• Share findings: share progress and sustained improvement. Impact is crucial at this stage. As a consequence, on this stage an assessment of its impact on its members´ professional development and on students´ learning may be reported. In fact research on how the cycle is influencing participants may be done. Plan an implementation time line.

• Disseminate: present results, provide recommendations, act on data collected, and publish. Find ways to influence policies.

• Redefine: reshape or refine the strategies. Start a new inquiry based on identified results. Involve new members in the community.

Following those six steps facilitates a working plan for community members when planning the operationalization of the PLC. It is important for members to guarantee the cycle is followed in such a way outcomes are achieved.

Conclusion

PLCs offer a magnificent chance for involvement in professional development activities. Professional development may be richer if participants follow the model proposed in this article which seeks to have an impact on the field and on national policies. Table 3 summarizes the operationalization of the PLC model proposed in this article:
Professional development should be understood as professional learning. Joint contributions enrich and improve practices. Although there is some evidence on how school PLCs operate and some of their outcomes, there is still much to be done in order to find out how university PLCs function and their impact, especially in a country such as Colombia where even national policies advocate for their operation.

It is suggested that the model presented in this article be implemented at many institutions in such a way that the desired impact is achieved and further research can be done.

Notes

author´s translation

author´s translation

author´s translation

References

Bolam, R., McMahon, A., Stoll, L., Thomas, S., & Wallace, M. (2005). Creating and sustaining effective professional learning communities. General Teaching Council for England. University of Bristol: England.

Caine, G., & Caine, R. N. (2000). The learning community as a foundation for developing teacher leaders. NASSP Bulletin, 84(616), 7-14.

DuFour, R. (2003). Building a professional learning community: For system leaders, it means allowing autonomy within defined parameters. The School Administrator. Retrieved March 8, 2008, from http://findarticles.com/p/articles/mi_m0JSD/is_5_60/ai_101173944

DuFour, R. (2004). What is a professional learning community? Educational Leadership, 61(8),6-11.

DuFour, R., Eaker, R., & Many, T. (2006). Learning by doing: A handbook for professional learning communities that work. Bloomington, IN: Solution Tree.

Eaker, R., & Gonzalez, D. (2006). Leading in professional learning communities. National EakerForum of Educational Administration and Supervision Journal, 24(1), 6-13.

Feger, S., & Arruda, E. (2008). Professional learning communities: Key themes from the literature. Providence, RI: The Education Alliance, Brown University.

Haneda, M. (2006) Classrooms as communities of practice: A reevaluation. TESOL QUARTERLY, 40 (4),807-817.

Harris, A. and Jones, M. (2010) Professional learning communities and system Improvement. Improving Schools, 13(2), 172–181. doi: 10.1177/1365480210376487

Henri R., & Pudelko B. (2003). Understanding and analyzing activity and learning in Virtual Communities. Journal of Computer Assisted Learning, 19(4), 474-487.

Hord, S. (1997). Professional learning communities: What are they and why are they important? Austin, TX: Southwest Educational Development Laboratory (SEDL).

Hord, S., & Rutherford, W. L. (1998). Creating a professional learning community: Cottonwood Creek School. Issues about Change, 6(2), 1-8.

Huffman, J. B. (2000). One school's experience as a professional learning community. Planning and Changing, 31(1-2), 84-94.

Huffman, J. (2003). The role of shared values and vision in creating professional learning communities. NASSP Bulletin, 87, 21-34.

Huffman, J. B., & Hipp, K. K. (2003). Reculturing schools as professional learning communities. Lanham, MD: Rowman & Littlefield.

Kline, M. (2007). Developing Conceptions of Teaching and Learning Within Communities of Practice. US: University of Pensylvania.

Lave, J., & Wenger, E. (1991). Situated learning: Legitimate peripheral participation. Cambridge, England: Cambridge University Press.

Louis, K., & Kruse, D. (1995). Professionalism and community: Perspectives on reforming urban schools.

Thousand Oaks, CA: Corwin Press.

Martínez, M. C. (2006) La Figura del Maestro Como Sujeto Político. El Lugar de los Colectivos y Redes Pedagógicas en su Agenciamiento. Revista Educere, 10(33), 243 – 250.