El costo económico de los desastres naturales: el caso del tsunami y la emergencia nuclear en Japón en 2011
Palabras clave:
contrafactual sintético, nuclear, Fukushima, ponderación óptima, tsunami
Resumen
En este trabajo estamos interesados en estimar el costo económico del tsunami ocurrido en 2011 en Japón, el cual afectó dramáticamente las prefecturas (provincias) de la región nororiental (Fukushima, Itawe y Miyagui) y originó la posterior emergencia nuclear causada por el daño del reactor de Fukushima. Para lograr el objetivo, se utiliza la metodología de control sintético (MCS) construyendo "prefecturas sintéticas" y utilizando las prefecturas que no fueron afectadas por el tsunami. Los resultados muestran que el costo del desastre en 2011 ascendió a 2,5 billones de yenes (23000 millones de USD), equivalente al 18% de un bloque del PIB (sumatoria de los PIB sectoriales relevantes para la economía de las tres prefecturas); así mismo, evidenciaron que el efecto causal positivo medido entre 2012 y 2014 fue de alrededor de 1,4 billones de yenes (12800 millones de USD), equivalente al 10% del PIB. Los resultados de este artículo son relevantes, pues proveen una metodología para estimar el efecto causal económico de desastres naturales o de conflictos.
|Resumen = 732 veces | PDF = 567 veces| | XML = 10 veces| | EPUB = 34 veces| | HTML = 14 veces|
Descargas
Los datos de descargas todavía no están disponibles.
Citas
Abadie, A., Diamond, A. & Hainmueller, J. (2011). Synth: An R package for synthetic control methods in comparative case studies. Journal of Statistical Software, 42(13).
Abadie, A. & Gardeazabal, J. (2003). The economic costs of conflict: A case study of the basque country. The American Economic Review, 93(1), 113-132.
Ando, M. & Kimura, F. (2012). How did the Japanese exports respond to two crises in the international production networks? The global financial crisis and the great east japan earthquake. Asian Economic Journal, 26(3), 261-287.
Athukorala, P. & Resosudarmo, B. (2006). The Indian Ocean Tsunami: Economic Impact, Disaster Management, and Lessons. Asian Economic Papers, 4(1), 1-39.
Benson, C. & Clay, E. (2004) Understanding the Economic and Financial Impacts of Natural Disasters (Report No. 28406). World Bank Group http://documents.worldbank.org/curated/en/146811468757215744/Understanding-the-economic-and-financial-impacts-of-natural-disasters
Bernal, R. & Peña, X. (2011). Guía práctica para la evaluación de impacto. Ediciones Uniandes-Universidad de los Andes.
Bird, D. K., Haynes, K., van den Honert, R., McAneney, J. & Poortinga, W. (2014). Nuclear power in Australia: A comparative analysis of public opinion regarding climate change and the Fukushima disaster. Energy Policy, 65, 644-653.
Carvalho, V. M., Nirei, M., Saito, Y. & Tahbaz-Salehi, A. (2016). Supply chain disruptions: Evidence from the great east japan earthquake. http://vasco-m-carvalho.github.io/pdfs/JapanEQ.pdf
Cavallo, A., Cavallo, E. & Rigobon, R. (2014). Prices and supply disruptions during natural disasters. Review of Income and Wealth, 60, S449-S471.
Cavallo, E., Galiani, S., Noy, I. & Pantano, J. (2013). Catastrophic natural disasters and economic growth. Review of Economics and Statistics, 95(5), 1549-1561.
Cavallo, E. & Noy, I. (2009). The economics of natural disasters: a survey (IDB Working Paper Series, No. IDB-WP-124). Inter-American Development Bank https://publications.iadb.org/es/publicacion/economics-natural-disasters-survey
Cavallo, E. & Noy, I. (2011). Natural disasters and the economy: a survey. International Review of Environmental and Resource Economics, 5(1), 63-102.
Cimellaro, G. P., Solari, D. & Bruneau, M. (2014). Physical infrastructure interdependency and regional resilience index after the 2011 Tohoku earthquake in Japan. Earthquake Engineering & Structural Dynamics, 43(12), 1763-1784.
Coffman, M. & Noy, I. (2012). Hurricane iniki: measuring the long-term economic impact of a natural disaster using synthetic control. Environment and Development Economics, 17(2), 187-205.
Crespo Cuaresma, J., Hlouskova, J. & Obersteiner, M. (2008). Natural disasters as creative destruction? Evidence from developing countries. Economic Inquiry, 46(2), 214-226.
Davies, L. L. (2011). Beyond Fukushima: Disasters, nuclear energy, and energy law (Brigham Young University Law Review, No. 2011). https://papers.ssrn.com/sol3/papers.cfm?abstract_id=2008401
DiNardo, J. (2010). Natural experiments and quasi-natural experiments. In Microeconometrics (139-153). Springer.
Fomby, T., Ikeada, Y. & Loayza, N. (2009). The Growth Aftermath of Natural Disasters (Policy Research Working Papers, WPS5002). World Bank Group.
Gignoux, J. & Menéndez, M. (2016). Benefit in the wake of disaster: Long-run effects of earthquakes on welfare in rural Indonesia. Journal of Development Economics, 118, 26-44.
Halim, S., Ottemo Soe, R. S. D. (2013). The Synthetic Regression Method: How The Indian Ocean Tsunami Affects Growth Trajectories (Ph.D. thesis, Petra Christian University).
Heger, M. (2016). The causal effects of the Indian Ocean tsunami and armed conflict on Acehs economic development (Ph.D. thesis, The London School of Economics and Political Science).
Kajitani, Y. & Tatano, H. (2014). Estimation of Production Capacity Loss Rate after the Great East Japan Earthquake and Tsunami in 2011. Economic System Research: Journal of the International Input-Output Association (Vol. 26, No. 1, 13-38). Routledge, T & F Group.
Kawaguchi, D. & Yukutake, N. (2017). Estimating the residential land damage of the Fukushima nuclear accident. Journal of Urban Economics, 99, 148-160.
Kazama, M. & Noda, T. (2012). Damage statistics (summary of the 2011 off the pacific coast of Tohoku earthquake damage). Soils and Foundations, 52(5),780-792.
Kim, Y., Kim, M. & Kim, W. (2013). Effect of the Fukushima nuclear disaster on global public acceptance of nuclear energy. Energy Policy, 61, 822-828.
Loayza, N. V., Olaberria, E., Rigolini, J. & Christiaensen, L. (2012). Natural disasters and growth: Going beyond the averages. World Development, 40(7), 1317-1336.
Map of the regions and prefectures of Japan with Titles (marzo de 2018). In Wikipedia. https://en.wikipedia.org/wiki/Prefectures_of_Japan#/media/File:Regions_and_Prefectures_of_Japan_2.svg
Norio, O., Ye, T., Kajitani, Y., Shi, P. & Tatano, H. (2011). The 2011 eastern japan great earthquake disaster: Overview and comments. International Journal of Disaster Risk Science, 2(1), 34-42.
Padli, J., Shah Habibullah, M. & Baharom, A. (2010). Economic impact of natural disasters' fatalities. International Journal of Social Economics, 37(6), 429-441.
Pelling, M., Ozerdem, A. & Barakat, S. (2002). The macroeconomic impact of disasters. Progress in Development Studies, October.
Pereira, A. (2009). The Opportunity of a Disaster: The Economic Impact of the 1755 Lisbon Earthquake. The Journal of Economic History, 69(2), 466-499.
Rehdanz, K., Welsch, H., Narita, D. & Okubo, T. (2015). Well-being effects of a major natural disaster: the case of Fukushima. Journal of Economic Behavior & Organization, 116, 500-517.
Schnell, M. K., Weinstein, D. E. (2012). Evaluating the economic response to Japan's earthquake (Policy Discussion Paper, 12-P003). The Research Institute of Economy, Trade and Industry https://www.rieti.go.jp/jp/publications/pdp/12p003.pdf
Strobl, E. (2001). The Economic Growth Impact of Hurricanes: Evidence from U.S. Coastal Counties. Review of Economics and Statistics, 93(2).
Tanaka, K. & Managi, S. (2016). Impact of a disaster on land price: evidence from Fukushima nuclear power plant accident. The Singapore Economic Review, 61(01), 1640003.
Todo, Y., Nakajima, K. & Matous, P. (2015). How do supply chain networks affect the resilience of firms to natural disasters? Evidence from the great east japan earthquake. Journal of Regional Science, 55(2), 209-229.
Toya, H. & Skidmore, M. (2007). Economic development and the impacts of natural disasters. Economics Letters, 94(1), 20-25.
Welsch, H. & Biermann, P. (2014). Fukushima and the preference for nuclear power in Europe: Evidence from subjective well-being data. Ecological Economics, 108, 171-179.
Wittneben, B. B. (2012). The impact of the Fukushima nuclear accident on European energy policy. Environmental Science & Policy, 15(1), 1-3.
Xiao, Y. (2011). Local economic impacts of natural disasters. Journal of Regional Science, 51(4), 804-820.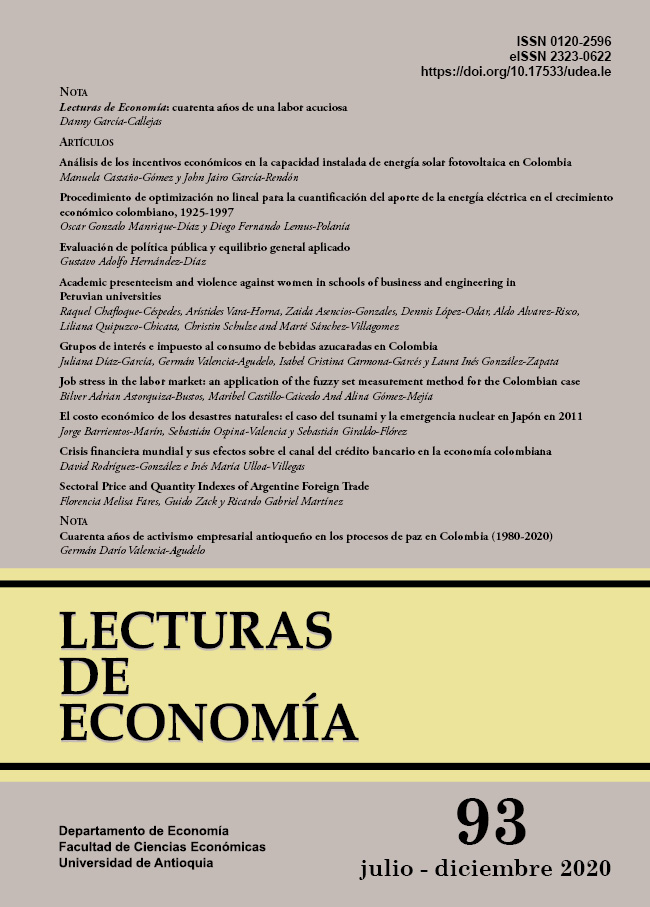 Cómo citar
Barrientos-Marín, J. H., Ospina-Valencia, S., & Giraldo, S. (2020). El costo económico de los desastres naturales: el caso del tsunami y la emergencia nuclear en Japón en 2011. Lecturas De Economía, (93), 225–260. https://doi.org/10.17533/udea.le.n93a340531
Licencia
Este sitio web, por Universidad de Antioquia, está licenciado bajo una  Creative Commons Attribution License.
Los autores que publiquen en esta revista aceptan que conservan los derechos de autor y ceden a la revista el derecho de la primera publicación, con el trabajo registrado con una Licencia de Atribución-NoComercial-CompartirIgual de Creative Commons, que permite a terceros utilizar lo publicado siempre que mencionen su autoría y a la publicación original en esta revista.
Los autores pueden realizar acuerdos contractuales independientes y adicionales para la distribución no exclusiva de la versión del trabajo publicada en la revista (por ejemplo, incluirla en un repositorio institucional o publicarla en un libro) siempre que sea con fines no comerciales y se reconozca de manera clara y explícita que el artículo ha sido originalmente publicado en esta revista.
Se permite y recomienda a los autores publicar sus artículos en Internet (por ejemplo, en páginas institucionales o personales), ya que puede conducir a intercambios provechosos y a una mayor difusión y citación de los trabajos publicados.