Ruminant feces used as inoculum for the in vitro gas production technique
Abstract
Summary
Background: ruminal feed fermentation can be studied through in vitro gas production. However, this technique requires fistulated animals from which to obtain the inoculum, which limits its use. Objective: the objective of this experiment was to evaluate the usefulness of feces instead of rumen fluid as the inoculum of reference, by determining the precision and accuracy resulting from both methods. Methods: six forage species (Gliricidia sepium, Panicum maximum, Pennisetum clandestinum, Lolium sp., Morus alba and Cynodon nlemfuensis) were incubated with bovine rumen fluid or feces to quantify gas production and dry matter degradation over time. Bacteria, fungi, and protozoa counts were assessed in both inocula. Results: cumulative gas production and gas production rate were higher for the ruminal inoculum during the initial incubation period. Ruminal liquid showed lower variability compared to its own mean. Conclusions: according to the Bland-Altman analysis, inocula are not interchangeable. The difference in gas production kinetics between both inoculum sources reflected a longer time to colonize the substrate and lower microbial concentration in the fecal fluid, which resulted useful solely in determining the extent of dry matter degradation.
Key words: accuracy, fistulation, microbial density, precision, rumen fermentation.
Resumen
Antecedentes: la fermentación ruminal de los alimentos puede ser estudiada a través de la técnica in vitro de producción de gases. No obstante, una de las limitaciones de la técnica es el requerimiento de animales fistulados para la obtención del inóculo. Objetivo: el objetivo de este experimento fue evaluar la utilización de las heces respecto al inoculo de referencia, líquido ruminal, a través de la determinación de la precisión y la exactitud. Métodos: para ello seis especies forrajeras (Gliricidia sepium, Panicum máximum, Pennisetum clandestinum, Lolium sp., Morus alba y Cynodon nlemfuensis) fueron incubadas con líquido ruminal y heces bovinas, cuantificando la producción de gas y la degradación de la materia seca en el tiempo. En los dos inóculos se realizó conteo de bacterias, hongos y protozoos. Resultados: la producción acumulativa de gas y la tasa de producción de gas durante el período inicial de incubación fueron superiores con el inóculo ruminal. En el análisis de repetibilidad, el líquido ruminal exhibió menor variabilidad respecto el valor medio obtenido. Conclusiones: el análisis de Bland-Altman permitió concluir que los dos inóculos no son intercambiables. La diferencia en la cinética de producción de gas entre ambas fuentes de inóculo reflejó el mayor tiempo de colonización del sustrato y la menor concentración de microorganismos en el fluido fecal, resultando sólo de utilidad para determinar la extensión de la degradación de la materia seca.
Palabras clave: densidad microbiológica, exactitud, fermentación ruminal, fistulación, precisión.
Resumo
Antecedentes: a fermentacao ruminal dos alimentos no rumen pode ser estudada através da técnica in vitro de producao de gases. No entanto, uma das limitacoes da técnica é a exigencia de animais fistulados para obter o inóculo. Objetivo: o objetivo deste experimento foi avaliar o uso das fezes em comparacao ao inóculo de referencia, líquido ruminal, através da determinacao da precisao e exatidao. Metodos: seis forragens (Gliricidia sepium, Panicum maximum, Pennisetum clandestinum, Lolium sp., Morus alba e Cynodon nlemfuensis) foram incubadas com líquido ruminal e fezes bovinas, quantificando a producao de gás e a degradacao da matéria seca no tempo. Contagem de bactérias, fungos e protozoários foi feita nos dois inóculos. Resultados: a producao acumulativa de gás e a taxa de producao de gás durante o período inicial de incubacao foram maiores com o inoculo ruminal. Na análise de repetibilidade, o inoculo ruminal mostrou menor variabilidade ao redor do valor médio obtido. Conclusiones: a análise de Bland-Altman permitiu concluir que os dois inóculos nao sao intercambiáveis. A diferenca na cinética de producao de gás entre as duas fontes de inóculo refletiu o maior tempo de colonizacao do substrato e a menor concentracao de microorganismos no fluido fecal, resultando apenas util para determinar a extensao da degradacao da matéria seca.
Palavras chave: densidade microbiológica, exatidao, fermentaqáo ruminal, fistulaqáo, precisao.
|Abstract = 56 veces | PDF = 16 veces| | HTML = 12 veces|
Downloads
Download data is not yet available.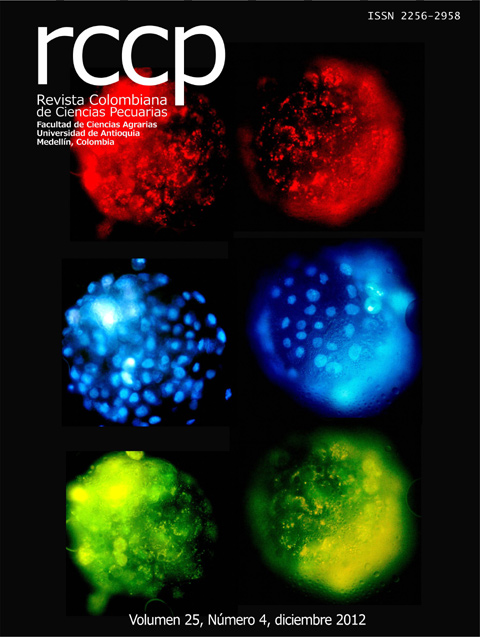 How to Cite
Posada, S. L., Noguera, R. R., & Segura, J. A. (2012). Ruminant feces used as inoculum for the in vitro gas production technique. Revista Colombiana De Ciencias Pecuarias, 25(4), 592–602. https://doi.org/10.17533/udea.rccp.324801
Section
Original research articles
License
The authors enable RCCP to reprint the material published in it.
The journal allows the author(s) to hold the copyright without restrictions, and will allow the author(s) to retain publishing rights without restrictions.