Solid state amorphization in the amorphous alloy Co66Nb22B12 by mechanical alloying
Palabras clave:
mechanical alloying, amorphous alloy Co-Nb-B, amorphization
Resumen
Elemental mixtures of powders Co, Nb and B with a stoichiometric composition of Nb-Co-B were prepared from the mechanical processing in a ball mill. The evolution of the structure of the starting powders and ground mixtures were characterized by X-ray diffraction and Differential Scanning Calorimetry and Scanning Electron Microscopy and spectroscopy Dispersion Energy (SEM / EDS). The alloy amorphous Co-Nb-B previously activated by high energy milling balls, involves two consecutive reactions amorphization. The mechanical grinding, first leads to amorphization reaction between layers of Co and B with a strong thermodynamic driving force, as well as for the rapid kinetics of Co-B amorphization compared with amorphized Co-Nb intermetallic phases. In further grinding the kinetic requirements for amorphization of Co-Nb reaction is observed and, consequently, the appearance and an Nb-B compound in the form of amorphous phase. The two amorphous phases resulting homogenized for a long grinding time.
|Resumen = 66 veces | PDF = 59 veces|
Descargas
Los datos de descargas todavía no están disponibles.
Citas
Johnson, W.L., "Thermodynamic and kinetic aspects of the crystal to glass transformation in metallic materials", Progress in Materials Science 30. pp. 81–134, 1986.
Suryanarayana, C., "Mechanical alloying and milling", Progress in Materials Science 46, pp.1–184, 2001.
Nascimento, L., "Estudo das Ligas Amorfas na Reação de Oxidação com Aplicabilidade na síntese do Metanol e Produção de Olefinas", Projeto de Tese de Doutorado (Doutorado em Engenharia Química), Universidade Federal de Pernambuco, Recife-PE, 2013.
Schwartz,r. B., "Metastable and Nanocrystalline Materials, In: M. D. BARÒ and S. SURINACH, Eds., Mechanically Alloyed", Materials Science Forum, Trans. Tech. Publications, Zürich, Vol. 269-272, pp. 665,1998.
Zhao, Y. H., "Thermodynamic Model for Solid State Amorphization of Pure Elements by Mechanical-Milling", Journal of Non-Crystalline Solids 352, pp. 5578-5585, 2006.
Azzaza, S.; Alleg, S.; Suñol, J. J., "Phase Transformation in the Ball Milled Fe31Co31Nb8B30Powders", Advances in Materials Physics and Chemistry 3, pp. 90-100, 2013.
Mchenry, M. E.; WILLARD, M. A.; LAUGHLIN, D. E., "Amorphous and Nanocrystalline Materials for Applications as Soft Magnets", Progress in Materials Science 44, pp. 291-433, 1999.
Dun,C.; Liu,H.; Shen,B., "Enhancement of plasticity in Co–Nb–B ternary bulk metallic glasses with ultrahigh strength", Journal of Non-Crystalline Solids 358, pp. 3060–3064, 2012.
Dun,D.; Liu,H.; Houa,L.; Xue,L.; Dou,L.; Yang,W.; Zhao,Y.;Shen,B., "Ductile Co–Nb–B bulk metallic glass with ultrahigh strength", Journal of Non-Crystalline Solids 386, pp.121–123, 2014.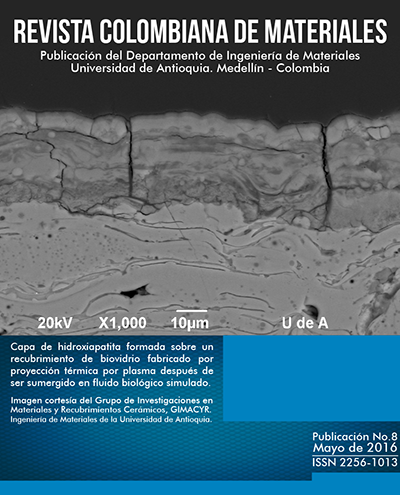 Descargas
Cómo citar
L., A., A. L. C. L., R. J., & C. M. B. M. (2016). Solid state amorphization in the amorphous alloy Co66Nb22B12 by mechanical alloying. Revista Colombiana De Materiales, (8), 38–47. https://doi.org/10.17533/udea.rcm.26882