La curva de kuznets: un análisis de panel de datos para el periodo 1989-2006
Palabras clave:
Curva de Kuznets, desigualdad, panel de datos dinámico
Resumen
El presente trabajo contrasta la relación hipotética en forma de U invertida planteada por Kuznets entre el crecimiento del producto y los niveles de desigualdad, utilizando información de 40 países para el periodo 1989-2006. Esto se logra llevando a cabo una estimación de panel de datos dinámico, usando como instrumento el primer rezago de las variables. Los resultados validaron la hipótesis inicial de una relación tipo Kutznets para el periodo y los países estudiados.
|Resumen = 31 veces | PDF = 47 veces|
Descargas
Los datos de descargas todavía no están disponibles.
Citas
Adelman, I., & Robinson, S. 1989. "Income Distribution and Development". En: Hollis Chenery
& T.N. Srinivasan (ed.), Handbook of Development Economics, Cap 18, 885-947.
Arellano, M., & Bond, S. 1991. "Some tests of specification for panel data: Monte Carlo evidence
and an application to employment equations". Review of Economic Studies, 58, 277–297.
Banco Mundial. "Datos: Índice de Gini". [En línea], Consultado en: Mayo 2011. Disponible en:
<http://datos.bancomundial.org/indicador/SI.POV.GINI> .
Bergh, A., & Nilsson, T. 2010. "Do liberalization and globalization increase income inequality?".
European Journal of political economy.
Bourguignon, F, Ferreira, F& Menendes, M. 2005. Inequality of Opportunity in Brazil. IberoAmerica Institute for Economic Research.
Bruno, M., Ravallion, M., & Squire, L. 1996. Equity and growth in developing countries. The
World Bank.
Campano, F., & Dominick, S. 2007. "Economic development and income distribution". Fordham
University.
Clarke, G. 1995. "More evidence on income distribution". Journal of development economics , 403-427.
Coes, D. 2007. "Income distribution trends in Brazil and China: Evaluating absolute and relative
economic growth". The Quarterly Review of Economics and Finance.
Greenwood, J., & Jovanovic, B. 1989. Financial development, growth and the distribution of
income. NBER.
Heston, A., Summers, R., & Aten, B. 2011. Penn World Table Version 7.0. Center for International
Comparisons of Production, Income and Prices at the University of Pennsylvania.
Hodrick, R., & Prescott, E. 1997. "Postwar U.S. Business Cycles: An Empirical Investigation".
Journal of Money, Credit and Banking. 1-16.
Kaldor, N. 1955. "Alternative theories of distribution". Review of Economic Studies.
Korzeniewic, R., & Moran, T. 2005. "Theorizing the relationship between inequality and economic growth". Theoty and society , 277-316.
Kutznets, S. 1955. "Economic growth and income inequality". American Economic Review.
Lewis, A. 1954. Economic development with unlimited supplies of labour.
Organización Internacional del Trabajo OIT. "LABORSTA". [En línea], Consultado en: Mayo
Disponible en: < http://laborsta.ilo.org/> .
Osberg, L. 1997. Economic Growth, Income Distribution and Economic Welfare in Canada
-1994. Dalhousie University.
Rey Sabogal, C. 2007. Aproximaciones teóricas y empíricas a la relación de causalidad entre
desigualdad y crecimiento: un análisis para Colombia 1985-2006. Universidad Nacional.
Ying, K., & Sharon, C. 2006. A Test of the Kuznets Inverted U Hypothesis: Income Inequality
Behind the Rapid Economic Growth in China.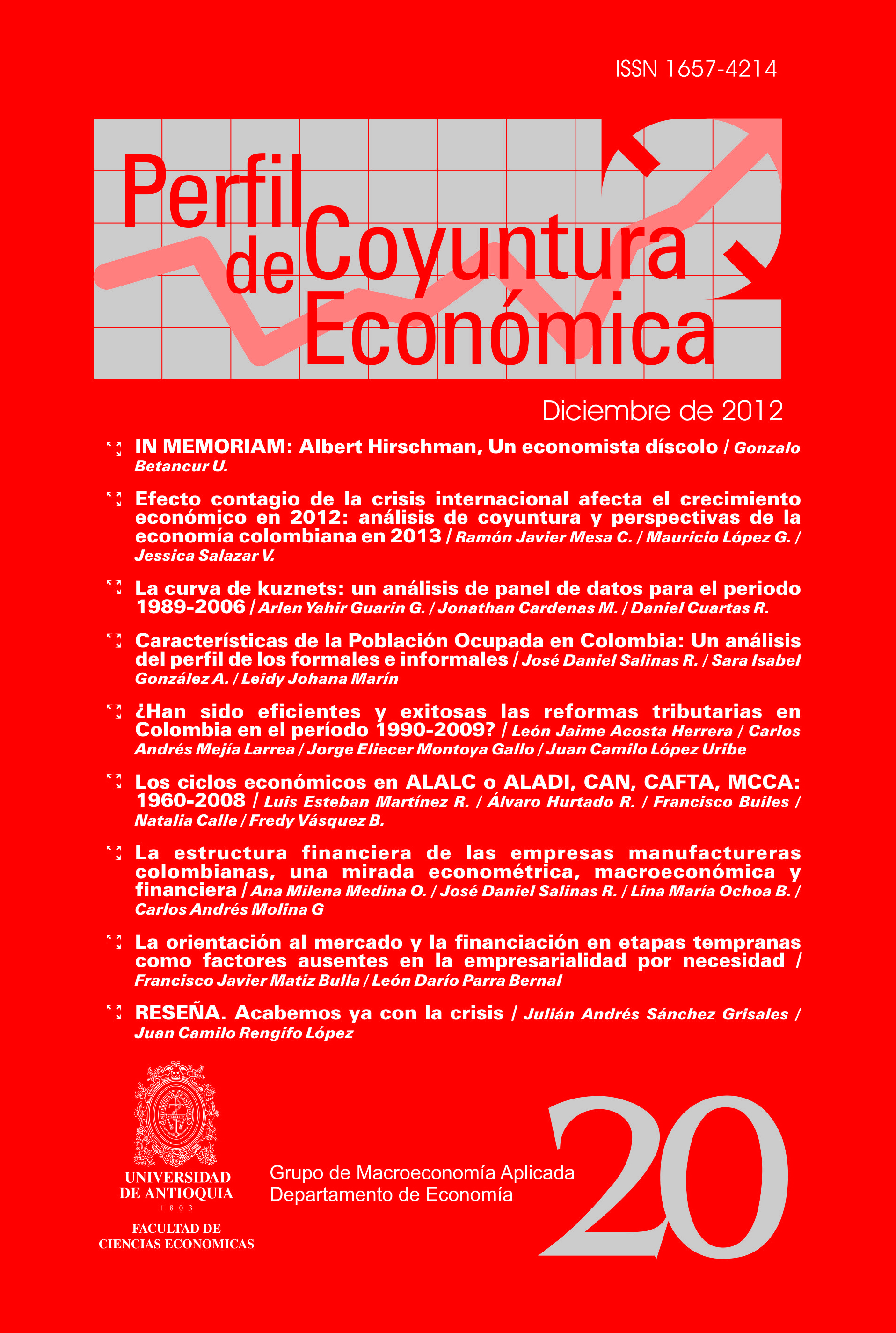 Descargas
Cómo citar
Guarín G, A. Y., Cárdenas M, J., & Cuartas R, D. (2014). La curva de kuznets: un análisis de panel de datos para el periodo 1989-2006. Perfil De Coyuntura Económica, (20), 41–55. Recuperado a partir de https://revistas.udea.edu.co/index.php/coyuntura/article/view/18185