COMPOSITIONAL STUDY OF Cu2ZnSnS4 ABSORBER LAYERS FOR PHOTOVOLTAIC SOLAR CELL DEVICES
Palabras clave:
Espectroscopia, Fotoelectrónica de rayos x, Cu2ZnSnS4, EDAX
Resumen
El análisis de superficie por (XPS) Espectroscopia Fotoelectrónica de Rayos-x de películas delgadas policristalinas del compuesto Cu2ZnSnS4 fueron sintetizadas empleando la técnica (PVD) Physical Vapor Deposition, partiendo de los precursores metálicos en atmosfera de Azufre en un proceso de co-evaporación de tres etapas. Las energías de enlace a 161.5 eV, 486.1 eV, 932.4 eV y 1021.6 eV fueron encontradas para S 2p3/2, Sn 3d5/2, Cu 2p3/2 y Zn 2p3/2 respectivamente. Los análisis SEM y EDAX dan evidencia de la morfología y la composición elemental de la fase Kesterita CZTS con pérdidas de Sn reflejándose en una composición global pobre en Cu y rica en Zn.
|Resumen = 53 veces | PDF = 84 veces|
Descargas
Los datos de descargas todavía no están disponibles.
Citas
Allsop, N. A., C. Camus,"Indium sulfide buffer/CIGSSe interface engineering: Improved cell performance bythe addition of zinc sulfide",Thin Solid Films,Vol. 515(15),6068-6072, 2007.
Karg, F,"High Efficiency CIGS Solar Modules",Energy Procedia, Vol.15(0), 275-282, 2012.
Inamdar, A. I., S. Lee,"Optimized fabrication of sputter deposited Cu2ZnSnS4(CZTS) thin films",Solar Energy, Vol. 91(0), 196-203, 2013.
Shin, S. W., S. M. Pawar, "Studies on Cu2ZnSnS4(CZTS) absorber layer using different stackingorders in precursor thin films",Solar Energy Materials and Solar Cells, Vol.95(12),3202-3206, 2011.
Moholkar, A. V., S. S. Shinde."Studies of compositional dependent CZTS thin film solar cells by pulsed laser deposition technique: An attempt to improve the efficiency". Journal of Alloys and Compounds, Vol.544(0), 145-151, 2012.
Akhavan, V. A., B. W. Goodfellow,"Colloidal CIGS and CZTS nanocrystals: A precursor route to printed photovoltaics",Journal of Solid State Chemistry, Vol.189(0),2-12, 2012.
Kheraj, V., K. K. Patel,"Synthesis and characterizationof Copper Zinc Tin Sulphide (CZTS) compound for absorber material in solar-cells",Journal of Crystal Growth, Vol. 362(0),174-177, 2013.
Pawar, S. M., B. S. Pawar,"Single step electrosynthesis of Cu2ZnSnS4(CZTS) thin films for solar cell application",Electrochimica Acta,Vol.55(12),4057-4061, 2010.
Shinde, N. M., R. J. Deokate,"Properties of spray deposited Cu2ZnSnS4(CZTS) thin films",Journal of Analytical and Applied Pyrolysis,Vol.100(0): 12-16, 2013.
Shinde, N. M., C. D. Lokhande,"Low cost and large area novel chemical synthesis of Cu2ZnSnS4 (CZTS) thin films",Journal of Photochemistry and Photobiology A: Chemistry,Vol.235(0): 14-20, 2013.
Mitzi, D. B., O. Gunawan,et al "Thepath towards a high-performance solution-processed kesterite solar cell",Solar Energy Materials and Solar Cells, Vol. 95(6): 1421-1436, 2011.
Todorov, T., O. Gunawan,"Progress towards marketable earth-abundant chalcogenide solar cells",Thin Solid Films,Vol.519(21): 7378-7381, 2013.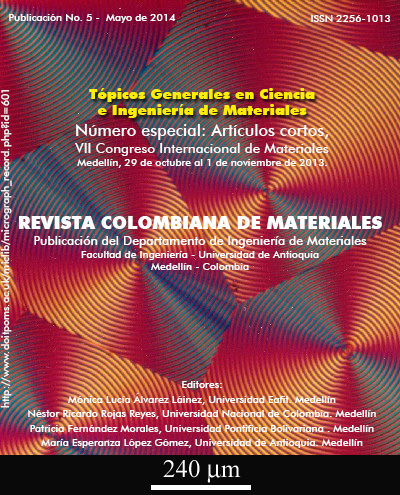 Descargas
Cómo citar
Hurtado, M., Correa, J. M., Suarez, H. A., Moreno, R., Guzman, F., Romero, E., & Gordillo, G. (2014). COMPOSITIONAL STUDY OF Cu2ZnSnS4 ABSORBER LAYERS FOR PHOTOVOLTAIC SOLAR CELL DEVICES. Revista Colombiana De Materiales, (5), 171–176. https://doi.org/10.17533/udea.rcm.19448