INFLUENCIA DE ALGUNAS VARIABLES DE SÍNTESIS EN LA OBTENCIÓN DE LA ZEOLITA FERRIERITA
Palabras clave:
Zeolitas, Ferrierita, Síntesis hidrodérmica, Difracción de rayos X
Resumen
En este trabajo se investigan algunas de las variables de síntesis para la obtención de una zeolita importante para la industria de la catálisis y la adsorción: la zeolitaferrierita. Dentro de las variables investigadas se encuentran el agente director de estructura, la temperatura de cristalización, el tiempo de cristalización y el tiempo de agitación del gel. La influencia de dichas variables fue estudiada mediante difracción de rayos X. Se observó que usando etilendiamina como agente estructurante no fue posible obtener una fase ferrieritica, mientras que usando pirrolidinay dos días de cristalización se obtuvo la zeolita ferrierita con muy bajo contenido de impurezas. Dicha zeolita obtenida fue caracterizada por difracción de rayos X, análisis  termogravimétrico, análisis térmicodiferencial, espectroscopía de absorción atómica y microscopía electrónica de barrido.
|Resumen = 52 veces | PDF = 40 veces| | SIN TÍTULO = 0 veces|
Descargas
Los datos de descargas todavía no están disponibles.
Citas
Anthony F. Masters, Thomas Maschmeyer "Zeolites: From curiosity to cornerstone". Microporous and Mesoporous Materials.142. pp. 423-438. 2011.
Philip A. Vaughan. "The Crystal Structure of the Zeolite Ferrierite". Acta Crystallographica. 21. pp. 983-990.1966.
A.A. Belhekar, R.K. Ahedi, S. Kuriyavar, S.S. Shevade, B.S. Rao, R. Anand, Z. Tvaruzkova. "Effect of acid sites of Al- and Fe-Ferrierite on m-xylene isomerization". Catalysis Communications.4. pp. 295-302. 2003.
Kibby C. L., Perrota A., Massoth F. E. "Composition and catalytic properties of synthetic ferrierite". Journal of Catalysis. 35. pp. 256-272. 1974.
Xu W.Q., Yin Y.G., Suib S.L., Edwards J.C., O'Young C.L. "n-butene skeletal isomerization to isobutylene on shape-selective catalysts-ferrierite/ZSM-35". Journal of Physical Chemistry. 99. pp. 9443-9451.1995.
Burzo, E., Landolt-Bornstein, "Numertical Data and Functional Relationships in Science and Technology. Group III: Condensed Matter. Magnetic Properties of Non-Metallic Inorganic Compounds Based on Transition Metals". 27I5b. pp. 10-107.Springer. 2013.
Gottardi G., Galli E. "Natural Zeolites". 18. pp. 7-409. Springer-Verlag. 1985.
Wen-Qing XU, Yuan-Gen Yin, Steven L. Suib, Chi-Lin O'Young. "Coke Formation and Its Effects on Shape Selective Adsorptive and Catalytic Properties of ferrierite". Journal of Physical Chemistry. 99. pp. 758-765.1955.
Wenyang X., Jianquan L., Wenyuan L., Huiming Z., Bingchang L. "Nonaqueous synthesis of ZSM-35 and ZSM-5". Zeolites. 9. pp. 468-473. 1989.
Pal-Borbely G., Beyer H.K., Kiyozumi Y., Mizukami F. "Synthesis and characterization of a ferrierite made by recrystallization of an aluminium-containing hydrated magadiiete". Microporous and Mesoporous Materials. 22. pp. 57-68. 1998
Zuhal Gogebakan, Hayrettin Yucel, Ali Culfaz."Crystallization Field and Rate Study for the Synthesis of Ferrierite". Industrial & Engineering Chemistry Research. 46. pp. 2006-2012. 2007.
Man Xu, Dingfang Liu, Heather C. Allen. "Ethylenediamine at air/liquid and air/silic interfaces: protonation versus hydrogen bonding investigated by sum frequency generation spectroscopy". Environmental Science Technology.40. pp. 1566-1572. 2006.
H. Robson, K.P. Lillerud. "Verified Synthesis of Zeolitic Materials".Amsterdam.Elsevier. 2001.
Yu, Jihong.Hermann van Bekkum, Avelino Corma, Ferdi Schutt Jiri Cejka. "Synthesis of Zeolites". Introduction to Zeolite Science and Practice. 168. pp.39-103. Elsevier, 2007.
Herman van Bekkum, Avelino Corma, Ferdi Schüth Jiri Cejka. Introduction to zeolite science and practice. 137. pp. 37-67. Elsevier. 2007.
Gladys Agudelo H., Luis Norberto Parra H., Luz Angela Buitrago A. "Conversión de etanol a hidrocarburos utilizando la zeolita ferrierita". Universidad de Antioquia. Tesis para optar al título de Ingeniero Químico. 1996.
Joseph P. Giannetti, Anthony J. Perrotta. "Selective Hydrocracking with Ferreirite-Based Catalysts". Industrial & Engineering Chemistry Process Design and Development. 14. 1. pp. 86-92. 1975.
IZA- Commission on Natural Zeolites. [Online] 8 21, 2005. [Cited: 05 05, 2015.] http://www.iza-online.org/natural/Datasheets/Ferrierite/ferrierite.htm.
Coskun, Zuhal. "Synthesis and characterization of ZSM-35. School of Natural and Applied Science", Middle East Technical University. Tesis para optar al título de Master of Science. 2003.
Byrappa, K. Yoshimura, M. "Handbook of Hydrothermal Technology-A Technology for Crystal Growth and Materials Processing". William Andrew Publishing/Noyes. 2001.
Ranjeet Kaur Ahedi, A. N. Kotasthane, B. S. Rao, Abhijit Manna and B. D. Kulkarni. "Synthesis of Ferrierite-Type Zeolite in the Presence of a Catalytic Amount of Pyrrolidine and Sodium Bis(2-ethyhlhexyl) Sulfosuccinate". Journal of Colloid and Interface Science. 236. pp. 47-51. 2001.
Smith W.J., Dewing J., and Dwyer J. "Zeolite synthesis in the SiO2–Al2O3–Na2O–pyridine–H2O system". Journal of Chemical Socierty Faraday Transactions. 1. 85. pp. 3623-3628. 1989.
Ana B. Pinar, Paul A. Wright, Luis Gómez-Hortiguela, Joaquín Pérez-Pariente."Synthesis of Ferrierite zeolite with pyrrolidine as structure directing agent: A combined X-ray diffraction and computational study". Microporous and Mesoporous Materials. 129. 1-2. pp. 164-172. 2010.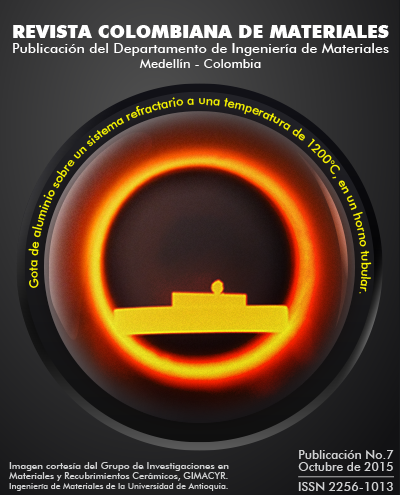 Descargas
Archivos adicionales
Cómo citar
Mesa, S., Arboleda, J., & Echavarría, A. (2015). INFLUENCIA DE ALGUNAS VARIABLES DE SÍNTESIS EN LA OBTENCIÓN DE LA ZEOLITA FERRIERITA. Revista Colombiana De Materiales, (7), 69–81. Recuperado a partir de https://revistas.udea.edu.co/index.php/materiales/article/view/24753