Meningitis por Haemophilus influenzae tipo b en lactante menor: reporte de caso
Palabras clave:
Haemophilus influenzae, PCR, meningitis
Resumen
En muchos países las tasas morbilidad y mortalidad producidas por Haemophilus influenzae tipo b (Hib) han disminuido en más del 95% desde la aprobación, por parte de la Organización Mundial de la Salud (OMS), para introducir las vacunas conjugadas contra este patógeno. Sin embargo, en países en vía de desarrollo como Colombia, que cuenta con amplia cobertura de vacunación aún se presentan manifestaciones de infecciones invasivas potencialmente mortales, debido a la no identificación de este germen. Presentamos un caso de efusión subdural en un lactante menor, secundario a meningitis por Hib, la cual se identificó mediante PCR en tiempo real (RT-PCR). La importancia de esta prueba radica en que tiene mayor sensibilidad (95%) versus los métodos de cultivo de LCR y hemocultivos que han demostrado no ser lo suficientemente efectivos para establecer un diagnostico etiológico de meningitis bacteriana, además permite evaluar el impacto de la vacunación especialmente por que existen informes de la reemergencia de meningitis por Hib en distintas partes del mundo.
|Resumen = 938 veces | PDF = 1291 veces|
Descargas
Los datos de descargas todavía no están disponibles.
Citas
VanDemark M. Acute bacterial meningitis: current review and treatment update. Crit Care Nurs Clin North Am. 2013 Sep;25(3):351-61. doi: 10.1016/j. ccell.2013.04.004.
Edmond K, Clark A, Korczak VS, Sanderson C, Griffiths UK, Rudan I. Global and regional risk of disabling sequelae from bacterial meningitis: a systematic review and meta-analysis. Lancet Infect Dis. 2010 May;10(5):317-28. doi: 10.1016/S1473-3099(10)70048-7.
Lukšić I, Mulić R, Falconer R, Orban M, Sidhu S, Rudan I. Estimating global and regional morbidity from acute bacterial meningitis in children: assessment of the evidence. Croat Med J. 2013 Dec;54(6):510-8. doi: 10.3325/cmj.2013.54.510.
van de Beek D, Brouwer MC, Thwaites GE, Tunkel AR. Advances in treatment of bacterial meningitis. Lancet. 2012 Nov 10;380(9854):1693-702. doi: 10.1016/ S0140-6736(12)61186-6. PMID: 23141618.
Thigpen MC, Whitney CG, Messonnier NE, Zell ER, Lynfield R, Hadler JL, et al. Bacterial meningitis in the United States, 1998-2007. N Engl J Med. 2011 May 26;364(21):2016-25. doi: 10.1056/NEJMoa1005384. PMID: 21612470.
Gentile A, Martinez AC, Juarez MD V., Lucion MF, Burgo C, Della Latta MP, et al. Haemophilus influenzae type B meningitis: Is there a re-emergence? 24 years of experience in a children's hospital. Arch Argent Pediatr. 2017 Jun 1;115(3):227-233. doi: 10.5546/ aap.2017.eng.227. PMID: 28504487.
Bottomley MJ, Serruto D, Safadi MA, Klugman KP. Future challenges in the elimination of bacterial meningitis. Vaccine. 2012 May 30;30 Suppl 2:B78-86. doi: 10.1016/j.vaccine.2011.12.099. PMID: 22607903.
Swanson D. Meningitis. Pediatr Rev. 2015 Dec;36(12):514-24; quiz 525-6. doi: 10.1542/pir.36-12- 514. PMID: 26628732.
Instituto nacional de salud Colombia, Comportamiento de meningitis bacteriana y enfermedad meningicocica Vigilancia en Salud Publica de la Tosferina en Colombia. SIVIGILA. 2020 Abr;(16) Available from: https://www.ins.gov.co/buscador-eventos/BoletinEpidemiologico/ 2020_Boletin_epidemiologico_semana_ 16.pdf
Brouwer MC, Thwaites GE, Tunkel AR, van de Beek D. Dilemmas in the diagnosis of acute community- acquired bacterial meningitis. Lancet. 2012 Nov 10;380(9854):1684-92. doi: 10.1016/S0140- 6736(12)61185-4. PMID: 23141617
Kulik DM, Uleryk EM, Maguire JL. Does this child have bacterial meningitis? a systematic review of clinical prediction rules for children with suspected bacterial meningitis. J Emerg Med. 2013 Oct;45(4):508-19. doi: 10.1016/j.jemermed.2013.03.042.
Julian-Jimenez A, Morales-Casado MI. Usefulness of blood and cerebrospinal fluid laboratory testing to predict bacterial meningitis in the emergency department. Neurologia. 2019 Mar;34(2):105-113. doi: 10.1016/j.nrl.2016.05.009.
Casado MI, Alonso FM, Pinedo BL, Julian-Jimenez A. Acute meningitis in the pediatric emergency department: diagnostic yield of procalcitonin and C-reactive protein. Pediatr Emerg Care. 2014 Nov;30(11):849-50. doi: 10.1097/PEC.0000000000000273.
Sacchi CT, Fukasawa LO, Goncalves MG, Salgado MM, Shutt KA, Carvalhanas TR, et al. Incorporation of real-time PCR into routine Public Health Surveillance of Culture Negative Bacterial meningitis in Sao paulo, Brazil. PLoS One PLoS One. 2011;6(6):e20675. doi: 10.1371/journal.pone.0020675.
Tunkel AR, Hasbun R, Bhimraj A, Byers K, Kaplan SL, Scheld WM, et al. Infectious Diseases Society of America's Clinical Practice Guidelines for Healthcare- Associated Ventriculitis and Meningitis. Clin Infect Dis. 2017 Mar 15;64(6):e34-e65. doi: 10.1093/cid/ciw861.
Wu HM, Cordeiro SM, Harcourt BH, Carvalho MGS, Azevedo J, Oliveira TQ, et al. Accuracy of real-time PCR, Gram stain and culture for Streptococcus pneumoniae, Neisseria meningitidis and Haemophilus influenzae meningitis diagnosis. BMC Infect Dis. 2013 Jan 22;13:26. doi: 10.1186/1471-2334-13-26.
Garcia S, Lagos R, Munoz A, Picon T, Rosa R, Alfonso A, Impact of vaccination against Haemophilus influenzae type b with and without a booster dose on meningitis in four South American countries. Vaccine. 2012 Jan 5;30(2):486-92. doi: 10.1016/j.vaccine.2011.10.101.
Giufre M, Lindh E, Cardines R, Pezzotti P, Cerquetti M. Invasive Haemophilus influenzae type b (Hib) disease in children in Italy, after 20 years of routine use of conjugate Hib vaccines. Vaccine. 2020 Sep 29;38(42):6533- 6538. doi: 10.1016/j.vaccine.2020.08.022.
Murphy TF. Current and Future Prospects for a Vaccine for Nontypeable Haemophilus influenzae. Curr Infect Dis Rep. 2009 May;11(3):177-82. doi: 10.1007/s11908- 009-0027-1.
O'Brien KL, Wolfson LJ, Watt JP, Henkle E, Deloria- Knoll M, McCall N, et al. Hib and Pneumococcal Global Burden of Disease Study Team. Burden of disease caused by Streptococcus pneumoniae in children younger than 5 years: global estimates. Lancet. 2009 Sep 12;374(9693):893-902. doi: 10.1016/S0140- 6736(09)61204-6.
Zarei AE, Almehdar HA, Redwan EM. Hib Vaccines: Past, Present, and Future Perspectives. J Immunol Res. 2016; 2016:7203587. doi: 10.1155/2016/7203587.
Suthar R, Sankhyan N. Bacterial Infections of the Central Nervous System. Indian J Pediatr. 2019 Jan;86(1):60- 69. doi: 10.1007/s12098-017-2477-z.
Nigrovic LE, Malley R, Macias CG, Kanegaye JT, Moro-Sutherland DM, Schremmer RD, et al. Effect of antibiotic pretreatment on cerebrospinal fluid profiles of children with bacterial meningitis. Pediatrics. 2008 Oct;122(4):726-30. doi: 10.1542/peds.2007-3275.
Castillo D, Harcourt, B., Hatcher, C., Schmink, S., Thomas, J., Novak, R, Mair, R. Identification and Characterization of Haemophilus influenzae. Laboratory Methods for the Diagnosis of Meningitis Caused by Neisseria meningitidis, Streptococcus pneumoniae, and Haemophilus influenzae. WHO Manual, 2 edition. 2011 Dic 10. 105-156.
Rodriguez MK, Agudelo CI, Duarte C. Aislamientos invasivos de Haemophilus influenzae en menores de 5 anos: Distribucion de los serotipos y de la sensibilidad antimicrobiana, SIREVA II, Colombia 2002-2013. Infectio 2015 Apr 19(2):67–74. doi.org/10.1016/j.infect. 2014.12.005
Johnson NG, Ruggeberg JU, Balfour GF, Lee YC, Liddy H, Irving D, et al. Haemophilus influenzae type b reemergence after combination immunization. Emerg Infect Dis. 2006 Jun;12(6):937-41. doi: 10.3201/ eid1206.051451
Jackson C, Mann A, Mangtani P, Fine P. Effectiveness of Haemophilus influenzae type b vaccines administered according to various schedules: systematic review and meta-analysis of observational data. Pediatr Infect Dis J. 2013 Nov;32(11):1261-9. doi: 10.1097/ INF.0b013e3182a14e57.
Zanella RC, De Brandileone MCC, Andrade AL, Ogassavara CT, Fiorio CE, Brandao AP, et al. Evaluation of Haemophilus influenzae type b carrier status among children 10 years after the introduction of Hib vaccine in Brazil. Mem Inst Oswaldo Cruz. 2015 Sep;110(6):755- 9. doi: 10.1590/0074-02760150140.
Wang X, Zhang X, Cao H, Jing S, Yang Z, Cheng Z, et al. Surgical Treatments for Infantile Purulent Meningitis Complicated by Subdural Effusion. Med Sci Monit. 2015 Oct 20;21:3166-71. doi: 10.12659/msm.895747.
American Academy of Pediatrics. Haemophilus influenzae infections. In: Red Book: 2015 Report of the Committee on Infectious Diseases, 30th ed, Kimberlin DW, Brady MT, Jackson MA, Long SS (Eds), American Academy of Pediatrics, Elk Grove Village, IL 2015. p.373-375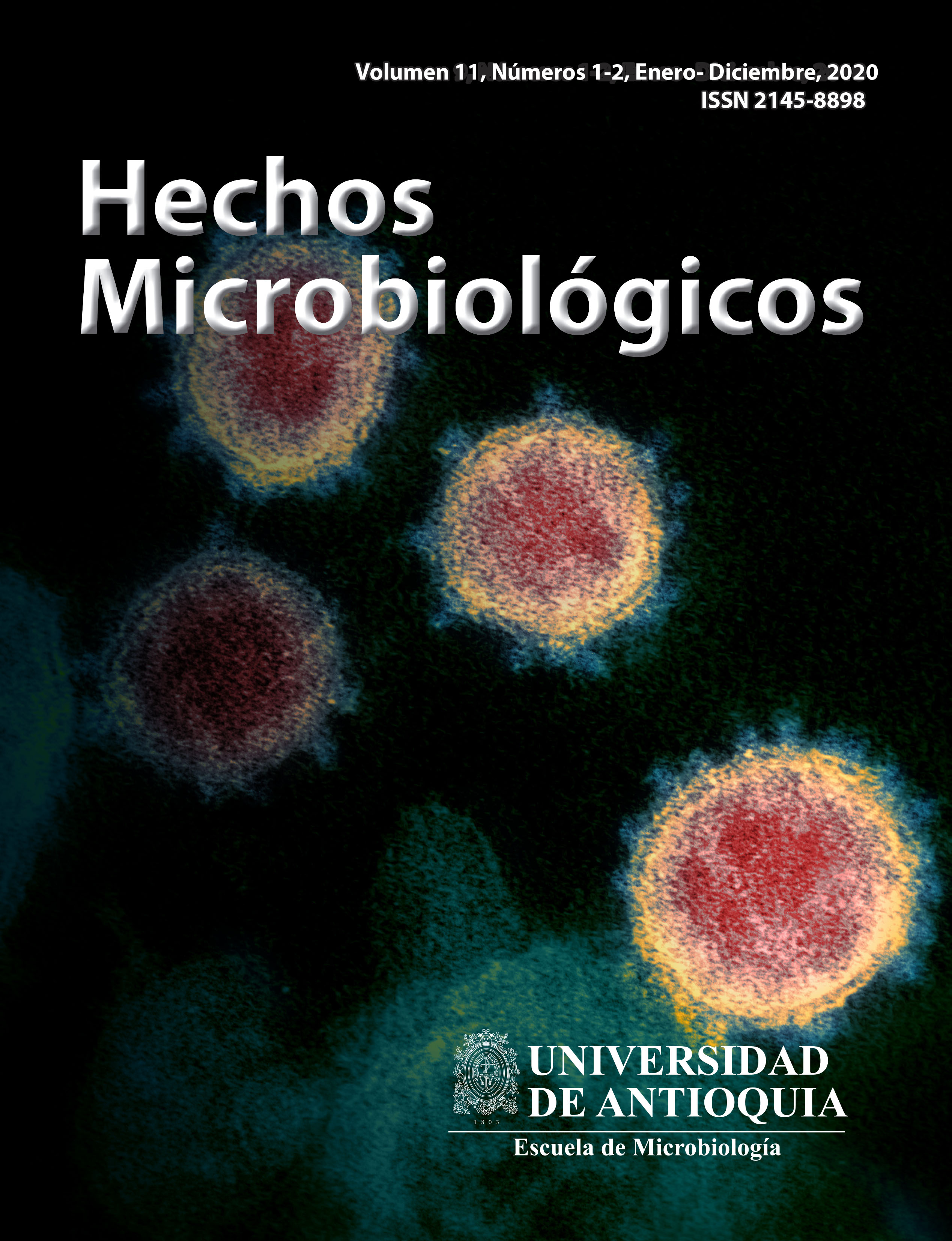 Descargas
Cómo citar
Muñoz Álvarez, N. A. ., & Rocha Arrieta, M. C. . (2020). Meningitis por Haemophilus influenzae tipo b en lactante menor: reporte de caso. Hechos Microbiológicos, 11(1 y 2), 82–88. https://doi.org/10.17533/udea.hm.v11n1a06
Sección
Presentación de casos