Embryonic development of Columba livia (Aves: Columbiformes) from an altricial-precocial perspective
Abstract
Objective: this study characterized the morphogenesis of Columba livia and proposed a table with 43 embryonic stages. The ontogeny of this species was divided into three phases: early, middle and late. Methods and Results: the early phase (stages 1-26) includes the final period of segmentation, gastrulation, neurulation and somitogenesis, organization of the extraembryonic membranes, and the initial formation of the major organic systems. The middle phase (stages 27-36) was characterized mainly by the growth of limbs and the organization of the autopodium, the formation and growth of the peak, and the development of integumentary annexes such as feather germs and leg scales. The late phase (stages 37-43) shows the overall embryo growth, the final organization of the pterilosis pattern and growth of feather germs, as well as final consumption of the yolk, and hatching. Conclusions: these results allow making comparisons with the proposed developmental events of Gallus gallus domesticus, highlighting similarities and differences in the ontogenetic sequence of both species. Therefore we propose some hypotheses about possible heterochronic events related to altricial-precocial developmental models.
Key words: Columbidae, development patterns, embryonic stages, ontogeny.
Resumen
Objetivo: en el presente trabajo se caracteriza la morfogénesis de Columba livia y se propone una tabla con 43 estadios embrionarios. La ontogenia de dicha especie fue dividida en tres etapas: temprana, media y tardía. Métodos y Resultados: la etapa temprana (estadios 1-26) incluye el periodo final de la segmentación,la gastrulación, neurulación y somitogénesis, la organización de las membranas extraembrionarias y la formación de los esbozos de los principales sistemas de órganos. La etapa media (estadios 27-36) se caracteriza principalmente por el crecimiento de los miembros y la organización del autopodio, la formación y crecimiento del pico y el desarrollo de los anexos tegumentarios como plumones y escamas de las patas. En la etapa tardía (estadios 37-43) se evidencia el crecimiento general del embrión, la organización final del patrón de pterilosis y crecimiento de plumones, como así también el consumo final del vitelo y la eclosión. Conclusiones: en base a los resultados obtenidos se realizan algunas comparaciones con respecto a los eventos del desarrollo propuestos para Gallus gallus domesticus, destacando semejanzas y diferencias en la secuencia ontogénetica de ambas especies. A partir de esto se plantean algunas hipótesis acerca de posibles eventos heterocrónicos relacionados con los modelos de desarrollo altricial-precoz. 
Palabras clave: Columbidae, estados de desarrollo embrionario, ontogenia.
Resumo
Objetivo: no presente trabalho caracteriza-se a morfogênese de Columba livia, mediante uma tabela com 43 estágios embrionários. A ontogenia desta espécie foi dividida em três etapas: inicial, intermediária e final. Métodos y Resultados: a etapa inicial (estágios 1-26) incluiu o período final de segmentação, gastrulação, neurulação e somitogênese, organização das membranas extraembrionárias e formação dos esboços dos principais sistemas de órgãos. A etapa intermediária (estágios 27-36) foi caracterizada principalmente pelo crescimento dos membros e organização do autopódio, formação e crescimento do bico e desenvolvimento de anexos tegumentários como as penas e as escamas das patas. Na etapa tardia (estágios 37-43) foi caracterizada pelo crescimento geral do embrião, a organização final do padrão de pterilose e o padrão de crescimento das penas, assim como o consumo final do vitelo e eclosão. Conclusões: com base nos resultados obtidos, foram realizadas algumas comparações com respeito aos eventos do desenvolvimento proposto para Gallus gallus domesticus, destacando semelhanças e diferenças durante a sequência ontogenética de ambas espécies. A partir disso, algumas hipóteses são propostas acerca dos possíveis eventos heterocrônicos relacionados com os modelos de desenvolvimento altricial e precoce.
Palavras chave: Columbidae, estádios de desenvolvimento embrionário, ontogenia, padrões de desenvolvimento.
|Abstract = 64 veces | PDF = 29 veces| | HTML = 80 veces|
Downloads
Download data is not yet available.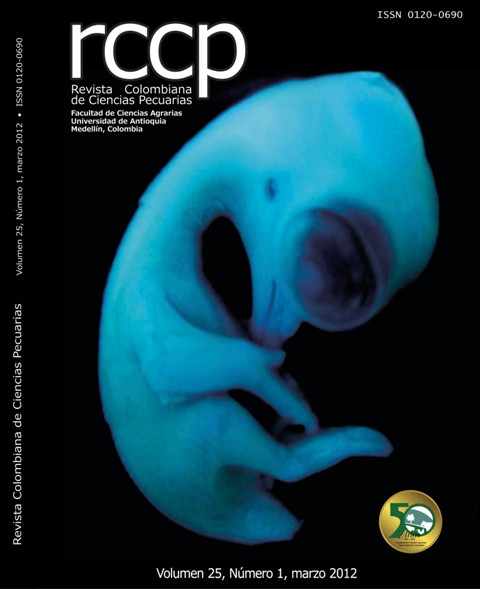 How to Cite
Olea, G. B., & Sandoval, M. T. (2012). Embryonic development of Columba livia (Aves: Columbiformes) from an altricial-precocial perspective. Revista Colombiana De Ciencias Pecuarias, 25(1), 3–13. https://doi.org/10.17533/udea.rccp.324728
Section
Original research articles
License
The authors enable RCCP to reprint the material published in it.
The journal allows the author(s) to hold the copyright without restrictions, and will allow the author(s) to retain publishing rights without restrictions.