Assessing the genetic diversity and ancestry of Hartón del Valle cattle using mitochondrial DNA
Abstract
The Hartón del Valle (HV) cattle is a Criollo breed of Spanish descent that has adapted to the conditions of the Cauca valley (Colombia). This breed is currently listed as "vulnerable" because its population has dramatically declined in the last two years. Prompted by the uncertain future of this breed and its importance as a potential resource of valuable genes. Objective: this study addressed the diversity, genetic structure and ancestry of HV cattle using mitochondrial DNA (mtDNA). Methods: a 350-bp fragment was amplified and sequenced from 72 HV animals in 9 separate farms and from animals of Brahman and Holstein breeds. To analyze the breed's ancestry, the sequences were compared with 560 sequences available in the GenBank, representing 50 Bos taurus and Bos indicus breeds. Results: in accordance with the Spanish origin of the HV breed, there was a high representation of European mtDNA (91.7%) and a low representation of African (5.5%) and Middle Eastern mtDNA (2.7%). The average haplotype diversity was 0.65 ± 0.05. The farm with the oldest ancestry was the only population in which three mitochondrial lineages were observed; unfortunately, it was recently depopulated. Proximity was observed between HV and two Columbian breeds, the Romosinuano and Costeño con Cuernos. A comparative analysis with the sequences deposited in the GenBank from numerous breeds revealed the presence of 37 haplotypes, seven of which were unique to HV. Conclusions: the following Iberian breeds were found to be most closely related to HV: Tudanca, Rubia Gallega, Negra Serrana, Murciana, Pajuna, Avileña, Garvonesa and Mertolenga. Phylogenetic analysis confirmed the Iberian ancestry and some African influence on this Latin American Criollo breed.
Key words: creole cattle, haplotypes, lineages, phylogeny.
Resumen
El Hartón del Valle (HV), es una raza adaptada a las condiciones del Valle del Cauca (Colombia) que está catalogada como "vulnerable" y cuya población ha descendido drásticamente en los últimos dos años. Objetivo: debido al futuro incierto y a la importancia como recurso potencial en la seguridad alimentaria regional se abordó el estudio de la diversidad, la estructura genética y la ancestría del HV, mediante ADN mitocondrial (ADNmt). Métodos: se amplificó y secuenció un fragmento de 350 pb en 72 animales HV, provenientes de nueve poblaciones y de controles de las razas Brahman y Holstein. Para analizar la ancestría las secuencias fueron comparadas con 560 secuencias de 50 razas Bos taurus y Bos indicus, depositadas en el GenBank. Resultados: de acuerdo con su origen español, se encontró una marcada influencia del ADNmt europeo (91.7%) y baja participación de taurinos de origen africano (5.5%) y del cercano Oriente (2.7%). La diversidad haplotípica promedio fue 0.65 ± 0.05. El hato más antiguo fue el único que mostró los tres linajes mitocondriales, sin embargo, este ha sido liquidado recientemente. Se observó proximidad entre el HV con las razas colombianas Romosinuano y Costeño con Cuernos. La comparación con las secuencias depositadas en el GenBank con diferentes razas reveló la presencia de 37 haplotipos, de los cuales siete fueron únicos en el HV. Conclusiones: las razas ibéricas más cercanas al HV fueron: Tudanca, Rubia Gallega, Negra Serrana, Murciana, Pajuna, Avileña, Garvonesa y Mertolenga. El árbol filogenético confirmó la ancestralidad ibérica y la influencia africana en las razas criollas de América Latina. 
Palabras clave: filogenia, ganado criollo, haplotipos, linajes.
Resumo
O Hartón del Valle (HV) é uma raça adaptada às condições da região pertencente ao departamento do Valle del Cauca (Colombia). A raça está catalogada como vulnerável já que sua população tem sido reduzida drasticamente nos últimos dois anos. Objetivo: devido a incerteza no futuro da raça e a sua importancia como recurso potencial na segurança alimentaria regional, abordou-se o estudo da diversidade, a estrutura genética e a ancestralidade do gado HV, utilizando DNA mitocondrial (mtDNA). Métodos: para isto, se amplificou e sequenciou um fragmento de 350 pares de bases em 72 animais provenientes de nove populações e também de controles das raças Brahman e Holandesa. Para analizar a ancestralidade das sequências, estas foram comparadas com outras 560 de 50 raças Bos taurus y Bos indicus depositadas no genebank. Resultados: de acordo com sua origem espanhola, foi encontrada uma marcada influência do DNA mitocondrial europeu (91.7%), e baixa participação de taurinos de origem africana (5.5%) e do Oriente Próximo (2.7%). A média da diversidade haplotípica foi de 0.65 ± 0.05. A população de gado HV mais antiga foi a única que apresentou as três linhagens mitocondriais encontradas; embora, esta população foi terminada recentemente. Observou-se também proximidade do gado HV com as raças colombianas da região Caribe, Romosinuano e Costeño con Cuernos. A comparação com as sequências depositadas no genebank com diferentes raças revelou a presença de 37 haplotipos, dos quais sete foram únicos no HV. Conclusões: as raças ibéricas mais aproximadas do HV foram: Tudanca, Rubia Gallega, Negra Serrana, Murciana, Pajuna, Avileña Garvonesa e Mertolenga. A árvore filogenética confirmou sua ancestralidade ibérica e a influência africana nas raças crioulas da América Latina.
Palavras chave: filogenia, gado nativo, haplótipos, linhagens.
|Abstract = 69 veces | PDF = 22 veces| | HTML = 21 veces|
Downloads
Download data is not yet available.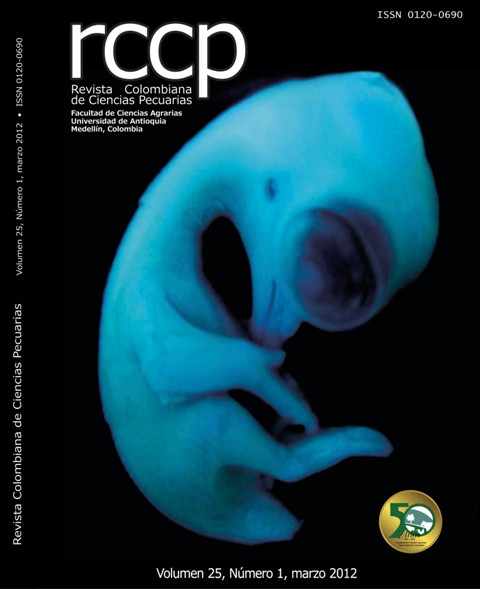 How to Cite
Alvarez, L. A., Vera, V. J., Cárdenas, H., Barreto, G., & Muñoz, J. E. (2012). Assessing the genetic diversity and ancestry of Hartón del Valle cattle using mitochondrial DNA. Revista Colombiana De Ciencias Pecuarias, 25(1), 14–26. https://doi.org/10.17533/udea.rccp.324729
Section
Original research articles
License
The authors enable RCCP to reprint the material published in it.
The journal allows the author(s) to hold the copyright without restrictions, and will allow the author(s) to retain publishing rights without restrictions.