Genes involucrados en la patogénesis, persistencia y excreción de Salmonella en modelos animales
Abstract
Infectious diseases can be studied from different perspectives; from the global epidemiology to the detailed interactions between the pathogen and the host cell. Central to a complete understanding of any disease is the ability to integrate information from different points of view into a coherent model that fully explains the disease process. In vivo infections have been studied mainly in murine models, in which the possibility of genetically manipulating either the bacterium or the host allows variations in the severity of the host-pathogen combination and facilitates the evaluation of individual bacterial and host traits. Gross parameters, such as host mortality, clinical signs, overall bacterial numbers in the tissues, pathological changes, shedding patterns, production of immune mediators, as well as fluctuations and phenotypic profiles of cell populations have been widely used in the descriptive analysis of in vivo infection pathogenesis. However, key factors, such as bacterial location, spatiotemporal patterns of spread and tissue distribution, as well as sites of microbial persistence, have not been sufficiently studied despite their importance in terms of targeted medical intervention. This review aims to give a broad overview of the molecular basis associated with Salmonella infection in murine and other experimental animal models, focusing on organ location, and bacteria spread and distribution. The special conditions that promote bacteria retention and excretion in asymptomatic animals are also highlighted. It aims to gain a better understanding of the infectious process, so that comprehensive reassessment of pathogen behavior allow the establishment of preventive medicine programs in both humans and domestic or wild animals.
Key words: animal models, genes, pathogenesis, Salmonella.
Resumen
Las enfermedades infecciosas pueden ser estudiadas desde diferentes puntos de vista, por ejemplo, el aspecto epidemiológico global o bien el que detalla las interacciones entre el agente patógeno y la célula hospedero. Para tener un entendimiento completo, resulta necesario, por lo tanto, integrar la información de todos los puntos de vista, conformando un modelo coherente que explique completamente el proceso de enfermedad. El seguimiento de las infecciones in vivo ha sido estudiada principalmente en modelos murinos, los cuales ofrecen la posibilidad de manipulación genética tanto en las bacterias como en el hospedero, variando de esta manera la severidad de la enfermedad y facilitando la evaluación de su comportamiento. Los parámetros epidemiológicos o anatomopatológicos, tales como mortalidad, semiología clínica, evidencias bacterianas en tejidos, cambios histopatólogicos, patrones de excreción, producción de mediadores inmunes y fluctuaciones y cambios fenotípicos en poblaciones celulares, han sido ampliamente utilizados para el análisis descriptivo de la patogenia de las infecciones in vivo. De cualquier forma, los puntos clave, como patrones espaciotemporales de diseminación en tejidos, y sitios anatómicos de persistencia microbiana, no han sido profundamente estudiados, a pesar de la importancia que esto implica en el desarrollo de políticas de intervención sanitaria. Esta revisión pretende dar un amplio panorama sobre las bases moleculares asociadas a la infección por Salmonella en modelos murinos, así como en otros modelos animales experimentales, considerado desde el nivel celular, localización, diseminación y distribución de la bacteria en órganos y rescatando aquellas condiciones especiales que promueven su permanencia y excreción en el organismo animal asintomático. Se pretende abordar este proceso infeccioso desde una visión que oriente hacia un mejor entendimiento, de tal manera que, una reevaluación integral del comportamiento del agente patógeno, permitirá el establecimiento de programas de medicina preventiva tanto en seres humanos como en animales domésticos o silvestres.
Palabras clave: genes, modelos animales, patogénesis, Salmonella.
Resumo
As doenças infecciosas podem ser estudadas desde diferentes pontos de vista, como por exemplo: o aspecto epidemiológico global ou as interacções entre o agente patogênico e a célula hospedeira. Para ter um entendimento completo, é necessário, integrar a informação de todos os pontos de vista, formando um modelo coerente e que explique completamente o processo de a doença. Geralmente os modelos das infecções in vivo são estudados principalmente em modelos murinos, os quais oferecem a possibilidade de manipulação genética, tanto nas bactérias como no hospedeiro, variando desta maneira a severidade da doença e facilitando a avaliação de seu comportamento. Os parâmetros epidemiológicos ou anatomopatológicos como: mortalidade, semiología clínica, evidências bacterianas em tecidos, mudanças histopatólogicos, padrões de excrecão, produção de mediadores imunes, flutuações e mudanças fenotípicos em populações celulares foram amplamente utilizados para a análise descritiva da patogenia das infecções in vivo. De qualquer forma, os pontos chaves como padrões espaco-temporais de disseminacão em tecidos, e lugares anatômicos de persistencia microbiana não foram profundamente estudados, apesar da importância que isto implica no desenvolvimento de políticas de intervenção sanitária. Esta revisão tem como objetivo dar um amplo panorama sobre as bases moleculares da infecção por Salmonella em modelos murinos, bem como, em outros modelos animais experimentais, considerando desde o nível celular, localização, diseminação e distribuição da bactéria em órgãos e demonstrando as aquelas condições especiais que promovem sua permanência e excreção no organismo animal assintomático. O processo infeccioso foi abordado de maneira que proponha um melhor entedimento do mesmo, uma reavaliação integral do comportamento do agente patogénico que permita o estabelecimento de programas de medicina preventiva, tanto em seres humanos, como em animais domésticos ou silvestres.
Palavras chave: genes, modelos animais, patogênese, Salmonella.
|Abstract = 32 veces | PDF = 27 veces| | HTML = 322 veces|
Downloads
Download data is not yet available.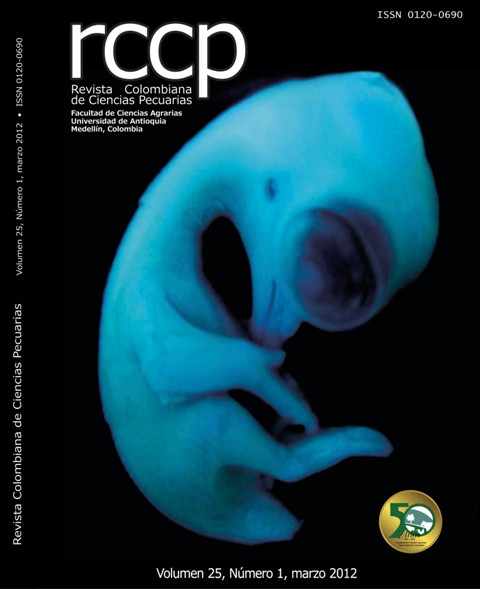 How to Cite
Silva, G., & López, H. S. (2012). Genes involucrados en la patogénesis, persistencia y excreción de Salmonella en modelos animales. Revista Colombiana De Ciencias Pecuarias, 25(1), 107–122. Retrieved from https://revistas.udea.edu.co/index.php/rccp/article/view/324739
Section
Literature reviews
License
The authors enable RCCP to reprint the material published in it.
The journal allows the author(s) to hold the copyright without restrictions, and will allow the author(s) to retain publishing rights without restrictions.