Papel de los protozoos ciliados ruminales en la síntesis de ácido linoleico conjugado. Revisión
Abstract
Traditionally, ruminal ciliate protozoa have been studied with respect to the metabolism of dietary nutrients. Their role has focused on their predatory behavior, the paradigm of its retention in the rumen, and its apparent limited flow to the duodenum. On the other hand, Conjugated Linoleic Acid (CLA) and Vaccenic Acid (VA) are important because of their nutritional value. This review aims to characterize the biological alternatives used by rumen ciliate protozoa for the production of CLA, highlighting three aspects: 1) rumen protozoa are involved only in the initial stage of biohydrogenation to produce CLA isomers, 2) desaturation by protozoa has not been reported, while endogen synthesis by desaturation of VA in mammary glands and fatty tissues has been demonstrated as the main route of CLA in ruminants, 3) even though incorporation of VA and cis9, trans11-CLA in protozoa structure is related with CLA production, this is only important when protozoa flow from rumen to duodenum, producing 30 to 43% of CLA and a 40% of VA, respectively. It is concluded that rumen protozoa are fundamental in the lipid metabolism of ruminants.

Key Words: biohydrogenation, conjugated linoleic acid, desaturation, duodenal flow, lipids of incorporation, rumen protozoa.

Resumen

Tradicionalmente, los protozoos ciliados ruminales han sido estudiados en relación con el metabolismo de nutrientes de la dieta suministrada al rumiante. Particularmente, su papel ha sido cuestionado debido a sus características predadoras, aunado al paradigma de la retención de los protozoos en el rumen y el aparente limitado flujo al duodeno por reciclaje de la proteína microbiana. De otro lado, los ácidos linoleico conjugado (CLA) y vacenico (VA) son dos productos de gran interés nutricional. Estas dos situaciones han generado interés en la investigación de esta representativa población de la microbiota ruminal. El objetivo de este trabajo fue caracterizar, a partir de la literatura científica, las alternativas biológicas utilizadas por los protozoos ciliados del rumen para la producción de CLA. Nosotros encontramos que: 1) los protozoos ruminales sólo participan en la parte inicial de la biohidrogenación, la "isomerización de ácidos grasos insaturados", generando isómeros de CLA, 2) la desaturación en protozoos, no se demostró en estudios, y queda claro que la síntesis endógena por desaturación de VA, en glándula mamaria y tejidos grasos se establece como el mayor recurso de CLA en el rumiante, 3) aun cuando la incorporación de VA y cis9, trans11-CLA en la estructura de los protozoos está relacionada con la producción de CLA, esta sólo es importante hasta cuando se da el flujo de protozoos del rumen a duodeno donde son responsables del 30 al 43% del CLA y 40% del VA. Se concluye, que los protozoos ruminales son trascendentales en el metabolismo lipídico de rumiantes.

Palabras clave: ácido linoleico conjugado, biohidrogenación, desaturación, flujo duodenal, incorporación de lípidos, protozoos ruminales.

Resumo

Tradicionalmente, os protozoários ciliados no rúmen têm sido estudados em relação ao metabolismo dos nutrientes na dieta fornecida ao ruminante. Em particular, o seu papel tem sido questionado devido às suas características predatórias, combinado com o paradigma da retenção de protozoários no rúmem e ao aparente fluxo limitado para o duodeno através da reciclagem da proteína microbiana. Por outro lado, o ácido linoléico conjugado (CLA) e o vacenico (VA) são dois produtos de grande interesse nutricional. Estas duas situações têm gerado interesse na investigação dessa representativa população da microbiota ruminal. O objetivo deste estudo foi caracterizar as alternativas biológicas utilizadas pelos protozoários ciliados do rúmem para a produção de CLA a partir da literatura científica. Nós encontramos que: 1) os protozoários ruminais só participam na parte inicial da biohidrogenação: a isomerização "de ácidos graxos insaturados", gerando isômeros do CLA. 2) até hoje, não tem sido demonstrado a desaturação em protozoários e fica claro que a síntese endógena por desaturação do VA na glândula mamária e tecido adiposo se estabelece como a maior fonte de CLA no ruminante. 3) embora a incorporação de VA e cis9, trans11-CLA na estrutura do protozoário está relacionada com a produção de CLA, ésta só é importante ate quando há fluxo de protozoários do rúmem para o duodeno onde são responsáveis do 30 ate 43% do CLA e 40% do VA. A conclusão é que os protozoários ruminais são transcendentais no metabolismo lipídico dos ruminantes.

Palavras chave: ácido linoleico conjugado, biohidrogenação, desaturação, fluxo duodenal, incorporaão de lipídeos, protozoários ruminais.
|Abstract = 204 veces | PDF = 85 veces| | HTML = 274 veces|
Downloads
Download data is not yet available.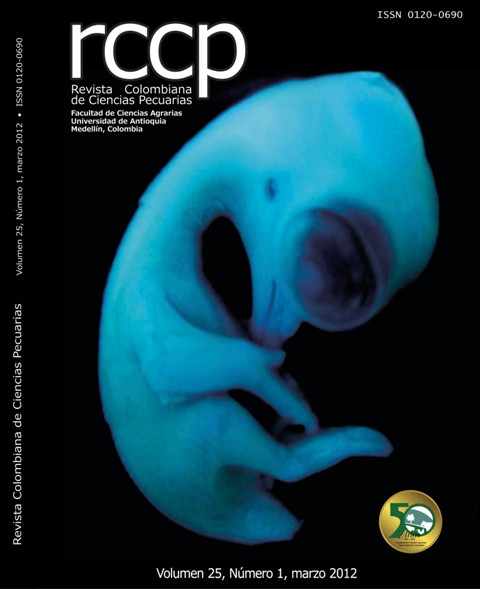 How to Cite
Zapata Salas, R., Gutiérrez Builes, L. A., & Polanco Echeverry, D. (2012). Papel de los protozoos ciliados ruminales en la síntesis de ácido linoleico conjugado. Revisión. Revista Colombiana De Ciencias Pecuarias, 25(1), 135–149. https://doi.org/10.17533/udea.rccp.324741
Section
Literature reviews
License
The authors enable RCCP to reprint the material published in it.
The journal allows the author(s) to hold the copyright without restrictions, and will allow the author(s) to retain publishing rights without restrictions.