Características estructurales del sistema de producción con bovinos doble propósito en el trópico húmedo colombiano
Jimmy A Cortés Mora

Universidad Nacional de Colombia, sede Bogotá, Grupo de Investigación en Administración y Economía de Cadenas de Agronegocios (GIAECA), Ciudad Universitaria, Edificio 561, Bogotá D.C

Alejandro Cotes Torres

Universidad Nacional de Colombia, sede Bogotá, Facultad de Medicina Veterinaria y de Zootecnia, Departamento de Ciencias para la Producción Animal, Ciudad Universitaria, Edificio 561, Bogotá D.C,

José M Cotes Torres

Universidad Nacional de Colombia, sede Medellín, Facultad de Ciencias Agropecuarias, Departamento de Ciencias Agronómicas, calle 59A No. 63-20 Bloque 11, Medellín
Abstract
Summary
Objective: to identify the main biophysical, technological, social, and economic features of dual-purpose cattle system (DPCS) in the low Colombian tropic. Methods: detail surveys were conducted through technical visits to 14 farms at the Piedemonte Llanero region in Meta and Casanare provinces. The information obtained was processed by multi-variance analysis. Results: two main factors accounted for 93.34% of the total variance found in the system: 1) economic-business (EB) capability, and 2) technological capability (TC). A biplot graphic allowed identifying four types of interactions between these factors, as follows: 1) high EB and TC, 2) high EB but low TC, 3) low EB but high TC, and 4) low EB and TC. Conclusions: feeding is the most important constraint for the DPCS having low EB and high TC, while pasture management, genetic, and reproductive variables were the most important factors for the DPCS with high EB and TC.
Key words: characterization, multivariate analysis, systems theory, tropical agrosystem.
Resumen
Objetivo: identificar los principales aspectos biofísicos, tecnológicos, sociales y económicos del sistema de producción con bovinos doble propósito (SPBDP), establecido en condiciones de trópico húmedo en el Piedemonte Llanero colombiano. Métodos: se realizaron encuestas y visitas técnicas a profundidad en catorce explotaciones ganaderas estratégicamente seleccionadas en los Departamentos del Meta y Casanare en Colombia. Resultados: la información obtenida fue procesada mediante análisis multivariado identificando dos factores principales que explicaron el 93.34% de la varianza total del sistema de producción bovina en estudio, los cuales fueron: 1) Capacidad económico-empresarial (CE) y 2) Capacidad tecnológica (CT). Mediante un gráfico bidimensional se observaron cuatro tipos de interacciones de estos dos factores, así: 1) alta CE y CT, 2) alta CE con baja CT, 3) baja CE con alta CT y 4) baja CE y CT. Conclusiones: la alimentación es el aspecto más importante del SPBDP con baja CE, pero con alta CT. Mientras que el manejo de praderas y los aspectos relacionados con la reproducción y la genética son los factores más relevantes del SPBDP con alta CE y alta C T.
Palabras clave: agrosistemas tropicales, análisis multivariante, caracterización, teoría de sistemas .
Resumo
Objetivo: se faz uma analise dos principais aspectos biofísicos, tecnológicos, sociais e econômicos de sistemas de produção com gado de dupla aptidão (SPGDA) em condições de tropico úmido, para a região da planície oriental da Colômbia conhecida como Piedemonte Llanero. Métodos: foram feitas visitas técnicas detalhadas em catorze fazendas estrategicamente selecionadas localizadas nos departamentos de Meta e Casanare, na Colômbia. As informações obtidas foram processadas mediante a análise multivariada. Resultados: foram identificados dois fatores principais, explicando 93.34% da variância total, os quais são: 1) Capacidade econômico-empresarial (CE); e 2) Capacidade tecnológica (CT). Tal como se descreve a continuação, a gráfica bidimensional revelou quatro tipos de interação entre esses dois fatores: 1) alta CE com alta CT; 2) alta CE com baixa CT; 3) baixa CE com alta CT e 4) baixa CE com baixa CT. Conclusões: a alimentação é o fator mais importante nos SPGDA com uma baixa CE, mas com alta CT. Igualmente, os fatores mais importantes nos SPGDA com alta CE e alta CT são ter um adequado manejo das pastagens, um ótimo programa de reprodução e um bom planejamento de cruzamentos com animais de alto valor genético.
Palavras chave: agrosistemas tropicais, análise multivariada, caracterização, teoria de sistemas.
|Abstract = 209 veces | PDF = 116 veces| HTML = 163 veces|
Downloads
Download data is not yet available.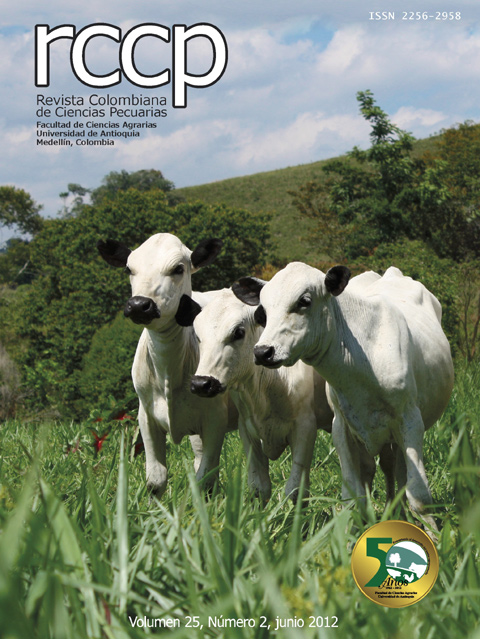 Section
Original research articles
The authors enable RCCP to reprint the material published in it.
The journal allows the author(s) to hold the copyright without restrictions, and will allow the author(s) to retain publishing rights without restrictions.