Costo económico por quistes foliculares en vacas lecheras posparto
Abstract
Summary
Follicular cysts represent a common reproductive pathology in dairy cows. Prevention and early detection are crucial to prevent economic loses from medical treatments and decreased milk production. Objective: to evaluate the economic loses attributed to follicular cysts on post-partum dairy cows. Methods: Medical treatments and milk production records were retrieved from a total of 950 cows at five different herds in the high plains of Antioquia. Usual treatment consisted of 1-3 doses of GnRH and PGF2a. A sensitivity analysis was conducted to assess the cost per liter of milk produced depending on the response to treatment. Results and conclusion: The mean cost of milk production was 496 Colombian pesos/liter for cows free of cysts. This value increased 3.5, 13.3 and 33.8% for cystic cows that received one, two, or three hormonal treatments, respectively. Consequently, any measures aimed at reducing the incidence and rapid resolution of follicular cyst will result in substantial financial gains to the producer.
Key words: competitiveness, follicular cyst, milk production cost.
Resumen
Considerando que los quistes foliculares son una patología reproductiva común en las vacas lecheras, y debido a que los costos asociados a tratamientos y bajas de producción suelen causar pérdidas económicas considerables, la prevención y el diagnóstico de éstos cobra un papel importante en la competitividad del productor. Objetivo: evaluar el efecto de los quistes foliculares en vacas posparto sobre el costo económico de la producción de leche. Métodos: el estudio incluyó 950 vacas de cinco hatos ubicados en el municipio de San Pedro de los Milagros, altiplano norte del departamento de Antioquia. A las vacas diagnosticadas con quistes, se les aplicó de una a tres dosis de GnRH y PGF2a según su respuesta al tratamiento luteinizante. Se realizó un análisis de sensibilidad para evaluar el costo de producción del litro de leche bajo los posibles escenarios de intervalo entre partos (IEP), calculado en función de la respuesta al tratamiento. Resultado y conclusión: el costo unitario de producción de leche ascendió en promedio a 496 COP/litro para vacas que no presentan quistes, valor que se incrementó en 3.5, 13.3 y 33.8%, ya que se hizo necesario aplicar de una a tres repeticiones del tratamiento respectivamente, por la no resolución del quiste; este aumento en los costos demuestran la importancia de un diagnóstico y tratamiento oportuno.
Palabras clave: competitividad, costo de producción, quistes foliculares.
Resumo
Considerando que os cistos foliculares são uma patologia reprodutiva comum na pecuária leiteira, e que os custos associados ao tratamento da doença e a diminuição da produção causam consideráveis perdas econômicas; a prevenção e o diagnóstico desta patologia têm um papel fundamental na competitividade do produtor. Objetivo: avaliar o efeito de cistos foliculares em vacas pós-parto sobre o custo econômico da produção leiteira. Métodos: 950 vacas foram estudadas em cinco rebanhos no município de San Pedro de los Milagros, planalto norte do departamento de Antioquia-Colômbia. Nas vacas que tinham cistos administrou-se de uma a três doses de GnRH e PGF2a segundo sua resposta ao tratamento luteinizante. Realizou-se uma análise de sensibilidade para avaliar o custo de produção do litro de leite, sob os possíveis cenários de intervalo entre partos (IEP), calculado em função da resposta ao tratamento. Resultados e conclusões: O custo unitário da produção de leite atingiu, em média, $496 COP (peso colombiano) por litro para as vacas que não têm cistos; o valor aumentou 3.5, 13.3 e 33.8%, quando se tornou necessário aplicar uma, duas ou três doses de GnRH e PGF2a. Estes aumentos nos custos demonstram a importância de um diagnostico e tratamento oportuno.
Palavras chave: cistos foliculares, competitividade, custo de produção.
|Abstract = 78 veces | PDF = 29 veces| | HTML = 32 veces|
Downloads
Download data is not yet available.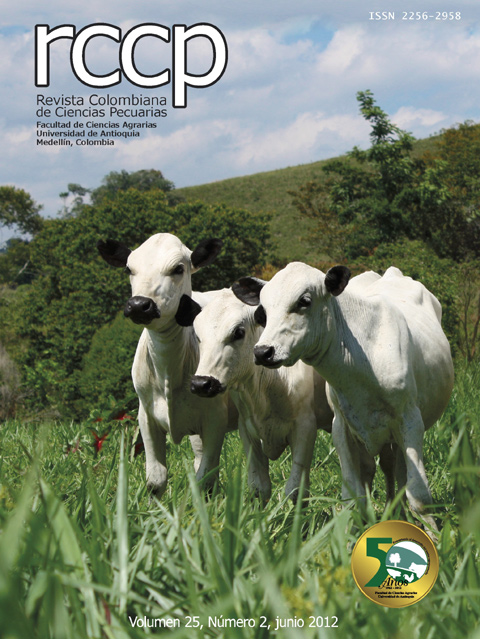 How to Cite
Barrios Hernández, D., & Duque Muñoz, L. (2012). Costo económico por quistes foliculares en vacas lecheras posparto. Revista Colombiana De Ciencias Pecuarias, 25(2), 252–257. https://doi.org/10.17533/udea.rccp.324752
Section
Original research articles
License
The authors enable RCCP to reprint the material published in it.
The journal allows the author(s) to hold the copyright without restrictions, and will allow the author(s) to retain publishing rights without restrictions.