Chemical alterations in soils fertirrigated with wastewater from swine facilities
Abstract
Summary
The increasing size of swine farms poses an environmental risk to water bodies, considering that manure is generally applied to croplands without appropriate agronomic criteria. Objective: the present work aimed to evaluate various chemical changes occurring in soils fertirrigated with filtrated wastewater from swine facilities (FWS). Methods: 21 drainage lysimeters filled with Dystrophic Red-Yellow Latossoil were cultivated with tomato plants in protected environments, and fertirrigated with several doses of FWS, with and without fertilizer addition. Treatments were: T1: control (provided the recommended irrigation and fertilization needs for tomato plants). Treatments T2, T3, and T4, provided 100, 150, and 200% of recommended nitrogen (N), respectively, by adding filtered swine wastewater. Treatments T5, T6, and T7 provided equivalent N percentages with fertilizer addition. The experiment was conducted in a completely randomized design (seven treatments and three replications). Results: compared with initial conditions, an increase in the concentration of available phosphorus was observed, mainly in the superficial layers. The FWS addition resulted in increments in N concentration in the superficial layers, while chemical fertilizer application resulted in larger displacements in the soil profile. Conclusion: chemical fertilization was more effective than FWS for ionizing the soil solution.
Key words: chemical alterations, fertirrigation, nitrogen, phosphorus.
Resumen
El aumento en el tamaño de las granjas porcinas supone un riesgo ambiental para los cuerpos de agua, teniendo en cuenta que el estiércol se aplica generalmente a las tierras de cultivo sin adecuados criterios agronómicos. Objetivo: el presente trabajo tuvo como objetivo evaluar los diversos cambios químicos que ocurren en los suelos fertirrigados con aguas residuales de instalaciones porcícolas (FWS). Métodos: 21 lisímetros de drenaje llenos con Latosuelo distrófico rojo-amarillo fueron cultivados con plantas de tomate en ambientes protegidos, y fertirrigados con varias dosis de FWS, con y sin adición de fertilizante. Los tratamientos fueron: T1: control (proveía la irrigación y fertilización recomendada para las necesidades de las plantas de tomate). Los tratamientos T2, T3 y T4 suministraron el 100, 150 y 200%, respectivamente, del nitrógeno (N) recomendado, mediante la adición de las aguas residuales filtradas. Los tratamientos T5, T6 y T7 proporcionaron los mismos porcentajes de N mediante la adición de fertilizantes. El experimento se realizó en un diseño completamente al azar (siete tratamientos y tres repeticiones). Resultados: al comparar con las condiciones iniciales, se observó un aumento en la concentración de fósforo disponible, sobre todo en las capas superficiales. La adición de FWS resultó en incrementos en la concentración de N en las capas superficiales, mientras que la aplicación de fertilizantes químicos resultó en grandes desplazamientos en el perfil del suelo. Conclusión: la fertilización química fue más eficaz que el FWS para ionizar la solución del suelo.
Palabras clave: alteración química, fertilización por riego, nitrógeno, fósforo.
Resumo
O incremento de tamanho das granjas de suínos supõe um risco ambiental para os corpos de água, tendo em conta que as fezes dos porcos aplicam-se geralmente em terras para culturas sem ter em conta critérios agronômicos adequados. Objetivo: este trabalho teve como objetivo avaliar a alteração química que ocorre em solos adubados com irrigação de água residuária de suinocultura filtrada (FWS). Métodos: 21 lisímetros de drenagem cheios com latossolo distrófico vermelho-amarelo foram cultivados com tomateiros em ambientes protegidos e fertirrigados com varias doses de FWS, com e sem adição de adubo químico. Os tratamentos foram: T1: controle (ministrou-se a irrigação e fertilização recomendada para as necessidades do tomateiro). Os tratamentos T2, T3 e T4 ministraram 100, 150 e 200%, respectivamente, do nitrogênio (N) recomendado, por médio da adição de águas residuais filtradas. Os tratamentos T5, T6 e T7 proporcionaram as mesmas percentagens de N por médio da adição de adubos químicos. O experimento se analisou com um modelo completamente aleatorizado (sete tratamentos e três repetições). Resultados: ao comparar as condições iniciais, observou-se um aumento na concentração de fósforo disponível, principalmente nas capas superficiais. A adição de FWS resultou em incrementos da concentração de N nas capas superficiais, enquanto a aplicação de adubos químicos resultou em grandes deslocamentos no perfil do solo. Conclusão: A adubação química foi mais eficaz que o FWS para ionizar a solução do solo.
Palavras chave: adubação por irrigação, alteração química, fósforo, nitrogênio.
|Abstract = 49 veces | PDF = 13 veces| | HTML = 8 veces|
Downloads
Download data is not yet available.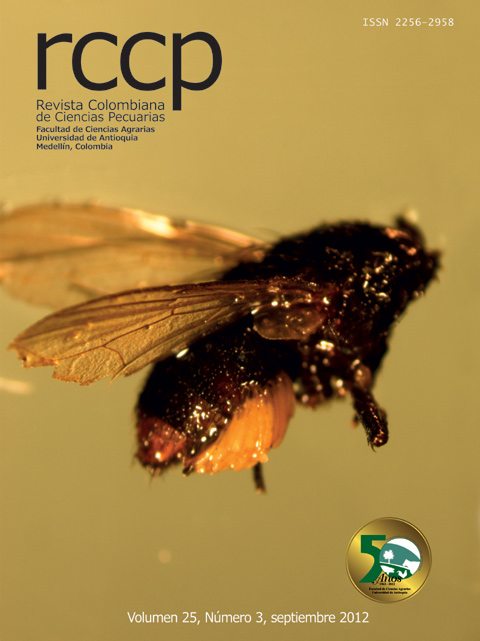 How to Cite
Rodrigues de Souza, J. A., Moreira, D. A., Batista, R. O., Osorio Saraz, J. A., & Zapata Marín, O. L. (2012). Chemical alterations in soils fertirrigated with wastewater from swine facilities. Revista Colombiana De Ciencias Pecuarias, 25(3), 360–368. https://doi.org/10.17533/udea.rccp.324779
Section
Original research articles
License
The authors enable RCCP to reprint the material published in it.
The journal allows the author(s) to hold the copyright without restrictions, and will allow the author(s) to retain publishing rights without restrictions.