Spontaneous canine transmissible venereal tumor: association between different phenotypes and the insertion LINE-1/c-myc
Abstract
Summary
Objective: this study aimed to evaluate the LINE-1 transposon inserted in c-myc gene as a specific genetic alteration in cells of spontaneous canine Transmissible Venereal Tumor (TVT) with either lymphocytoid or plasmacytoid phenotypes. Methods: tumoral biopsies from 35 dogs were collected by puncture or exfoliation. Polymerase Chain Reaction (PCR) was carried out with primers myc.s and LINE. A, specific to the LINE-1 segment to detect the presence of LINE-1/c-myc molecular marker. Results: sequence alignment of DNA samples from lymphocytoid and plasmacytoid TVT cells did not show polymorphisms, and the comparison with sequences from the GenBank identified them as a LINE-1/c-myc rearrangement. Conclusions: considering the aggressive nature of the plasmacytoid phenotype, there is no apparent relation between LINE-1/c-myc and the malignancy of TVT. Further studies are needed to establish molecular differences associated with the aggressiveness of the various phenotypes of canine TVT.
Key words: dogs, oncogenes, Polymerase Chain Reaction, transposition elements.
Resumen
Objetivo: evaluar la expresión del trasposón LINE-1 insertado en el oncogén c-myc como una alteración genética específica en células de Tumor Venéreo Transmisible canino espontáneo con fenotipos linfocitoideos o plasmocitoideos. Métodos: se tomaron muestras citológicas de 35 caninos naturalmente afectados por Tumor Venéreo Transmisible (TVT), separándolas en dos grupos de acuerdo al fenotipo predominante. La identificación del marcador molecular LINE-1/c-myc fue posible mediante la técnica de Reacción en Cadena de la Polimerasa (PCR) usando los primers myc.s y LINE. A, específicos para el segmento LINE-1. Resultados: el resultado del alineamiento de las secuencias obtenidas a partir del DNA de cada uno de los fenotipos de TVT no presentó variación entre ellos y al compararlas con el alineamiento de otras secuencias depositadas en el GenBank, pudo observarse que se trata de un reordenamiento LINE-1/c-myc. Conclusiones: teniendo en cuenta la naturaleza agresiva del fenotipo plasmocitoide, se estableció que no hay polimorfismo genético entre los grupos analizados, siendo necesario realizar nuevos estudios tendientes a establecer diferencias moleculares asociadas con la agresividad de los diferentes fenotipos del TVT canino.
Palabras clave: oncogenes, perros, Reacción en Cadena de la Polimerasa, transposición genética.
Resumo
Objetivo: foi avaliado o elemento de transposição LINE-1 inserido no gene c-myc como alteração genética específica nas células do TVT espontâneo canino nos grupos fenotípicos previamente classificados como linfocitóide e plasmocitóide. Métodos: amostras da lesão de 35 cães foram colhidas por punção ou esfoliação. Para identificar o marcador molecular LINE-1/c-myc nas amostras foi utilizada a técnica de Reação em Cadeia da Polimerase empregando-se os primers myc.s e LINE. A, específicos para o segmento LINE-1. Resultados: o resultado do alinhamento das sequências obtidas das amostras de DNA das células de TVT linfocitóide e plasmocitóide não apresentou polimorfismos e, por meio do alinhamento com outras sequências depositadas no GeneBank, identificou-se que trata-se do rearranjo LINE-1/c-myc. Conclusões: parece não haver relação entre este aspecto molecular analisado com a agressividade do tumor.
Palavras chave: cão, elementos de transposição, oncogene, Reação em Cadeia da Polimerase.
|Abstract = 57 veces | PDF = 13 veces| | HTML = 10 veces|
Downloads
Download data is not yet available.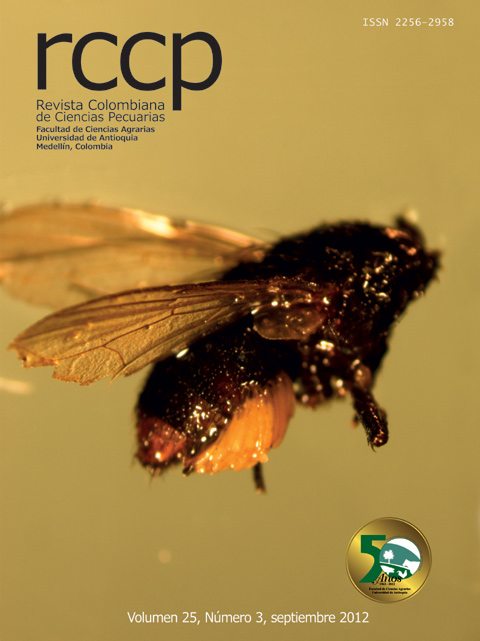 How to Cite
Fonseca, L. S., Mota, L. S., Colodel, M., Ferreira, I., Brandão, C. V. S., & Rocha, N. S. (2012). Spontaneous canine transmissible venereal tumor: association between different phenotypes and the insertion LINE-1/c-myc. Revista Colombiana De Ciencias Pecuarias, 25(3), 402–408. Retrieved from https://revistas.udea.edu.co/index.php/rccp/article/view/324783
Section
Original research articles
License
The authors enable RCCP to reprint the material published in it.
The journal allows the author(s) to hold the copyright without restrictions, and will allow the author(s) to retain publishing rights without restrictions.