Uso de la yuca (Manihot esculenta Crantz) y otras fuentes de almidones no convencionales en la alimentación de rumiantes
Abstract
Resumen
Esta revisión analiza la información disponible sobre alimentos alternativos ricos en almidón diferentes al maíz, disponibles en el trópico, y su uso en rumiantes. Se realizó una búsqueda sobre yuca (Manihot esculenta Crantz), papa (Solanum tuberosum), plátano (Musa paradisiaca), arracacha (Arracacia xanthorriza), ñame (Dioscorea sp.) y achira o sagú (Canna edulis). La información disponible para la mayoría de estos recursos es limitada, con excepción de la yuca y la papa. Sin embargo, se puede concluir que estos recursos son ricos en almidones pero deficientes en proteína, con excepción del ñame y la papa que tienen valores de proteína cercanos o superiores a los del maíz. Los estudios sobre yuca sugieren que se puede sustituir el maíz en raciones para novillos y vacas lactantes sin comprometer el consumo de materia seca, la digestibilidad de la dieta, las ganancias de peso, o la producción de leche, a pesar de que su tasa de degradación ruminal es mayor que la del maíz molido. Sin embargo, unos pocos estudios sugieren que bajo circunstancias alimenticias particulares la sustitución de maíz con yuca podría disminuir la producción de leche o carne.
Palabras clave: almidones en rumiantes, papa, producción de leche, yuca.
Summary
This review analyses available information on alternative starchy feeds different from corn available in the tropics, and its use in ruminants. A literature search was conducted regarding cassava (Manihot esculenta Crantz), potato (Solanum tuberosum), plantain (Musa paradisiaca), arracacha (Arracacia xanthorriza), yam (Dioscorea sp.), and saka siri (Canna edulis). Available information for most of these resources is limited, except for cassava and potato. However, it can be concluded that these resources are rich in starch but deficient in protein, except for yam and potato which contain protein levels close or even higher than corn. Cassava reports suggest that it can substitute corn in diets for steers and dairy cows without compromising dry matter intake, diet digestibility, weight gain, or milk production, despite its higher ruminal degradation compared to ground corn. However, few studies suggest that under some feeding circumstances substitution of corn with cassava could decrease milk or meat production.
Key words: cassava, milk production, potato, starches in ruminants.
Resumo
Esta revisão apresenta informação sobre alimentos de alto conteúdo de amido, diferentes ao milho, disponíveis no trópico e a sua utilização em ruminantes. Foi realizada uma pesquisa de informação sobre mandioca (Manihot esculenta Crantz), batata (Solanum tuberosum), banana (banana da terra) (Musa paradisiaca), mandioquinha (Arracacia xanthorriza), inhame (Dioscorea sp.) e biri (Canna edulis). A informação disponível para a maioria destes recursos é limitada, com exceção da mandioca e da batata. No entanto, pode se concluir que estes recursos são ricos em amido mas deficientes em proteína, com exceção do inhame e da batata que têm valores de proteína aproximados ou superiores aos do milho. Os estudos sugerem que o milho pode se-substituir pela mandioca em rações para novilhos e vacas em lactação sem afetar o consumo de matéria seca, a digestibilidade da ração Os ganhos de peso ou a produção de leite, embora a sua taxa de degradação no rúmem seja maior do que a do milho moído. Porém, alguns estudos indicam que em algumas circunstâncias alimentícias a substituição diminuiria a produção de leite ou carne.
Palavras chave: amido em ruminantes, batata, mandioca, produção de leite.
|Abstract = 275 veces | PDF = 144 veces| | HTML = 454 veces|
Downloads
Download data is not yet available.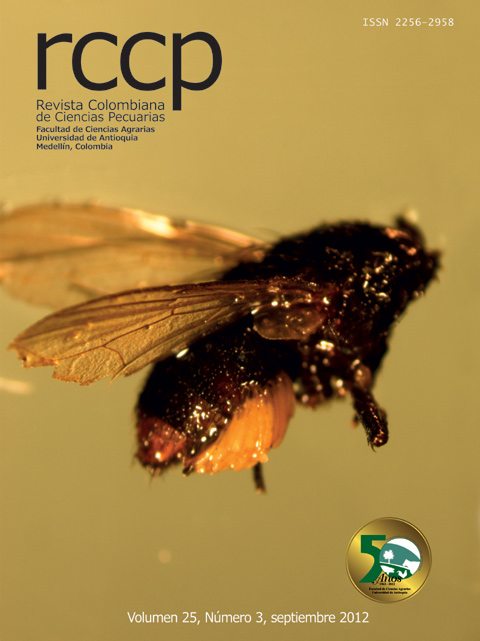 How to Cite
Knowles, M. M., Pabón, M. L., & Carulla, J. E. (2012). Uso de la yuca (Manihot esculenta Crantz) y otras fuentes de almidones no convencionales en la alimentación de rumiantes. Revista Colombiana De Ciencias Pecuarias, 25(3), 488–499. https://doi.org/10.17533/udea.rccp.324792
Section
Literature reviews
License
The authors enable RCCP to reprint the material published in it.
The journal allows the author(s) to hold the copyright without restrictions, and will allow the author(s) to retain publishing rights without restrictions.