Papel de la leptina y su receptor en la glándula mamaria bovina
Abstract
Resumen
La leptina es una hormona proteínica que participa en procesos fisiológicos relacionados con la regulación del metabolismo energético, reproducción, inmunidad, cáncer, lactancia, entre otros. Su receptor se expresa en casi la totalidad de los tejidos, presentando seis isoformas a partir de un mismo ARNm. La isoforma predominante en la glándula mamaria bovina es la Ob-Rb, a través de la cual se puede desencadenar una cascada de señalización por medio de las moléculas JAK-STAT, para inducir proliferación, diferenciación y apoptosis celular de acuerdo al estadio reproductivo de la hembra. En pequeños rumiantes, tales como ovejas y cabras, los niveles de leptina y su receptor varían considerablemente durante la preñez y lactancia: son altos al inicio de la gestación, tienden a descender hasta la mitad de esta etapa y permanecen bajos hasta la finalización de la lactancia. En la glándula mamaria de bovinos aún no se ha establecido un patrón de expresión de los receptores durante diferentes etapas reproductivas, estudio que se considera importante y necesario para comprender el efecto de la leptina sobre su receptor en glándula mamaria, especialmente durante la lactancia, período durante el cual sufre una remodelación celular del tejido glandular para sostener una alta producción láctea. En la presente revisión se plantea una hipótesis de cómo podría ser la vía de señalización desencadenada por el receptor de leptina en la glándula mamaria durante la lactancia.
Palabras clave: bovinos, glándula mamaria, lactancia, leptina, receptor de leptina, rumiantes.
Summary
Leptin is a hormone-like protein involved in physiological processes related to the regulation of energy metabolism, reproduction, immunity, cancer, breastfeeding, among others. Leptin receptor is expressed in almost all tissues and generates six isoforms from a single mRNA. The predominant isoform in bovine mammary gland is the Ob-Rb, which triggers a signaling cascade through JAK-STAT molecules to induce proliferation, differentiation and apoptosis, according to the female reproductive stage. In small ruminants, such as sheep and goats, leptin and its receptor levels vary widely, being high at the beginning of pregnancy, tending to fall in mid-gestation, and remaining low until the end of lactation. An expression pattern of leptin receptor has not yet been established for the various reproductive stages in bovine mammary gland. Such study is considered important and necessary to understand the effect of leptin via its receptor in mammary gland, especially during lactation when the gland undergoes tissue remodeling to sustain high milk production. This review presents a hypothesis about the signaling pathway triggered by leptin receptor in the mammary gland during bovine lactation.
Key words: bovine, lactancy, leptin, leptin receptor, mammary gland, ruminants.
Resumo
A leptina é um hormônio protéico envolvido em processos fisiológicos relacionados com a regulação do metabolismo energético, reprodução, imunidade, câncer, lactação, entre outros. Seu receptor é expresso em quase todos os tecidos e apresenta seis isoformas a partir do mesmo mRNA. A isoforma predominante na glândula mamária bovina é a Ob-Rb, através da qual é desencadeada uma cascata de sinalização através das moléculas JAK-STAT para induzir a diferenciação, proliferação e apoptose de acordo com o estágio reprodutivo da fêmea. Em pequenos ruminantes, como ovinos e caprinos, os níveis de leptina e seu receptor variam consideravelmente durante a gravidez e a lactação. São altos no início da gravidez, tendem a cair na metade dessa fase e permanecem baixos até o final da lactação. Ainda não foi estabelecido um padrão de expressão do receptor de leptina na glândula mamária de bovinos durante diferentes estágios reprodutivos. O estudo deste tema é importante e necessário para entender o efeito da leptina sobre o seu receptor na glândula mamária, especialmente durante a lactação, periodo no qual a glândula mamária sofre remodelação do tecido glandular com a finalidade de sustentar a alta produção de leite. A presente revisão apresenta uma hipótese sobre a via de sinalização que é desencadeada pelo receptor da leptina na glândula mamária durante a lactação.
Palavras chave: bovinos, glândula mamária, lactação, receptor a leptina, leptina, ruminantes.
|Abstract = 134 veces | PDF = 68 veces| | HTML = 132 veces|
Downloads
Download data is not yet available.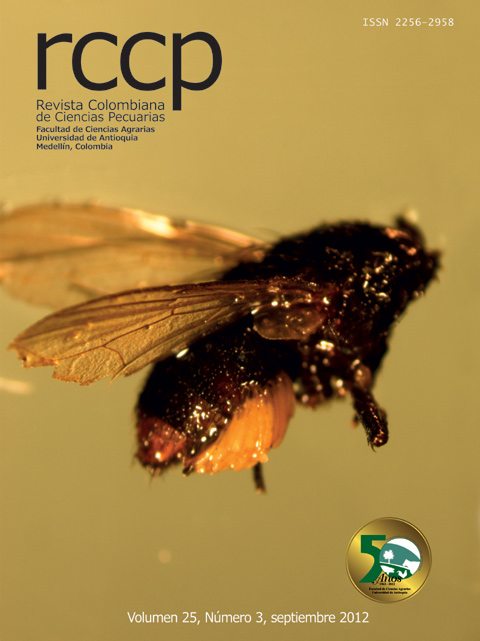 How to Cite
Echeverry, D. M., Penagos, F., & Zulma Tatiana Ruiz-Cortés, Z. T. (2012). Papel de la leptina y su receptor en la glándula mamaria bovina. Revista Colombiana De Ciencias Pecuarias, 25(3), 500–510. https://doi.org/10.17533/udea.rccp.324793
Section
Literature reviews
License
The authors enable RCCP to reprint the material published in it.
The journal allows the author(s) to hold the copyright without restrictions, and will allow the author(s) to retain publishing rights without restrictions.