Reducing the incidence of intramammary infection in heifers by using prepartum systemic tylosin therapy: initial results of a single herd pilot study
Abstract
Summary
Background: mastitis in heifers is recognized as an important problem that impacts animal health and wellbeing and reduces milk quality and lifetime productivity. Objective: to assess the effectiveness of intramuscular administration of tylosin (20 g) as a method to prevent and treat intramammary infections (IMI) in heifers. Methods: heifers from a commercial farm in Michigan, due to calve within 14 to 18 d, were assigned randomly to one of two treatment groups. The control group (n=108 heifers) received no antibiotic treatment or teat sealants to prevent IMI. The tylosin group (n=112 heifers) was injected intramuscularly with 20 g of tylosin. Quarter milk samples were taken in duplicate for bacterial culture from all functional quarters at 2 to 6 d (sample 1) and 7 to 15 d (sample 2) after calving. Representative isolates from sample 1 were speciated. Somatic cell counts and milk production were recorded. Results: in sample 1, 42% of the heifers, and 16.5% of the quarters were infected. Coagulase-negative staphylococci (CNS) and streptococci infected 10.8% and 3.6% of the quarters, respectively. No antibiotic residues were detected at either sample 1 or sample 2. No differences were observed in Somatic Cell Count (SCC) and milk production between tylosin treated animals and controls, however, uninfected heifers had a lower somatic cell score (SCS). At the heifer level, tylosin did not reduce significantly IMI infection rate caused by Gram-positive bacteria. At the quarter level, tylosin reduced levels of IMI caused by CNS. Conclusion: tylosin administration to primigravid heifers 2 weeks before expected calving should not be advised without first evaluating udder health, management and economic implications on each individual dairy farm should be taken into account.
Key words: coagulase negative staphylococcus, macrolides, mastitis.
Resumen
Antecedentes: la mastitis en novillas es reconocida como un problema importante que afecta la salud y el bienestar animal reduciendo la calidad de la leche y la productividad durante la vida de la vaca. Objetivo: evaluar la efectividad de la administración vía intramuscular de tylosina (20 g) como un método para prevenir y tratar infecciones intramamarias (IMI) en novillas. Métodos: novillas de un hato lechero comercial en Michigan, con fecha tentativa de parto 14 a 18 d después del inicio del estudio, fueron asignadas al azar a uno de dos tratamientos. El grupo control (n=108 novillas) no recibió antibióticos o sellantes de pezón para prevenir IMI. Los animales en el grupo tylosina (n=112) fueron inyectados vía intramuscular con 20 g de tylosina. Muestras de leche fueron tomadas en duplicado de cada uno de los cuartos funcionales a los 2-6 d (muestra 1) y a los 7-15 d (muestra 2) después del parto para cultivo bacteriológico. Las colonias representativas de la muestra 1 fueron clasificadas. Los recuentos de células somáticas y la producción de leche fueron evaluados. Resultados: en la muestra 1, el 42% de las novillas y el 16,5% de los cuartos estaban infectados. Estafilocococoagulasa negativos (CNS) y estreptococos infectaron el 10,8% y el 3,6% de los cuartos, respectivamente. No se encontraron residuos de antibióticos en ninguna de las muestras. No se observaron diferencias en el Recuento de células somáticas (SCC) o producción de leche entre los animales tratados con tylosina y los controles; sin embargo, las novillas no infectadas tuvieron un recuento de células somáticas más bajo. A nivel de novillas, el tratamiento con tylosina no redujo la tasa de IMI causada por bacterias Gram-positivas. A nivel de cuartos, la tylosina redujo los niveles de IMI causados por SCN. Conclusión: la administración de tylosina en novillas primigravidas 2 semanas antes del parto no debe ser formulada sin previa evaluación de la salud de la ubre y de las implicaciones de manejo y económicas pertinentes para cada hato.
Palabras clave: staphylococcus coagulasa negativo, macrólidos, mastitis.
Resumo
Antecedentes: a mastite em novilhas é reconhecida como um dos principais problemas que afetam a saúde e o bem-estar animal e reduz a qualidade do leite e a produtividade ao longo da vida da vaca. Objetivo: avaliar a efetividade da administração de tilosina (20 g) via intramuscular como um método para prevenir e tratar as infecções intramamárias (IMI) em novilhas. Métodos: novilhas de um rebanho leiteiro comercial de Michigan, com a data de parto prevista para 14 a 18 dias após o início do estudo, foram escolhidas ao azar para um dos tratamentos. O grupo controle (n=108 novilhas) não recebeu antibióticos ou desinfetantes de mamilos para prevenir a IMI. Os animais do grupo tilosina (n=112) receberam 20 g de tilosina via intramuscular. As amostras de leite de cada um dos quartos para o cultivo bacteriológico foram obtidas em duplicado de todos os quartos funcionais 2-6 d (amostra 1) e a 7-15 d (amostra 2) depois do parto. As colônias representativas da amostra 1 foram classificadas. As contagens de células somáticas e a produção de leite foram avaliadas. Resultados: na amostra 1, 42% das novilhas e 16,5% dos quartos estavam infectados. Staphylococos coagulase negativos (CNS) e estreptococos infectaram 10,8% e 3,6% dos quartos, respectivamente. Não se encontraram resíduos de antibióticos em nenhuma das amostras. Não se observaram diferenças na contagem de células somáticas (SCC) ou na produção de leite entre os animais tratados com tilosina e os controles, no entanto, as novilhas não infectadas apresentaram uma contagem de células somáticas mais baixa. Enquanto a novilhas, o tratamento com a tilosina não reduziu a taxa de IMI causada por bactérias Gram-positivas. No nível de quartos, a tilosina reduziu os níveis de IMI causadas por CNS. Conclusão: a administração de tilosina às novilhas de primeira gestação, duas semanas antes do parto, não deve ser indicada sem uma avaliação prévia da saúde da glândula mamária e as implicações no manejo e na economia pertinente a cada rebanho.
Palavras chave: Staphylococcus coagulase negativo, macrolídeos, mastite.
|Abstract = 44 veces | PDF = 14 veces| | HTML = 13 veces|
Downloads
Download data is not yet available.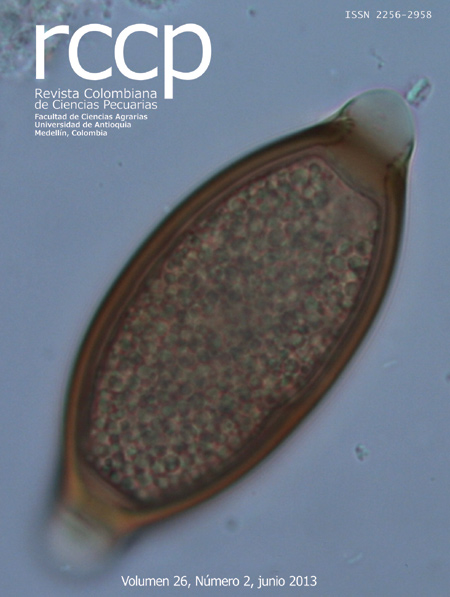 How to Cite
Contreras, G. A., Muñoz, J. D., & Sears, P. M. (2013). Reducing the incidence of intramammary infection in heifers by using prepartum systemic tylosin therapy: initial results of a single herd pilot study. Revista Colombiana De Ciencias Pecuarias, 26(2), 119–126. https://doi.org/10.17533/udea.rccp.324821
Section
Original research articles
License
The authors enable RCCP to reprint the material published in it.
The journal allows the author(s) to hold the copyright without restrictions, and will allow the author(s) to retain publishing rights without restrictions.