Osteomyelitis and periosteal reaction in a red brocket deer (Mazama americana)
Ana M Henao-Duque

Programa de Odismo/Escorpionismo, Universidad de Antioquia

Juliana Peña-Stadlin

Unidad de Bienestar Animal, Fundación Zoológica de Cali

Dave Wehdeking-Hernández

Unidad de Bienestar Animal, Fundación Zoológica de Cali
Abstract
Summary 
Anamnesis and treatment approach: a female red brocket deer (Mazama americana, Erxleben 1777) presented a post-traumatic abscess in the left-carpometacarpal joint. The deer was treated with enrofloxacin (5 mg/kg) and ivermectin (0.2 mg/kg) with no response. The animal underwent two surgical procedures to remove purulent material and perform adequate antisepsis as well as several antimicrobial therapies, with satisfactory results in a period of 68 days. Clinical and laboratory findings: according to the radiological and laboratory tests the animal developed a metacarpal bone osteomyelitis with periosteal reaction due to a beta-hemolytic Streptococcus abscess. Conclusion: to our knowledge, this is the first report of medical procedures in this species. The most relevant findings and treatment schedule are discussed. 
Key words: antimicrobial therapy, cervid, post-traumatic abscess.
Resumen 
Anamnesis y aproximación terapéutica: una hembra de venado soche (Mazama americana), que presentó un absceso postraumático en la articulación carpo-metacarpiana del miembro anterior izquierdo fue tratada con enrofloxacina (5 mg/kg) e ivermectina (0,2 mg/kg), sin responder al tratamiento. Se sometió a dos procedimientos quirúrgicos con el fin de extraer el material purulento y realizar una antisepsia adecuada, además de varias terapias antibióticas, con resultados satisfactorios en un término de 68 días. Hallazgos clínicos y de laboratorio: de acuerdo a los resultados radiológicos y de laboratorio el animal desarrolló osteomielitis con reacción perióstica metacarpiana, debido a un absceso por Streptococcus beta-hemolítico. Conclusión: este es el primer reporte sobre procedimientos médicos en esta especie, se discuten los hallazgos clínicos y el esquema de tratamiento más relevante. 
Palabras clave: absceso postraumático, cérvido, terapia antimicrobiana.
Resumo 
História e tratamento: uma fêmea de veado (Mazama americana) apresentou um abscesso póstraumático na articulação do carpo-metacarpo do membro esquerdo. Foi tratada com enrofloxacino (5 mg/kg) e ivermectina (0,2 mg/kg), sem responder ao tratamento. Logo foi submetida a dois procedimentos cirúrgicos para remover o pus e fazer limpeza com antisséptico apropriado, além de várias terapias antibióticas, com resultados satisfatórios em um período de 68 dias. Resultados clínicos e laboratoriais: de acordo com os resultados dos exames radiológicos e de laboratório, o animal desenvolveu osteomielite no metacarpo com reação periosteal devido a um abscesso por Streptococcus beta-hemolítico. Conclusão: este é o primeiro relatório sobre procedimentos médicos nesta espécie, discutimos os achados clínicos e o sistema de tratamento adequado. 
Palavras chave: abscesso pós-traumático, cervídeo, terapia antimicrobiana.
|Abstract = 152 veces | PDF = 103 veces| HTML = 722 veces|
Downloads
Download data is not yet available.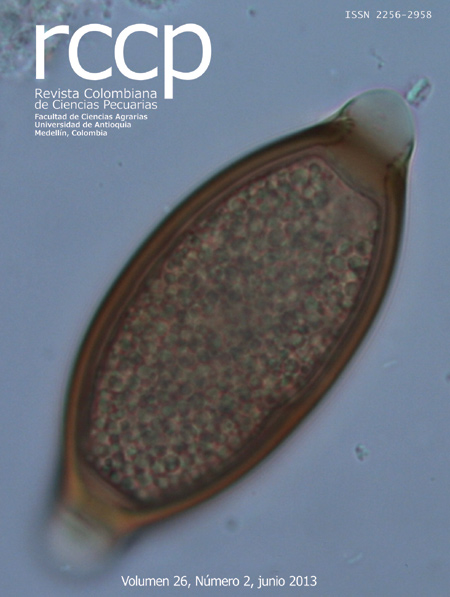 The authors enable RCCP to reprint the material published in it.
The journal allows the author(s) to hold the copyright without restrictions, and will allow the author(s) to retain publishing rights without restrictions.