Detection of macrophages infected with Mycobacterium avium subspecies paratuberculosis in a cow with clinical stage IV of Johne's disease. A case report
Abstract
Summary
Anamnesis: a six-year-old milking Holstein cow (Bos taurus taurus) was diagnosed with stage IV Johne´s Disease (JD). Clinical and Laboratory findings: the cow suffered intermittent diarrhea during 6 months with no response to antibiotic treatment. Consequently, the cow was subjected to euthanasia. Treatment approach: antemortem milk and peripheral blood samples and postmortem colon, mediastinic, mesenteric lymph nodes, and spleen samples were processed for macrophages isolation. Total DNA was extracted from macrophages and used to diagnose IS900 of Mycobacterium avium paratuberculosis (MAP) through real time PCR. The MAP IS900 segment was successfully amplified from cells of all samples, indicating that these cells were MAP-infected macrophages. Conclusion: macrophages of cows suffering from JD can be used for amplification of the MAP IS900 segment.
Key words: intracellular bacteria, real time PCR, resident macrophages, susceptible host.
Resumen
Anamnesis: una vaca Holstein de 6 años de edad (Bos taurus taurus) presentó sintomatología de la fase IV de la enfermedad de Johne. Hallazgos clínicos y de laboratorio: la vaca presentó diarrea intermitente durante 6 meses sin respuesta al tratamiento con antibióticos. En consecuencia, la vaca fue sometida a eutanasia. Esquema de tratamiento: muestras de leche y de sangre periférica se tomaron ante-mortem; muestras de la mucosa del intestino, bazo y linfonodos mediastínico y mesentérico, se tomaron post-mortem, todas para aislamiento de macrófagos. El ADN total de los macrófagos fue usado para la amplificación del segmento IS900 de Mycobacterium avium paratuberculosis (MAP) por PCR en tiempo real. Conclusión: los macrófagos de vacas con la enfermedad de Johne pueden ser usados para la amplificación del segmento IS900 de MAP. 
Palabras clave: bacteria intracelular, hospedero susceptible, macrófagos residentes, PCR en tiempo real.
Resumo
Anamnese: uma vaca Holstein com 6 anos de idade (Bos taurus taurus) apresentou os sintomas da fase IV da doença de Johne. Achados clínicos e laboratoriais: a vaca teve diarreia intermitente por seis meses sem resposta ao tratamento com antibióticos. Por conseguinte, a vaca foi submetida à eutanásia. Abordagem de tratamento: amostras de leite e de sangue periférico foram retiradas ante-mortem, enquanto as amostras da mucosa intestinal, baço e linfonodos mesentéricos e mediastinais foram tomadas todas post-mortem para o isolamento de macrófagos. O ADN total de macrófagos foi utilizado para amplificação do segmento IS900 do Mycobacterium avium paratuberculosis (MAP) por PCR em tempo real. Conclusão: macrófagos isolados a partir de vacas com doença de Johne podem ser utilizados para a amplificação da segmento IS900 do MAP.
Palavras chave: bactérias intracelulares, hospedeiro suscetível, macrófagos residentes, PCR em tempo real.
|Abstract = 37 veces | PDF = 12 veces| | HTML = 106 veces|
Downloads
Download data is not yet available.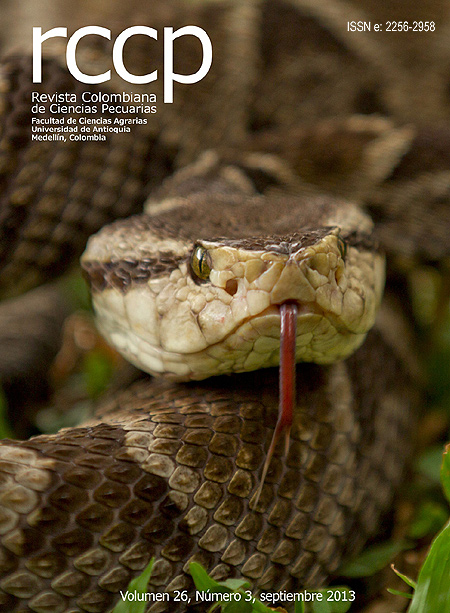 How to Cite
Ramírez-Garcia, R., & Maldonado-Estrada, J. G. (2013). Detection of macrophages infected with Mycobacterium avium subspecies paratuberculosis in a cow with clinical stage IV of Johne's disease. A case report. Revista Colombiana De Ciencias Pecuarias, 26(3), 219–225. Retrieved from https://revistas.udea.edu.co/index.php/rccp/article/view/324832
License
The authors enable RCCP to reprint the material published in it.
The journal allows the author(s) to hold the copyright without restrictions, and will allow the author(s) to retain publishing rights without restrictions.