Animal health: keystone in the sustainability and competitiveness of the livestock sector
Abstract
Summary
The rapid expansion of human population in the world, combined with enhanced economic capacity of developing nations, is resulting in an unprecedented demand for meat production with increased competition for land water and energy, requiring enhancements in the sustainability of livestock practices. At the same time, globalization of world economies is creating challenges and opportunities to the livestock sector to be more competitive in regional, national and international markets. Animal health is critical for the sustainability of the livestock sector. Unthrifty animals cannot reach their genetic potential for productivity requiring more inputs of land, energy and water for the same amount of product output. The impact of poor animal health goes beyond the decrease sustainability of the livestock sector, but affects also wildlife conservation and exacerbates poverty as low-income populations divert on subsistence from bush meats. In the same way that poor health affects the sustainability of livestock production, poor animal health significantly affects the competitiveness of the livestock sector. Due to mortality and/or chronic morbidities, unhealthy livestock industries lead to less quantity and quality products reaching the local and national markets with little or no opportunities of profiting from the benefits of international trade.
Resumen
La rápida expansión de la población humana en el mundo, junto con la mejora de la capacidad económica de las naciones en desarrollo, está dando lugar a una demanda sin precedentes de la producción de carne con el aumento de la competencia por agua, tierra y energía, lo que requiere mejoras en la sostenibilidad de las prácticas ganaderas. Al mismo tiempo, la globalización de la economía mundial plantea desafíos y oportunidades para el sector ganadero para ser más competitivos en los mercados regionales, nacionales e internacionales. La sanidad animal es fundamental para la sostenibilidad del sector pecuario. Animales insalubres no pueden alcanzar su potencial genético de productividad requiriendo más insumos de tierra, agua y energía para la misma cantidad de producción. El impacto de las deficiencias en salud animal van más allá de la disminución de la sostenibilidad del sector pecuario, pero también afecta a la conservación de la vida silvestre y exacerba la pobreza ya que las subsistencia de poblaciones de bajos ingresos dependen en un mayor grado de las carnes de monte. De la misma manera que deficiencias en la salud afectan la sostenibilidad de la producción animal, una salud animal deficiente afecta de manera significativa la competitividad del sector pecuario. Debido a la mortalidad y / o morbilidad crónica animal el sector pecuario produce una menor cantidad y calidad de productos dirigidos a los mercados locales y nacionales, con poca o ninguna oportunidad de sacar provecho de los beneficios del comercio internacional.
|Abstract = 53 veces | PDF = 35 veces|
Downloads
Download data is not yet available.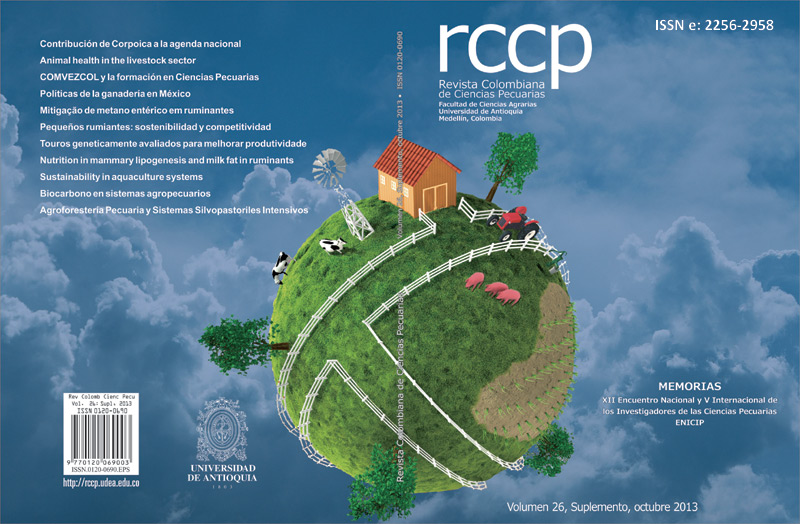 Downloads
How to Cite
Torres Medina, A. (2013). Animal health: keystone in the sustainability and competitiveness of the livestock sector. Revista Colombiana De Ciencias Pecuarias, 26, 247–252. Retrieved from https://revistas.udea.edu.co/index.php/rccp/article/view/324836
License
The authors enable RCCP to reprint the material published in it.
The journal allows the author(s) to hold the copyright without restrictions, and will allow the author(s) to retain publishing rights without restrictions.