Utilização de touros geneticamente avaliados como ferramenta para melhorar a produtividade de sistemas de bovinos de corte
Abstract
Summary
Young bull performance tests are of great utility in breeding programs, as they aim to evaluate the ability of individual animals regarding weight gain, precocity, and carcass quality (yield and fatness), providing support for selection based on individual information from each animal. This study analyzed the following traits: body weight calculated at 210, 365 and 450 days of age, pre-weaning and post-weaning average daily gains, scrotal circumference at 365 and 450 days of age, Longissimus muscle area and carcass fatness. In addition, economical simulations were conducted using weight at 18 months and expected progeny difference (EPD) for weight at 450 days of age. A positive relationship has been observed between genetic values of bulls and those of their progeny, thus the selection of the best bulls is effective in terms of genetic progress and when used in different herds will produce rapid economic returns to breeders. Knowledge of relationships between the genetic merit of bulls and their progeny for growth, carcass and fertility traits in Nellore cattle unequivocally demonstrate the importance of using young bulls with superior genetic merit for the production of superior progeny, accelerating breeding improvement. Likewise, animals of superior genetic merit have shown increased market value. This is because the market is aware of the changes in the agricultural sector, i.e. higher economic returns have been obtained using genetically superior animals. Since superior bulls produce superior progeny, the continuous and rational use of animals from the Young Bull Performance Test and of BRGN Nellore origin, tends to add ever greater economic values ​​through increases in performance traits.
Key words: breeding program, Nelore BRGN, profit, performance test, Zebu.
Resumen 
Pruebas de desempeño de toros jóvenes son de gran utilidad en los programas de mejoramiento, ya que están destinadas a evaluar la capacidad de animales individuales con respecto a la ganancia en peso, precocidad y calidad de la canal (rendimiento y gordura), para apoyar la selección basada en la información individual de cada animal. En este trabajo se analizaron los siguientes rasgos: peso corporal calculado a los 210, 365 y 450 días de edad, ganancias diarias en peso pre- y post-destete, la circunferencia escrotal en 365 y 450 días de edad, área del músculo longissimus y la grasa subcutánea. Además, se realizaron simulaciones económicas utilizando peso a los 18 meses y la diferencia esperada en la progenie (DEP) para peso a los 450 días de edad. Una relación positiva se ha observado entre los valores genéticos de los toros y los de sus progenies, por lo que la selección de los mejores toros es eficaz en términos de progreso genético y cuando se utiliza en diferentes rebaños producirá beneficios económicos a los criadores a corto plazo. El conocimiento de las relaciones entre el mérito genético de los toros y de sus progenies para el crecimiento, la calidad de canal y de la fertilidad en ganado Nelore, demuestran inequívocamente la importancia del uso de toros jóvenes con mérito genético superior para la producción de progenie superior para la aceleración del mejoramiento de la raza. Del mismo modo, los animales de mérito genético superior han mostrado mayor valor de mercado. Esto se debe a que el mercado está al tanto de los cambios en el sector agrícola, es decir, mayores beneficios económicos se han obtenido utilizando animales genéticamente superiores. Ya que toros superiores producen progenies superiores, el uso continuo y racional de toros jóvenes de las pruebas de desempeño y de origen Nelore BRGN, tiende a agregar cada vez más valor a través de aumentos en las características de interés económico.
Palabras clave: programa de cría, Nelore BRGN, ganancia, prueba de desempeño, Zebú.
|Abstract = 63 veces | PDF = 32 veces|
Downloads
Download data is not yet available.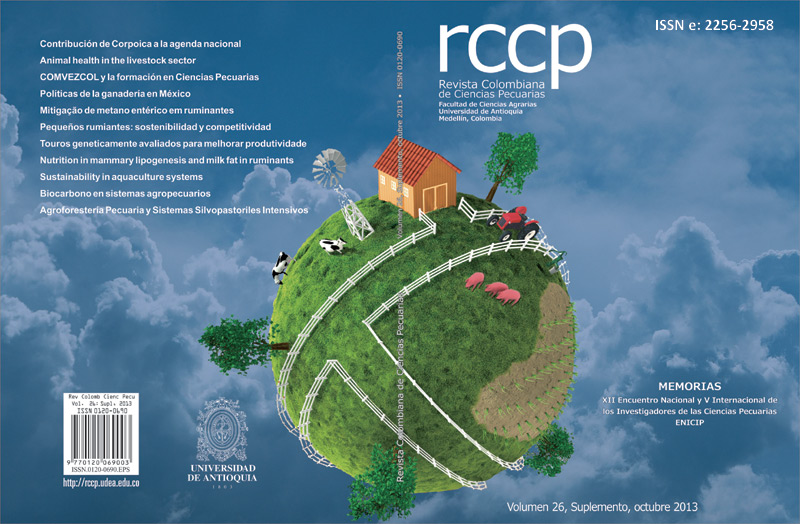 Downloads
How to Cite
Ulhôa Magnabosco, C., Brito Lopes, F., Mamede, M., & Sainz, R. D. (2013). Utilização de touros geneticamente avaliados como ferramenta para melhorar a produtividade de sistemas de bovinos de corte. Revista Colombiana De Ciencias Pecuarias, 26, 284–291. https://doi.org/10.17533/udea.rccp.324841
License
The authors enable RCCP to reprint the material published in it.
The journal allows the author(s) to hold the copyright without restrictions, and will allow the author(s) to retain publishing rights without restrictions.