Salmonella spp. in the pork supply chain: a risk approach
Abstract
Summary
The genus Salmonella contains approximately 2,579 serovars, most of which are zoonotic and transmitted by foods of animal origin, such as fresh pork and further processed by-products. Non-typhoid salmonellosis in humans manifests as gastroenteritis, septicemia, or can be asymptomatic during the carrier state. Salmonella spp. has a considerable impact in the pork industry due to economic losses resulting from diagnosis, treatment, reduced production, and because this pathogen constitutes a non-tariff barrier to food trade and a serious public health problem. The microorganism is usually introduced to farms through incoming breeding stock or pig feed and is subsequently spread by sick animals or asymptomatic carriers. Infection and/or dissemination of the microorganism may increase particularly during pre-slaughtering due to contaminated trucks, long periods of time spent in transit, stress during handling and fasting, or high animal density or time spent in corrals. Contamination during slaughtering is commonly associated with carcass de-hairing and polishing, evisceration and rectum separation, or from Salmonella present in skin, oral cavity, feces or lymphatic nodes. Pork contamination may also occur through contact with equipment or tools, handling, storage, or improper preservation during slaughter, post-slaughter, marketing, sale, or consumption. For this reason, Salmonella control, with a focus on the supply chain and risk assessment is fundamental for guaranteeing quality and food safety of pork products in Colombia, thereby contributing to public health and improving competitiveness. Studies directed at establishing baselines for the disease and the microorganism in each of the stages of the supply chain should be conducted, including identification of differential risks and establishing measures for monitoring, prevention and control.
Key words: cross-contamination, farm, pigs, pork, slaughter.
Resumen
El género Salmonella agrupa alrededor de 2579 serovariedades, en su mayoría zoonóticas, transmitidas por alimentos de origen animal, como la carne de cerdo y sus derivados. La salmonelosis no tifoidea en humanos puede manifestarse como gastroenteritis, septicemia o estado portador asintomático. La presencia de Salmonella spp. es de gran impacto para la industria porcícola, por las pérdidas económicas por diagnóstico, tratamiento y disminución de la producción, y por constituir una barrera no arancelaria para la comercialización de alimentos y un grave problema de salud pública. El microorganismo se introduce en las granjas a través del alimento, el pie de cría o los cerdos para levante, y se disemina a través de enfermos o portadores asintomáticos. En el prebeneficio la contaminación de camiones, el tiempo de transporte, el estrés por manipulación, el ayuno, la alta densidad animal, y la permanencia en corrales pueden incrementar la infección y/o diseminación del microorganismo. Durante el beneficio la contaminación se asocia al depilado, pulido de los animales, a la evisceración y corte de recto o a la presencia del microorganismo en piel, cavidad bucal, heces o ganglios linfáticos. La contaminación de la carne también puede ocurrir por contacto con equipos o utensilios, por manipulación, almacenamiento o conservación inapropiada de los productos en etapas del beneficio, posbeneficio, comercialización, venta o  consumo.  Por tal razón el control de Salmonella bajo un enfoque de cadena productiva y evaluación de riesgo es un aspecto fundamental para garantizar la calidad y la inocuidad de los alimentos de origen porcino en Colombia, contribuyendo a la salud pública y a mejorar la competitividad de la cadena. Se deben realizar estudios orientados a establecer las líneas base de la enfermedad y del microorganismo en cada una de las etapas, identificando el riesgo diferencial y estableciendo medidas de monitoreo, prevención y control.
Palabras clave: carne, contaminación cruzada, cerdo, faenado, granja.
Resumo
O gênero Salmonella agrupa ao redor de 2579 sorovariedades, a maioria delas zoonóticas, transmitidas por alimentos de origem animal, como a carne suína e seus derivados. Em humanos, a salmonelose não tifoide pode se manifestar como gastroenterite, septicemia ou pode ser assintomática. A presença de Salmonella spp. é de grande impacto na indústria produtora de carne suína pelas perdas econômicas por diagnóstico, tratamento e diminuição da produção. Esta doença constitui também uma barreira não alfandegária para a comercialização de alimentos, sendo também um grave problema de saúde pública. O microrganismo é introduzido nas granjas pelas matrizes e reprodutores, animais na fase de crescimento ou a través do alimento. Tanto os animais doentes quanto os portadores assintomáticos podem ser fontes de contaminação. Na fase prévia ao abate podem ser citados alguns fatores que podem favorecer a infecção e disseminação do microrganismo: contaminação dos caminhões somado ao tempo de transporte em veículos com alta densidade animal, jejum e estresse. Durante o processamento da carcaça, a contaminação está associada à depilação e polimento dos animais, assim como evisceração, presença de microrganismos na pele, cavidade oral, ampola retal, fezes ou linfonodos. A contaminação da carne pode acontecer pelo contato com equipamentos ou implementos, manuseio, armazenamento e conservação inadequada dos produtos nas etapas do abate e após do abate, comercialização, venda ou consumo. Diante do anteriormente exposto, na Colômbia é de fundamental importância direcionar o controle da Salmonella considerando um enfoque abrangente da cadeia produtiva, incluindo a avaliação do risco. Este enfoque permitirá garantir a qualidade e inocuidade dos alimentos de origem suíno, redundado em benefícios para a saúde pública e o aprimoramento da competitividade da cadeia. Devem ser realizados estudos orientados ao estabelecimento dos indicadores da presença e impacto da doença em cada uma das etapas produtivas, identificando o risco diferencial, para sentar as bases de medidas de monitoramento, prevenção e controle.
Palavras chave: abate, carne suína, contaminação cruzada, granjas. 
|Abstract = 62 veces | PDF = 20 veces| | HTML = 15 veces|
Downloads
Download data is not yet available.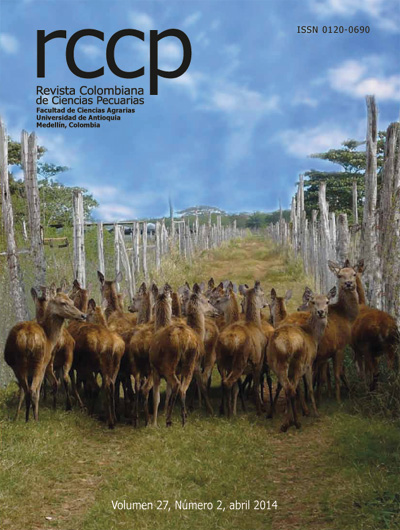 How to Cite
Rodríguez, D. M., & Suárez, M. C. (2014). Salmonella spp. in the pork supply chain: a risk approach. Revista Colombiana De Ciencias Pecuarias, 27(2), 65–75. Retrieved from https://revistas.udea.edu.co/index.php/rccp/article/view/324880
Section
Literature reviews
License
The authors enable RCCP to reprint the material published in it.
The journal allows the author(s) to hold the copyright without restrictions, and will allow the author(s) to retain publishing rights without restrictions.