Rhodococcus equi pneumonia in a Foal – A case report
Abstract
Summary
Anamnesis: a 4 month-old creole filly was presented to the Universidad Nacional's Large Animal Clinic with a history of respiratory signs. Clinical and laboratory findings: on clinical examination, the filly presented bilateral thick muco-purulent nasal discharge and increased both laringo-tracheal sounds and coughing reflex response. On lung auscultation it showed increased bronchial sounds and crackles. The diagnostic rule outs included abscess bronchopneumonia by R. equi, pulmonary dyctiocaulosis and pneumonia by Streptococcus equi subesp. zooepidemicus. Tracheal wash culture was positive for R. equi. Treatment approach: the filly was started on IV sodium penicillin and once R. equi was isolated, therapy was switched to oral combination of TMS plus rifampin during 27 days.  Conclusion: this could be the first report of R. equi bronchopneumonia in the scientific veterinary literature in Colombia.
Key words: broncopneumonia, equine, R. equi.
Resumen
Anamnesis: equino hembra de 4 meses de edad remitido a la clínica de grandes animales de la Facultad de Medicina Veterinaria y de Zootecnia de la Universidad Nacional, con historia de problemas respiratorios. Hallazgos clínicos y de laboratorio: al examen clínico se observó secreción nasal bilateral mucopurulenta, aumento de soplo laringotraqueal y del reflejo tusígeno, estertores y aumento de los sonidos bronquiales. Los diagnósticos diferenciales planteados fueron: neumonía bacteriana por R. equi, Dyctiocaulosis y Neumonía por Streptococcus equi subesp. zooepidemicus. El  cultivo microbiológico del lavado traqueal fue positivo para R. equi. Aproximación terapéutica: el tratamiento inicial fue penicilina sódica intavenosa, una vez se aisló R. equi se cambió a una combinación de TMS más rifampicina vía oral durante 27 días.  Conclusión: este podría ser el primer reporte de bronconeumonía por R. equi  en la literatura científica  medico veterinaria en Colombia.
Palabras clave: bronconeumonía, equinos, R. equi.
Resumo
Anamnese: equino fêmea de 4 meses de idade, remitido à clínica de grandes animais da Faculdade de Medicina Veterinária e Zootecnia da Universidade Nacional, com um histórico de problemas respiratórios. Achados clínicos e laboratoriais: o exame clínico mostrou descarga mucopurulenta nasal bilateral, aumento do ruído laringotraqueal e do reflexo da tosse, estertores e aumento dos sons bronquiais. Diagnósticos diferenciais considerados foram: pneumonia bacteriana por R. equi, por Dyctiocaulose e por Streptococcus equi subsp. zooepidemicus. A cultura microbiológica de lavagem traqueal foi positiva para R. equi. Abordagem Terapêutica: o tratamento inicial foi de penicilina sódica intravenosa, uma vez isolado R. equi foi mudado para uma combinação de TMS e rifampicina por via oral durante 27 dias. Conclusão: este pode ser o primeiro relato de broncopneumonia R. equi na literatura médica veterinária da Colômbia.
Palavras chave: broncopnneumonia, equinos, R. equi.
|Abstract = 98 veces | PDF = 81 veces| | HTML = 16 veces|
Downloads
Download data is not yet available.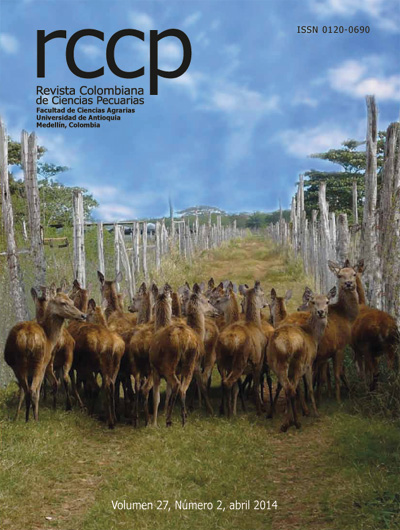 How to Cite
Oliver, O. J., & Castañeda, R. (2014). Rhodococcus equi pneumonia in a Foal – A case report. Revista Colombiana De Ciencias Pecuarias, 27(2). Retrieved from https://revistas.udea.edu.co/index.php/rccp/article/view/324887
License
The authors enable RCCP to reprint the material published in it.
The journal allows the author(s) to hold the copyright without restrictions, and will allow the author(s) to retain publishing rights without restrictions.