Possible tendency of polled cattle towards larger ears
Abstract
Summary
Background: the anatomy and physiology of bovid horns are consistent with their thermoregulatory function. Objective: to evaluate a possible correlation between ear and horn size, as key factors for body thermoregulation. Methods: measurements of horns (length and perimeter) and ears (length and width) were obtained from forty-six Pyrenean Brown (Bruna dels Pirineus) beef calves. The sample was randomly distributed between horned (n = 34) and polled (n = 12) animals, aged 332 ± 56 days. Results: a negative correlation between ear and horn size was observed (p < 0.05) and the multivariate clustering demonstrated a tendency of polled animals towards bigger ear size. Conclusions: according to these results, horns and ears contribute to thermoregulation; this function is not therefore solely a function of big or small horns, as has normally been stated to be the case. Although the sample is small, results would indicate an interesting hypothesis for future research.
Key words: Bruna dels Pirineus, heat stress, horns, Pyrenean Brown, thermoregulation.
Resumen
Antecedentes: la anatomía y fisiología de los cuernos bovinos está relacionada con su posible función termoregulatoria. Objetivo: este estudio fue diseñado para evaluar la correlación entre el tamaño de los cuernos y de las orejas y su relación con la termorregulación. Métodos: se obtuvieron varias medidas de los cuernos (longitud y perímetro) y de las orejas (largo y ancho) en 46 terneros de la raza Parda de los Pirineos (Bruna dels Pirineus). La muestra se distribuyó aleatoriamente entre animales queratos (n = 34) y aqueratos (n = 12), con una edad promedio de 332 ± 56 días. Resultados: la correlación entre los tamaños auricular y cornual fue negativa (p < 0,05), mostrándose a la vez, en el agrupamiento multivariado, una tendencia de los animales aqueratos a presentar orejas más grandes. Conclusión: a la vista de los resultados obtenidos en esta investigación, parecería que tanto los cuernos como las orejas contribuyen a la termorregulación, que no recaería entonces en tener solamente cuernos grandes o pequeños, como normalmente ha venido afirmándose. A pesar de que la muestra analizada es pequeña, los resultados obtenidos indicarían una hipótesis de trabajo interesante para investigaciones futuras.
Palabras clave: Bruna dels Pirineus, cuernos, estrés calórico, Parda de los Pirineos, termorregulación.
Resumo:
Antecedentes: a anatomia e fisiologia dos chifres no gado está relacionada à sua possível função de termorregulação. Objetivo: este estudo foi desenhado para avaliar a correlação entre o tamanho dos chifres e das orelhas e a sua relação com a termorregulação. Métodos: várias medidas dos chifres (perímetro e largura) e orelhas (comprimento e largura) em 46 bezerros da raça Brown nos Pirinéus (Bruna dels Pirineus) foram obtidas. A amostra foi aleatoriamente distribuida entre animais queratos (n = 34) e aqueratos (n = 12), com uma idade média de 332 ± 56 dias. Resultados: a correlação foi negativa entre tamanho da orelha e tamanhos cornuais (p < 0,05), mostrando no agrupamento multivariado uma tendência de animais aqueratos para apresentar orelhas maiores. Conclusão: tendo em vista os resultados obtidos nesta investigação, parece que ambos os chifres e as orelhas contribuem para a termorregulação. Então, a termorregulação não só estaria em ter chifres grandes ou pequenos, como normalmente tem se afirmado. Apesar de a amostra analisada ser pequena, os resultados indicam uma hipótese interessante para futuras pesquisas. 
Palavras chave: Bruna dels Pirineus, chifres, estresse térmico, Parda Pirinéus, termorregulação.
|Abstract = 47 veces | PDF = 19 veces| | HTML = 24 veces|
Downloads
Download data is not yet available.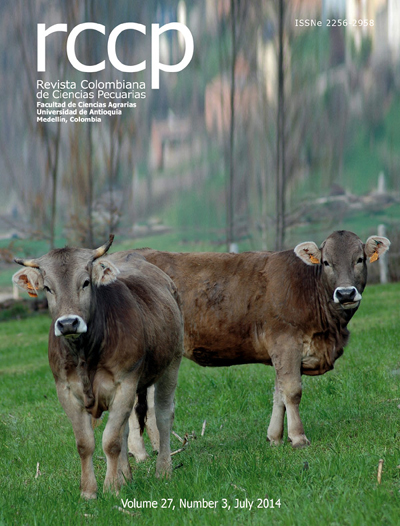 How to Cite
Parés-Casanova, P. M., & Caballero, M. (2014). Possible tendency of polled cattle towards larger ears. Revista Colombiana De Ciencias Pecuarias, 27(3), 221–226. Retrieved from https://revistas.udea.edu.co/index.php/rccp/article/view/324895
Section
Short communications
License
The authors enable RCCP to reprint the material published in it.
The journal allows the author(s) to hold the copyright without restrictions, and will allow the author(s) to retain publishing rights without restrictions.