Evaluation of strategic and selective anthelmintic treatments on Pelibuey ewes in Cuba
Abstract
Summary
Background: gastrointestinal parasitism is an important limitation for sheep production in Cuba. This situation is worsened by the lack of an effective parasite control strategy. Objective: to assess whether selective and strategic treatments could help achieve a level of control of nematodes similar to systematic drenchings. Methods: an experimental group of 73 Pelibuey ewes was divided into four groups: 1) the Epizoo group (Epizootiological drenching schedule) was dewormed at lambing in the middle of the dry season and at weaning; 2) the FAMACHA© group was treated according to the color of ocular mucous membranes as indicative of anemia (Categories 4 and 5 of the FAMACHA© color chart); 3) the Chemical group was drenched every three months; and 4) the control group, in which animals remained untreated unless fecal egg count (FEC) was higher than 1500 eggs per gram of feces or the packed cell volume (PCV) was lower than 15%. FECs, body scorings (BCS), hematocrits and color of ocular mucous membranes (COM) were evaluated monthly. Results: the control group showed the highest FEC and the lowest PCV. We also observed similar levels of FEC and body condition (BCS) in the Epizoo, FAMACHA© and Chemical groups. The PCV in FAMACHA© group was the highest, while no differences were found between the other two groups. Hematocrit had a strong negative correlation (-0.41) with FEC. The FAMACHA© method allowed a dramatic decrease in anthelmintic use. Conclusions: the obtained results suggest that FAMACHA© method could be incorporated as part of an effective parasite control strategy in sheep.
Keywords: anemia, mucous membranes, Haemonchus spp., sheep, deworming.
Resumen
Antecedentes: el parasitismo gastrointestinal constituye una de las principales limitantes para producción de ovejas en Cuba. Esta situación es mucho más grave porque no existe un programa adecuado de control parasitario. Objetivo: evaluar si el uso de un tratamiento antihelmíntico estratégico o selectivo logra reducir los niveles de infestación parasitaria comparado con un sistema de tratamientos químicos sistemáticos. Métodos: se utilizó un rebaño experimental de 73 reproductoras Pelibuey que se dividió aleatoriamente en cuatro grupos: 1) El grupo epizootiológico (Epizoo) se trató al parto, a mediados del periodo seco y al destete, 2) el grupo FAMACHA© se desparasitó en función de la coloración de la mucosa ocular indicativa de anemia (categorías 4 y 5 de la carta de colores FAMACHA©), 3) el grupo Químico: se desparasitó cada tres meses, y 4) grupo control: no recibió tratamiento mientras su hematocrito (PCV) fuera inferior a 15% o la carga parasitaria (FEC) no superara los 1500 huevos por gramo de heces. Con frecuencia mensual se determinó a cada animal el conteo fecal de huevos (FEC), la condición corporal (BCS), el hematocrito (PCV) y la coloración de la mucosa ocular (COM). Resultados: se observaron valores similares para la BCS y el FEC en los grupos Epizoo, FAMACHA© y Químico. El PCV presentó los valores más altos en el grupo FAMACHA© y el grupo Control presentó los más bajos; no se apreciaron diferencias significativas entre los grupos Químico y Epizoo. El grupo control presentó los mayores FEC y los más bajos PCV. El hematocrito tuvo una relación fuerte y negativa (-0,41) con el FEC. El método FAMACHA© propició una disminución en el uso de fármacos antihelmínticos. Conclusiones: los resultados obtenidos sugieren que el método FAMACHA© podría ser incorporado como parte de una estrategia efectiva de control parasitario en ovinos.
Palabras clave: anemia, membranas mucosas, Haemonchus spp., ovinos, desparasitación.
Resumo
Antecedentes: o parasitismo gastrointestinal é uma limitação para a produção de ovinos em Cuba. Esta situação é agravada pela falta de uma estratégia eficaz de controle parasitário. Objetivo: avaliar se os tratamentos seletivos podem ajudar a alcançar um nível de controle de nematóides semelhante a dois tratamentos sistemáticos. Métodos: um rebanho experimental de 73 ovelhas foi dividido em quatro grupos: 1) o grupo Epizoo (Esquema de tratamento epizootiológico) foi tratado no parto, no meio da estação seca e ao desmame, 2) o grupo FAMACHA© foi tratado de acordo com a cor da mucosa ocular (categorias 4 e 5 na cartela de cores FAMACHA©), 3)  o grupo químico são vermifugados a cada três meses, e 4) o grupo controle não recebeu tratamento, enquanto seu hematócrito (PCV) fosse inferior a 15% ou a carga parasitária (FEC) não ultrapassasse 1.500 ovos por grama de fezes. A contagem de ovos por grama (FEC) de fezes, o escore da condição corporal (BCS), hematócrito (PCV) e a coloração da mucosa ocular (COM) foram avaliados mensalmente. Resultados: um nível similar de FEC e BCS foram observados nos grupos Epizoo, FAMACHA© y Químico. O PCV apresentou-se maior no grupo FAMACHA© e o grupo Controle teve os valores mais baixos; enquanto nenhuma diferença foi estimada entre os outros dois grupos. O grupo controle apresentou o maior FEC e o menor PVC. O hematócrito teve uma forte correlação negativa (-0,41) com o FEC. O método FAMACHA© permitiu uma diminuição drástica do uso de anti-helmíntico. Conclusões: os resultados sugerem que o método FAMACHA© pode ser incorporado como parte de uma estratégia para o controle de parasitas gastrintestinais em ovelhas.
Palavras-chave: anemia, membranas mucosas, Haemonchus spp., cordeiro, desparasitação.
|Abstract = 36 veces | PDF = 21 veces| | HTML = 8 veces|
Downloads
Download data is not yet available.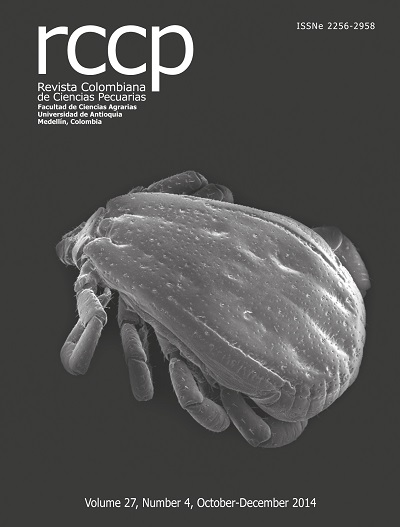 How to Cite
Arece-García, J., López-Leyva, Y., González-Garduño, R., & Torres-Hernández, G. (2014). Evaluation of strategic and selective anthelmintic treatments on Pelibuey ewes in Cuba. Revista Colombiana De Ciencias Pecuarias, 27(4), 273–281. Retrieved from https://revistas.udea.edu.co/index.php/rccp/article/view/324901
Section
Original research articles
License
The authors enable RCCP to reprint the material published in it.
The journal allows the author(s) to hold the copyright without restrictions, and will allow the author(s) to retain publishing rights without restrictions.