Dietary organic acids for broiler chickens: a review
Abstract
Summary
The objective was to summarize and describe the possible mode of action of dietary organic acids and their effects on growth performance of broiler chickens. Previous experiments have suggested that dietary organic acids decrease pH in diets and subsequently reduce pH in the proximal and distal intestine, increase nutrient utilization, and inhibit pathogenic bacterial growth in the gastrointestinal tract (GIT). The degree of pH reduction is usually greater in the upper part of the GIT (crop, proventriculus, and gizzard) than in the lower part of the GIT (duodenum, jejunum, ileum, and cecum). Bactericidal effects of dietary organic acids have been observed for pathogenic bacteria and even for beneficial bacteria to some extent. However, few significant results regarding bacterial modulation in the GIT have been reported. Dietary organic acids can improve dry matter and protein utilization in some experiments, but the extent of improvement in nutrient utilization is smaller than has been anticipated. Growth performance is likely improved, but results have been inconsistent due to variations in sources and inclusion levels of dietary organic acids. Differences in other dietary components and experimental environments among previous experiments likely contribute to the variable results. This review suggests that the effects of dietary organic acids on broiler chickens are not fully understood. Further experiments are required to reliably demonstrate the mode of action of dietary organic acids and their growth-promoting effects on broiler chickens.
Keywords: acidifiers, gastrointestinal pH, growth performance, microbial population, nutrient utilization.
Resumen
El objetivo fue resumir y describir el posible modo de acción de los ácidos orgánicos en la dieta y sus efectos sobre el crecimiento de los pollos de engorde. Experimentos previos sugieren que los ácidos orgánicos dietarios disminuyen el pH de la dieta y posteriormente reducen el pH en el intestino proximal y distal, aumentan la utilización de los nutrientes, e inhiben el crecimiento de bacterias patógenas en el tracto gastrointestinal (GIT). El grado de reducción del pH es generalmente mayor en la parte superior (buche, proventrículo y molleja) que en la parte inferior del GIT (duodeno, yeyuno, íleon y ciego). Se han observado efectos bactericidas de los ácidos orgánicos sobre bacterias patógenas e incluso sobre bacterias beneficiosas en cierta medida. Sin embargo, se han reportado algunos resultados significativos con respecto a la modulación bacteriana en el GIT. Los ácidos orgánicos en la dieta pueden mejorar la utilización de la materia seca y la proteína en algunos experimentos, pero el grado de mejora en la utilización de los nutrientes es más bajo que lo esperado. El crecimiento probablemente mejora, pero los resultados han sido inconsistentes debido a las variaciones en las fuentes y a los niveles de inclusión de los ácidos orgánicos en la dieta. Las diferencias en otros componentes de la dieta y entornos experimentales entre los ensayos anteriores probablemente contribuyen a la variación en los resultados. Esta revisión sugiere que los efectos de los ácidos orgánicos en la dieta de pollos de engorde no son totalmente comprendidos. Se requieren más experimentos para demostrar de manera fiable el modo de acción de los ácidos orgánicos dietarios y sus efectos sobre la promoción del crecimiento en pollos de engorde.
Palabras clave: acidificantes, desempeño del crecimiento, pH gastrointestinal, población microbiana, utilización de nutrientes.
Resumo
Este estudo se fez para resumir e descrever o possível modo de ação dos ácidos orgânicos na dieta e seus efeitos sobre o desempenho do crescimento de frangos de corte. Pesquisas feitas nesta área tem descrito que os ácidos orgânicos nas dietas diminuem o pH da dieta e subsequentemente diminuem o pH no intestino proximal e distal, aumentam a utilização de nutrientes e inibem o crescimento de bactérias patogénicas no trato gastrointestinal (GIT). O grau de redução do pH é normalmente maior na parte superior do GIT (colheita, proventrículos e moela) do que na parte inferior do GIT (duodeno, jejuno, íleo e ceco). Com a inclusão de ácidos orgânicos nas dietas tem-se observado efeitos bactericidas tanto sobre as bactérias patogénicas quanto para as bactérias benéficas, em certa medida. Porém, tem-se reportado alguns resultados significativos enquanto à modulação bacteriana no GIT. A adição de ácidos orgânicos na dieta pode melhorar o aproveitamento de matéria seca e proteína em alguns testes, mas o grau de melhora na utilização dos nutrientes é menor do que o esperado. Provavelmente melhora o crescimento, mas os resultados têm sido inconsistentes, devido as variações nas fontes e aos níveis de inclusão de ácidos orgânicos na dieta. As diferenças em outros componentes da dieta e os lugares onde se fazem os testes contribuem para a variação dos resultados. Esta análise sugere que os efeitos dos ácidos orgânicos nas dietas de frangos de corte não são totalmente compreendidos. Precisam-se mais pesquisas para demonstrar uma maneira fiável do modo de ação dos ácidos orgânicos incluídos na dieta e seus efeitos sobre a promoção do crescimento em frangos de corte.
Palavras chave: acidificantes, desempenho produtivo, pH gastrointestinal, população microbiana, utilização de nutriente.
|Abstract = 269 veces | PDF = 192 veces| | HTML = 50 veces|
Downloads
Download data is not yet available.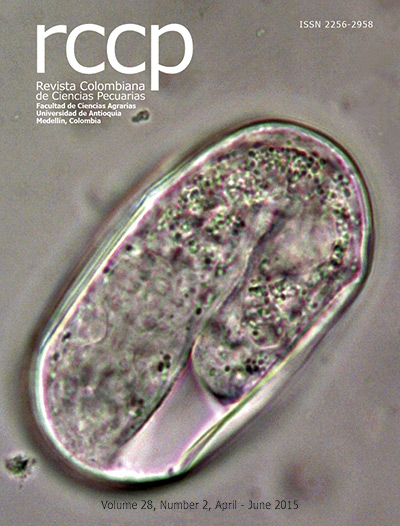 How to Cite
Kim, J. W., Kim, J. H., & Kil, D. Y. (2015). Dietary organic acids for broiler chickens: a review. Revista Colombiana De Ciencias Pecuarias, 28(2), 109–123. Retrieved from https://revistas.udea.edu.co/index.php/rccp/article/view/324917
Section
Literature reviews
License
The authors enable RCCP to reprint the material published in it.
The journal allows the author(s) to hold the copyright without restrictions, and will allow the author(s) to retain publishing rights without restrictions.