Microstructural and physicochemical analysis of collagen in intramuscular pin bones of Bocachico fish (Prochilodus sp.)
Abstract
Summary
Background: the presence of intramuscular pin bones hinders the production and commercialization of fish fillet products; however, application of physical processes, such as thermal treatments, offers alternatives for the degradation of said bones. Objective: the present study aimed to conduct a microstructural and physicochemical analysis of Bocachico intramuscular pin bones subjected to a thermal treatment. Methods: collagen extracted from intramuscular pin bones of Bocachico fillets was analyzed using SDS-polyacrylamide gel electrophoresis and viscosity. Pin bones were subjected to 1.5, 2, and 3 minutes heating time and analyzed using electron microscopy and cutting force. Results: intramuscular pin bones contain type I collagen. Three-minute thermal treatment degraded collagen components present in the internal pin bone structure, coinciding with the lowest values of the cutting force test. Conclusions: according to our results, collagen degradation initiates in the internal structure of intramuscular pin bones and moves towards the external layer which does not show the effects of thermal treatment.
Keywords: aquaculture, connective tissue, meat, microstructure.
Resumen
Antecedentes: la presencia de espinas intramusculares en filetes de peces impide la obtención y posterior comercialización de estos productos, motivo por el cual la aplicación de procesos físicos antes del tratamiento térmico podría ser una alternativa en la degradación de estas espinas. Objetivo: el alcance del presente estudio fue realizar análisis fisicoquímico y microestructural de espinas intramusculares de Bocachico sometidas a proceso térmico. Métodos: las espinas intramusculares de filetes de Bocachico fueron analizadas a través de electroforesis en gel de SDS-poliacrilamida (SDS-PAGE), temperatura de desnaturalización del colágeno, microscopia electrónica de trasmisión y fuerza de corte. Fueron utilizados tres tiempos de duración del tratamiento térmico (1,5, 2 y 3 min). Resultados: el colágeno presente en espinas intramusculares es tipo l. El tratamiento térmico durante tres minutos degrada los componentes del colágeno en las estructuras internas de la espina, coincidiendo con los valores menores para la prueba de fuerza de corte. Conclusiones: los resultados permiten concluir que la degradación del colágeno es iniciada desde el interior de la estructura de la espina intramuscular hacia la capa externa, sin que esta capa muestre efecto del tratamiento térmico.
Palabras clave: acuicultura, carne, microestructura, tejido conectivo.
Resumo
Antecedentes: a presença de espinhos intramusculares impede a obtenção de filetes de peixe e posterior comercialização destes produtos, razão pela qual a aplicação de processos físicos antes do tratamento térmico pode ser uma alternativa na degradação desses espinhos. Objetivo: realizar analise físico-químico e microestrutural em espinhos intramusculares do peixe Bocachico submetidos a processo térmico. Métodos: os espinhos intramusculares de filetes do Bocachico foram analisados por eletroforese em gel de SDS poliacrilamida (SDS-PAGE), temperatura de desnaturação do colágeno, microscopia electrónica de transmissão e força de corte. Foram utilizados três tempos de duração do tratamento térmico (1,5, 2 e 3 min). Resultados: o colágeno presente em espinhos intramusculares é do tipo l. O tratamento térmico por três minutos degrada os componentes do colágeno nas estruturas internas do espinho, coincidindo com os menores valores para o teste de resistência ao corte. Conclusões: os resultados mostram que a degradação do colágeno é iniciado desde o interior do espinho intramuscular até a capa externa, sem que essa capa externa seja afetada pelo tratamento térmico.
Palavras chave: aquicultura, carne, microestrutura, tecido conjuntivo.
|Abstract = 119 veces | PDF = 116 veces| | HTML = 30 veces|
Downloads
Download data is not yet available.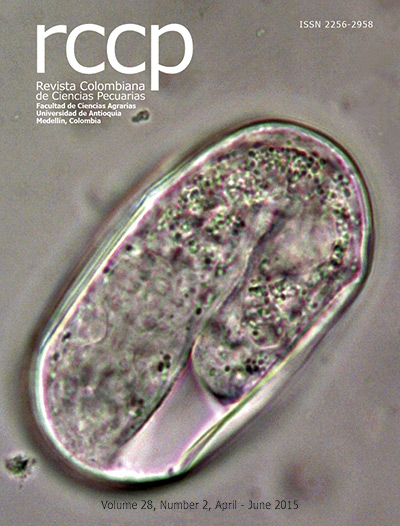 How to Cite
Suárez, H., Gaitán, O., & Díaz, C. (2015). Microstructural and physicochemical analysis of collagen in intramuscular pin bones of Bocachico fish (Prochilodus sp.). Revista Colombiana De Ciencias Pecuarias, 28(2), 188–196. https://doi.org/10.17533/udea.rccp.324924
Section
Original research articles
License
The authors enable RCCP to reprint the material published in it.
The journal allows the author(s) to hold the copyright without restrictions, and will allow the author(s) to retain publishing rights without restrictions.