Surgical placement and management of jugular vascular access ports in dogs and cats: description of technique
Simone D Guérios

Hospital Veterinário, Serviço de Oncologia Veterinária, Departmento de Medicina Veterinária, Universidade Federal do Paraná, Curitiba

Daniella M Silva

Carlos HM Souza

Nicholas J Bacon
Abstract
Summary
Background: vascular access ports (VAPs) are designed to allow repeated access to the vascular system with minimum patient distress. Objective: to describe the surgical technique, care and complications of jugular VAPs currently used at the Veterinary Oncology Service of the University of Florida Small Animal Hospital. Conclusion: the VAPs can remain in site for long terms (months) with minimum complications, and its placement is a reliable technique that should be considered by veterinarians, particularly for a longterm treatment.
Keywords: chemotheraphy, intravenous access, medical oncology, vascular surgical procedures.
Resumen
Antecedentes: los catéteres venosos centrales (VAPs) están diseñados para permitir el acceso repetido al sistema vascular con las mínimas molestias para el paciente. Objetivo: describir la técnica quirúrgica, atención de mantenimiento y las complicaciones de los VAPs en vena yugular, que se utiliza actualmente en el Veterinary Oncology Service en la University of Florida Small Animal Hospital. Conclusión: el VAP puede permanecer en el lugar durante períodos largos (meses) con pocas complicaciones, y su implantación quirúrgica debe ser considerada por los veterinarios, en particular para el tratamiento a largo plazo.
Palabras clave: acceso intravenoso, oncología médica, procedimientos quirúrgicos vasculares, quimioterapia.
Resumo
Antecedentes: os cateteres venosos centrais (VAPs) permitem acessos repetidos ao sistema vascular com mínimo desconforto ao paciente. Objetivo: descrever a técnica cirúrgica, cuidados de manutenção e complicações dos VAPs de veia jugular utilizados atualmente no Serviço de Oncologia Veterinária do Hospital Veterinário de Pequenos Animais da Universidade da Florida. Conclusão: o VAP pode permanecer no local por longos períodos (meses) com poucas complicações. O implante cirúrgico descrito no presente trabalho deve ser considerado pelos médicos veterinários, particularmente para tratamentos de longa duração.
Palavras chave:
acceso intravenoso, oncología, procedimentos cirúrgicos vasculares, quimioterapia
.
|Abstract = 384 veces | PDF = 182 veces| HTML = 347 veces|
Downloads
Download data is not yet available.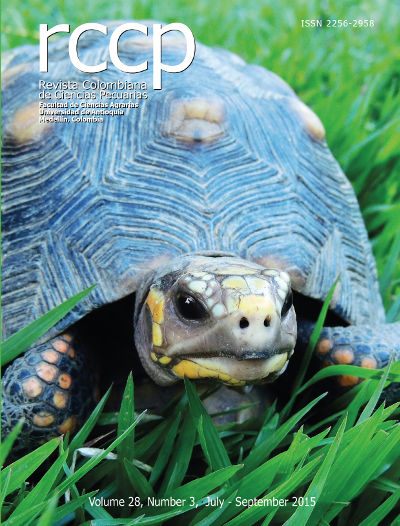 Section
Short communications
The authors enable RCCP to reprint the material published in it.
The journal allows the author(s) to hold the copyright without restrictions, and will allow the author(s) to retain publishing rights without restrictions.