Genetic diversity of domestic pigs in Tierralta (Colombia) using microsatellites
Abstract
Summary
Background: according to several authors, domestic pigs come from different wild boar populations with varied geographic distribution and are grouped in the genus Sus. Pig domestication occurred gradually. The first animals were small and gathered in small numbers. Several civilizations domesticated this animal as an important source of protein. Tierralta, in Córdoba province, has a large population of domestic pigs, which are a mixture of creole and other breeds. The genetic characterization of populations is used to check the status of genetic diversity, a conclusive element in determining breeding strategies and genetic conservation programs. PCR is the most commonly used technique for studying highly polymorphic markers, such as microsatellites or SSRs. The use of microsatellites is a powerful tool in genetic studies. They have been used for characterization studies of genetic diversity, genetic relationships between populations, paternity testing, inbreeding and genetic bottlenecks. Objective: the purpose of this study was to determine the genetic diversity of domestic pigs in Tierralta (Córdoba, Colombia) using 20 microsatellites. Methods: fifty four samples were studied. Twenty microsatellites recommended by the FAO/ISAG for swine biodiversity studies were used. Results: all the microsatellites were polymorphic, and were detected between 3 (SW911) and 14 (TNFB) alleles (the average number was 6.9 alleles) and a total of 138 alleles were detected. Average expected heterozygosity was 0.5259 and the observed heterozygosity was 0.5120. PIC values ranged from 0.3212 to 0.7980 for loci SW2410 and IFNG, respectively. Conclusions: the results suggest that the analyzed population represents a group with high genetic diversity.
Keywords: genetic variation, Hardy-Weinberg, probability of exclusion, Sus scrofa domestica.
Resumen
Antecedentes: varios autores concuerdan en afirmar que los cerdos domésticos provienen de diferentes poblaciones de jabalí salvaje con distinta distribución geográfica y se agrupan en el género Sus. Es aceptado que la domesticación del cerdo, ocurrió de manera lenta y progresiva y que los primeros animales eran pequeños, se reunían en grupos poco numerosos. La preferencia para la domesticación de estos animales en varias civilizaciones, se debió a que ellos representaban una importante fuente proteica. El departamento de Córdoba es una de las regiones de Colombia con mayor población de cerdo doméstico, formada en su mayoría por la mezcla de la raza criolla con otras razas. La caracterización genética de las poblaciones, permite comprobar el estado de la diversidad genética, elemento concluyente en la determinación de estrategias de crianza y de programas genéticos de conservación. La PCR es la técnica más utilizada para el estudio de marcadores extremadamente polimórficos como son los microsatélites o SSRs. Los microsatélites son una poderosa herramienta para estudios genéticos, los cuales han sido utilizados para estudios de caracterización y diversidad genética, relaciones genéticas entre poblaciones, pruebas de paternidad, consanguinidad, cuellos de botella genéticos, entre otros. Objetivo: el objetivo del presente estudio fue determinar la diversidad genética de la población de cerdo doméstico en Tierralta (Córdoba, Córdoba). Método: fueron estudiadas 54 muestras de este grupo. Se usaron 20 microsatélites de los recomendados por la FAO/ISAG para estudios de biodiversidad porcina. Resultados: se determinó que todos los microsatélites utilizados resultaron polimórficos y se detectaron entre 3 (SW911) y 14 (TNFB) alelos, con un número medio de alelos de 6,9 y un total de 138 alelos. La heterocigosidad media esperada fue 0,5259 y la observada 0,5120. Los valores del PIC oscilaron entre 0,3212 y 0,7980 para los loci SW2410 y IFNG, respectivamente. Conclusión: los resultados sugieren que la población de cerdos analizada, representa un grupo con alta diversidad genética.
Palabras clave: Hardy-Weinberg, probabilidad de exclusión, Sus scrofa domestica, variación genética.
Resumo
Antecedentes: vários autores concordam em afirmar que os porcos domésticos vêm de diferentes populações de javalis com distribuição geográfica variada e estão agrupados no gênero Sus. Aceita-se que a domesticação ocorreu lenta e gradualmente e que os primeiros animais eram pequenos e que eles se reuniram em pequenos números. A preferência para a domesticação desses animais em várias civilizações deveu-se ao fato de que eles eram uma importante fonte de proteína. O departamento de Córdoba é uma das regiões com o maior número de porcos domésticos, composto principalmente da raça crioulo misturado com outras raças. A caracterização genética de populações nos permite verificar o estado da diversidade genética, um elemento conclusivo para determinar estratégias de melhoramento e programas de conservação genética. A PCR é uma das técnicas utilizadas no estudo de marcadores polimórficos, como microssatélites ou SSR. Os microssatélites são uma ferramenta poderosa para estudos genéticos, que tem sido usado para estudos de caracterização da diversidade genética, relações genéticas entre populações, testes de paternidade, endogamia e gargalos genéticos, entre outros. Objetivo: o objetivo deste estudo foi determinar a diversidade genética do porco doméstico em Tierralta (Córdoba, Colombia) utilizando-se 20 microssatélites. Método: foram estudados 54 amostras neste grupo. Foram usados 20 microssatélites recomendado pela FAO/ISAG para estudos de biodiversidade suína. Resultados: foram utilizados vinte microssatélites recomendados pela FAO/ISAG para estudos de biodiversidade suína. Determinouse que todos os microssatélites utilizados foram polimórficos e foram detectados entre 3 (SW911) e 14 (TNFB) alelos, com um número médio de 6,9 alelos e um total de 138 alelos. A heterozigosidade média esperada foi de 0,5259 e o observado foi de 0,5120. Os valores PIC variaram entre 0,3212-0,7980 para loci SW2410 e IFNG, respectivamente. Conclusões: os resultados sugerem que se trata de uma população significativamente diversa.
Palabras chave: Hardy-Weinberg, probabilidade de exclusão, Sus scrofa domestica, variação genética.
|Abstract = 143 veces | PDF = 113 veces| | HTML = 13 veces|
Downloads
Download data is not yet available.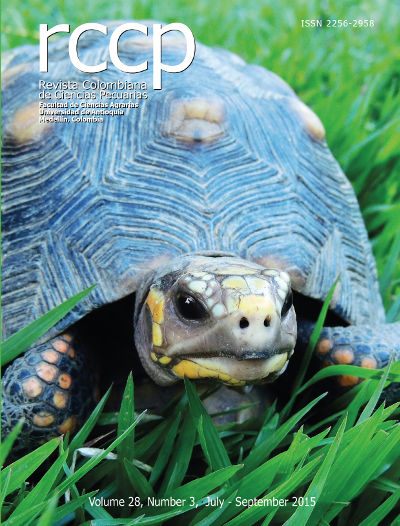 How to Cite
Pardo, E., Cavadía T. I., & Melendez, I. (2015). Genetic diversity of domestic pigs in Tierralta (Colombia) using microsatellites. Revista Colombiana De Ciencias Pecuarias, 28(3), 272–278. https://doi.org/10.17533/udea.rccp.324933
Section
Short communications
License
The authors enable RCCP to reprint the material published in it.
The journal allows the author(s) to hold the copyright without restrictions, and will allow the author(s) to retain publishing rights without restrictions.