Vacina de subunidades rSBm7462 para o controle do Rhipicephalus (Boophilus) microplus
|Abstract = 48 veces | PDF = 99 veces|
Downloads
Download data is not yet available.
References
ABIEC . Associação Brasileira de Indústrias Exportadoras de Carnes. Exportações brasileiras de carne bovina. Período: jan/2013 - jun/2013.
Andreotti R, Gomes A, Malavazi-Piza KC, Sasaki S. BmTI antigens induce a bovine protective immune response against Boophilus microplus tick. Int Immunopharmacol 2002; 2:557-563.
BahienseTC, Fernandes EKK, Bittencourt VREP. Compatibility of the fungus Metarhizium anisopliae and deltamethrin to control a resistent strain of Boophilus microplus tick . Vet Parasitol 2006; 141:319-324.
Bittencourt VREP, Bahiense TC, Fernandes EkK. Avaliação da ação in vivo de Metarhizium anisopliae (METSCHNIKOFF, 1879) SOROKIN, 1883 aplicado sobre Brachiaria decumbensinfestada com larvas de Boophilus microplus (CANESTRINI, 1887) (Acari; Ixodidae). Rev Bras Parasitol Vet 2003; 12:38-42.
Bram RA, Gray JH, Eradication – an alternative to tick and tick borne disease control. World Anim Rev 1979; 30:30-35.
Broglio-Micheletti SMF, Valente ECN, Souza LA. Extratos de plantas no controle de Rhipicephalus (Boophilus) microplus(Canestrini, 1887) (Acari: Ixodidae) em laboratório. Rev Bras Parasitol Vet 2009; 18:44-48.
Estrada-Peña A, Bouattour A, Camicas JL, Guglielmone A. The known distribution and ecological preferences of the tick subgenus Boophilus (Acari: Ixodidae) in Africa and Latin America. Exp Appl Acarol 2006; 38:219-235.
Fernandez-Ruvalcaba M, Preciado-de-la Torre F, Cruz-Vazquez, C. Anti-tick effects of Melinis minutiflora and Andropogon gayanus grasses on plots experimentally infested with Boophilus microplus larvae. Exper Appl Acarol 2004; 32:293-299.
Francis AE . The future of vaccines, immunization concepts and practice. Vaccine 2001; 19:2206-2209.
García-García JC, González IL, González DM. Sequence variations in the B. microplus Bm86 locus and implications for immunoprotection in cattle vaccinated with this antigen Exp Appl Acarol 1999; 23:883-895.
Gárcia-Gárcia JC, Soto A, Nigro F. Adjuvantand immunostimulating properties of the recombinant Bm86 protein expressed in Pichia pastoris. Vaccine 1998; 16:1053-1055.
Graham OH, Hourrigan JL, Eradication programs for the arthropod parasites of livestock. J Med Entomol 1997; 13:629-658.
Grissi L, Leite RC, de Souza Martins JR . Reassessment of the potential economic impact of cattle parasites in Brazil . Braz J Vet Parasitol 2014; 23:150-156.
Guerrero FD, Miller RJ, Pérez de León A. Cattle tick vaccines: Many candidate antigens, but will a commercially viable product emerge? Int J Parasitol 2012; 42:421-427.
Heimerdinger A, Olivo CJ, Molento MB, Agnolin CA. Extrato alcoólico de capim-cidreira (Cymbopogon citratus) no controle do Boophilus microplus em bovinos. Ver Bras Parasitol Vet 2006; 15:37-39.
Jonsson NN, Matschoss AL, Pepper P. Evaluation of tickGARD (PLUS), a novel vaccine against Boophilus microplus, in lactating Holstein-Friesian cows. Vet Parasitol 2000; 88:275-285.
Jonsson NN, Matschoss AL, Pepper P. Resistence of Holstein-Friesian cows to infestation by the cattle tick (Boophilus microplus). Vet Parasitol 2000; 89:297-305.
Jonsson NN. The productivity effects of cattle tick (Boophilus microplus) infestation on cattle, with particular reference to Bos indicus cattle and their crosses. Vet Parasitol 2006; 137:1-10.
Kashino SS, Resende J, Sacco AMS, Rocha C. Boophilus microplus: The pattern of bovine immunoglobulin isotype responses to high and low tick infestations. Exp Parasitol 2005; 110:12-21.
Labruna, MB, Veríssimo CJ. Observações sobre a infestação por Boophilus microplus (Acari: Ixodidae) em bovinos mantidos em rotação de pastagem, sob alta densidade animal. Arq Inst Biol 2001; 68:115-120.
Martínez-Rodríguez LC, Vargas MI, Patarroyo JH. Resposta de linfonodos em bovinos inoculados a campo com a vacina recombinante rSBm7462 anti Rhipicephalus (Boophilus) microplus Pesq Vet Bras 2014; 34:503-508.
Martins ARL, Rocha RS, Portz AJ. Uso da ivermectina na bovinocultura de corte do brasil e o seu impacto econômico. Coordenação de Controle de Resíduos e Contaminantes da Secretaria de Defesa Agropecuária do Ministério da Agricultura, Pecuária e Abastecimento (MAPA). 2010.
Mohler JR, Texas or tick fever and its prevention. Farm Bull United States Depart Agricult 1906; 238:1-44.
Nuttall PA, Trimnell AR, Kazimirova M. Exposed and concealed antigens as vaccine targets for controlling ticks and tick-borne diseases. Paras Immunol 2006; 28:155-163.
Oliveira RC. Avaliação experimental do peptídeo sintético 4912 como imunógeno para o controle de carrapato R. (B .) microplus (Canestrini, 1887). Dissertação (mestrado). Viçosa: UFV, 72 pp. 1998.
Oliveira-Siqueira TCG, Oliveira MCS, Araujo Jr J, Amarante AFT. PCR- based detection of Babesia bovis and Babesia bigemina in their natural host Boophilus microplus and cattle . Int J Parasitol 2005; 35:105-111.
Patarroyo JH. Babesiose bovina: Controle de vetores com vacinas a base de peptídeos sintéticos. Rev Patol Trop 1994; 23:145-146.
Patarroyo JH, Portela RW, De Castro RO. Immunization of cattle with synthetic peptides derived from the Boophilus microplus gut protein (Bm86). Vet Immunol Immunopathol 2002; 88:163-172.
Patarroyo JH, Vargas MI, Gonzales CZ. Immune response of bovines stimulated by synthetic vaccine SBm7462® against Rhipicephalus (Boophilus) microplus . Vet Parasitol 2009; 166:333-339.
Peconick AP, Sossai S, Girão FA. Synthetic vaccine (SBm7462®) against the cattle tick Rhipicephalus (Boophilus) microplus: Preservation of immunogenic determinants in different strains from South America. Expl Parasitol 2008; 119:37-43.
Rodrigues DS, Leite RC, Economic impact of Rhipicephalus (Boophilus) microplus: Estimate of decreased milk production on a dairy farm. Arq Bras Med Vet Zootec 2013; 65:1570-1572.
Ruiz PMG, Passos LMF, Ribeiro MFB. Lack of infectivity of a Brazilian Anaplasma marginale isolate for Boophilus microplusticks. Vet Parasitol 2005; 128:325-331.
Sangster N C. Managing parasiticidae resistance. Vet Parasitol 2001; 98:89-109.
Schetters T, Bishop R, Crampton M. Cattle tick vaccine researchers join forces in CATVAC Paras Vectors 2016; 9:105-112.
Smith DR, Hungerfod J, Willadsen P. The development of TickGard - a commercial vaccine against the cattle tick Boophilus microplus. Indooroopilly: Biotec Autralia-CSIRO 1995.
Sossai S, Peconick AP, Sales-Junior PA. Polymorphism of the bm86 gene in South American strains of the cattle tick Boophilus microplus. Exp Appl Acarol 2005; 37:199-214.
Sutherst RW. The vulnerability of animal and human health to parasites under global change. Int J Parasitol 2001; 31:933-948.
Turni C, Lee RP, Jackson LAA. Comparison of the immunosuppressive effects of salivary gland extracts from two laboratory strains of Boophilus microplus. Int J Parasitol 2004; 34:83-838.
Vasconcelos VO, Furlong J, Freitas GM. Steinernema glaseri Santa Rosa strain (Rhabditida: Steinernematidae) and Heterorhabditis bacteriophora CCA Strain (Rhabditida: Heterorhabditidae) as biological control agents of Boophilus microplus (Acari: Ixodidae). Parasitol Res 2004; 94:201-206.
Veríssimo CJ, Otsuk IP, Zeitlin A Z . Infestação por carrapatos Boophilus microplus (acari: ixodidae) em vacas Jersey. Arq Inst Biol 2004; 71:630-632.
Wikel SK, Alarcon-Chaidez FJ. Progress toward molecular characterization of ectoparasite modulation of host immunity. Vet Parasitol 2001; 101:275-287.
Willadsen P, Jongejan F, Immunology of the tick–host interaction and the control of ticks and tick-borne diseases. Parasitol Today 1999; 15:258-262.
Willadsen P. Novel vaccines for ectoparasites. Vet Parasitol 1997; 71:209-222.
Willadsen P. Anti-tick vacines. Parasitol 2004; 129:367-387.
Willadsen P. Tick control: Thoughts on a research agenda. Vet Parasitol 2006; 138:161-168.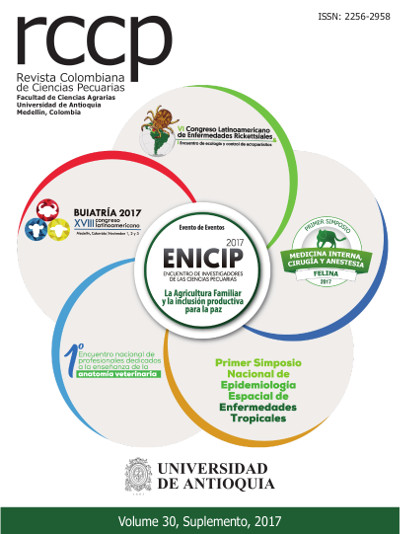 Downloads
How to Cite
Patarroyo S., J. H., Cortés Vecino, J. A., & Vargas V., M. I. (2017). Vacina de subunidades rSBm7462 para o controle do Rhipicephalus (Boophilus) microplus. Revista Colombiana De Ciencias Pecuarias, 30, 287–292. Retrieved from https://revistas.udea.edu.co/index.php/rccp/article/view/330602
Section
VI CLER & I Encuentro de Ecología y Control de Ectoparásitos
License
The authors enable RCCP to reprint the material published in it.
The journal allows the author(s) to hold the copyright without restrictions, and will allow the author(s) to retain publishing rights without restrictions.