Una Salud: expectativas y demandas de la Medicina Veterinaria
Luis C Villamil Jiménez

Universidad de La Salle
Abstract
Las diversas culturas trataron de responder interrogantes sobre brotes y epidemias tanto en poblaciones humanas como en animales; se interpretaban como castigos divinos, hechizos, brujerías, o influencias del ambiente. Con la globalización se operó la unifcación microbiana del mundo, el intercambio de mercancías estaba acompañado con el de enfermedades.Cuando la medicina y la veterinaria se formalizaron como campos de estudio se separaron los saberes, los individuos enfermos tuvieron más protagonismo que la salud de las poblaciones; las interacciones humano animal ambiente pasaron a un segundo plano. El momento actual, caracterizado por la escasez de recursos para la salud, la crisis climática, el incremento de la población, la demanda incremental de alimentos, coincide con cambios drásticos en la presentación de enfermedades; algunas propias de los humanos otras compartidas con las especies animales; el resurgimiento de las olvidadas, la transformación de los agentes habituales, la aparición de los agentes nuevos o emergentes (algunos originados en poblaciones animales), para los cuales los servicios no cuentan con estructuras diagnósticas ni con vacunas o terapias y la resistencia de ciertos agentes de enfermedad a los antimicrobianos, amerita estrategias y defniciones. El mundo debe hacer frente a los anteriores desafíos sanitarios, adoptando nuevos enfoques: Una sola salud puede ser la estrategia sanitaria interdisciplinar e intersectorial para alinear el talento humano de los sectores salud y salud animal, también del de la investigación en las instituciones de educación que se ocupan de la formación del recurso humano, para contar con equipos idóneos que puedan enfrentar con éxito la lucha contra las enfermedades en el siglo XXI. En este contexto la medicina veterinaria tiene la palabra.

|Abstract = 68 veces | PDF (ESPAÑOL (ESPAÑA)) = 119 veces|
Downloads
Download data is not yet available.
References
Antonovsky A. Health stress and coping. San Francisco: Jossey-Bass Publishers; 1979.
Antonovsky A. Unraveling the mystery of health. San Francisco: Jossey-Bass Publishers; 1987.
Benavides E. Control de enfermedades causadas por organismos transmitidos por artrópodos en el trópico desde la perspectiva de Una Salud. Memorias Congreso Nacional de Parasitología Veterinaria. "Un Mundo Una Salud". 2017; Puebla, México: Ampave, 2017.
Benavides E. Cediel N. Celly A. Morales P. A critical look at One Health and EcoHealth developments in Latin America. Proceedings of the Final conference and Workshop: Creating impact for One Health and EcoHealth: advancements in implementation, evaluation and governance. 2018 Sep 10-12 september; Bologna, Italy: University of Bologna; 2018.
Celly A. Villamil LC. Estudio retrospectivo del nuevo coronavirus MERS-COV 2012-2013. Rev Lasallista de Investigación 2014; 11(2): 71 - 77.
Cordero del Campillo M. Las grandes epidemias en la América colonial. Arch de Zootecnia 2001; 50 (192): 597- 612.
Davis MF. Schurer J. Cole S. Conti L. Ravinowits P. Checklist for one health epidemiological reporting of evidence (COHERE). One Health 2017; 4: 14-21.
Esparza, J. Epidemias y pandemias virales emergentes: ¿Cuál será la próxima? Invest Clin 2016; 57(3): 231-235.
Flores R. La situación actual de las zoonosis más frecuentes en el mundo. Gac Med Mex 2010; 146:423-29.
Garza J. Arvizu L. Hacia Una Salud: Propuesta en el marco de la administración pública federal en México. Mexico: Ed. Yire; 2012.
Gibbs P. J. The evolution of One Health: a decade of progress and challenges for the future. Vet Rec 2014; 174 (4): 85-91.
Holmes KV. SARS-associated coronavirus. N Engl J Med 2003; 348(20): 1948-1951.
Jones K. Patel N. Levy M. Storeygard A. Balk D. Gittleman J. Global trends in emerging infectious diseases. Nature 2008; 451:990-994.
Kaplan B. One health or some health. Vet Italiana 2011; 47 (2): 119-131.
Lalonde M. New perspective on the health of Canadians: 28 years later. Rev Panam Salud Publica 2002; 12: 149-152.
Lebov J. Grieger K. Womack D. Zaccaro D. Whitehead N. A framework for One Health research. One Health 2017; 3: 44-50.
Martínez F, Castellanos P L, Gili M, Marset P, Navarro V. Salud pública. Madrid: MacGraw Hill; 1998.
Naciones Unidas. The Millenium Development Goals Report 2010. New York.78; 2010.
Organización de las Naciones Unidas (ONU). Declaración Universal de los Derechos Humanos. París; 1948.
Organización Mundial de la Salud OMS. Ministerio de Salud y Bienestar Social de Canadá. Asociación Canadiense de Salud Pública. Carta de Ottawa para la promoción de la salud. Ottawa (Can); 1986.
Organización Mundial de la Salud OMS. Quinta Conferencia Mundial de Promoción de la Salud. Promoción de la salud: hacia una mayor equidad. Ciudad de México; 2000.
Ortíz M P, Villamil L C. El virus de la influenza aviar H7N9, una nueva variante que afecta seres humanos. Rev. Lasallista de Investigación 2013; 10 (2): 164 – 171.
Ortiz-Rodriguez, M. P., & Villamil-Jimenez, L. C. Influenza: environmental remodeling, population dynamics, and the need to understand networks. Front in Public health 2014; 2: 153 – 154.
Ortiz-Rodriguez MP. Ramirez-Nieto GC. Villamil-Jimenez LC. The role of animal reservoirs in social–environmental landscapes: remarks on the control of avian influenza and preparedness for pandemics. Rev Sci Tech 2016; 35(3): 835 – 843.
Renaud M. El futuro: Hygeia vs Panakeia. En: Evans RG. Barer MR. Marmor TR. ¿Por qué alguna gente está sana y otra no? Los determinantes de la salud de las poblaciones. Madrid: Ediciones Díaz de Santos; 1996, p 347 – 366.
Restrepo H. Málaga H. Promoción de la salud: cómo construir vida saludable. Bogotá: Editorial Médica Panamericana 2001.
Reyes M. Villamil LC. De la Hoz F. La Salud pública tanto humana como animal. Cuadernos del doctorado. No 4. Bogotá. Universidad Nacional; 2006.
Schwabe CW. Medicina Veterinaria y Salud Pública. México: Editorial Novaro, 1968.
Tabor G. Defning Conservation Medicine. In: Aguirre A, Ostfeld R. Tabor G., House, Conservation Medicine, Ecological Health in Practice. New York: Oxford University Press 2002. p. 8 – 16.
Venkatesan G. Balamurugan V. Gandhale P N. Singh RK. Bhanuprakash V. Viral zoonosis: a comprehensive review. Asian Journal of Animal and Veterinary Advances 2010; 5(2): 77-92.
Villamil LC. Una salud: estrategia para la docencia y la investigación interdisciplinar. Rev2015; 68: 191-213.
Villamil LC. Colombia y la medicina veterinaria contada por sus protagonistas. Bogotá: Ediciones Unisalle; 2017.
Wilesmith J W. Wells GA. Cranwell MP. Ryan JB. Bovine spongiform encephalopathy: epidemiological studies. Vet Rec 1988; 123 (25): 638-644.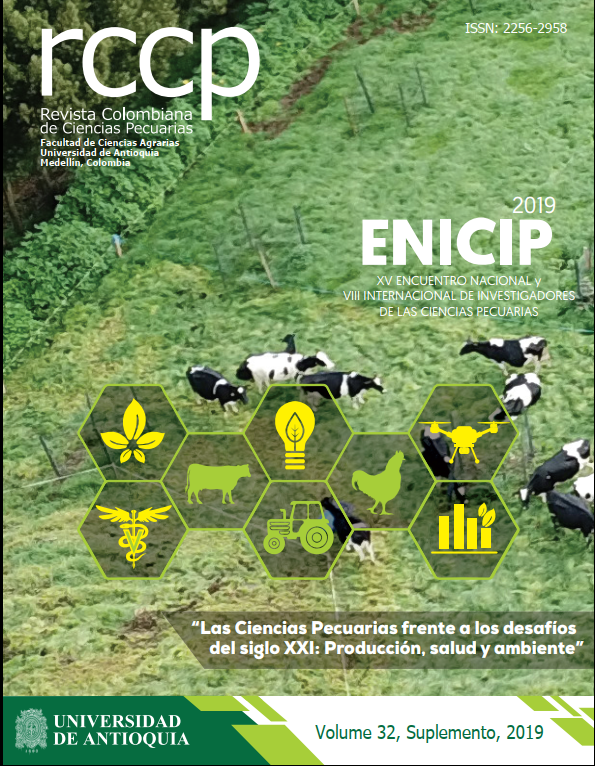 Section
Conferencias magistrales
The authors enable RCCP to reprint the material published in it.
The journal allows the author(s) to hold the copyright without restrictions, and will allow the author(s) to retain publishing rights without restrictions.