História e epistemologia da Ciência da Informação: Abordagem social em foco
Hamilton Rodrigues Tabosa

Universidade Federal do Ceará

Derek Warwick da Silva Tavares

Universidade Federal da Paraíba

Jefferson Veras Nunes

Universidade Federal do Ceará
Palabras clave:
Ciencia de la Información - Epistemología. Representaciones sociales. Psicología Social.
Resumen
O objetivo deste artigo é refletir, principalmente com base em Moscovici e Vygotsky, acerca do desenvolvimento das teorizações sobre as relações existentes entre os estudos com abordagens cognitivas e sociais que aconteciam na Europa dos anos 60, para compreender o momento histórico em que se deu o início da abordagem social por parte da Ciência da Informação (CI) enquanto ela se institucionalizava com forte tendência a influências norte-americanas na sua composição epistemológica. Suscita reflexões que partem das representações sociais oriundas da Sociologia, bem como da Psicologia Social para procurar perceber influências e/ou equivalências em relação ao surgimento da abordagem social na CI. Apresenta também, brevemente, a visão de Latour sobre a ideia de purificação e de ciência moderna com o intuito de compreender como a CI se insere nesse quadro teórico. Como resultados, percebeu-se e discutiu-se sobre o retardamento do aparecimento ou da adoção de um caráter social no campo teórico e metodológico da CI, uma ciência não-moderna, aberta a soluções interdisciplinares (fortemente ligadas à Sociologia) para alguns de seus problemas de pesquisa e integrante de uma rede de relações sócio técnicas horizontais.
Palavras-chave: Ciência da Informação - Epistemologia. Representações Sociais. Psicologia Social.
Resumen
El propósito de este artículo es reflexionar basada principalmente en Vygotsky y Moscovici, en el desarrollo de las teorías sobre la relación entre los estudios en los enfoques cognitivos y sociales que sucedió en los años sesenta en Europa, para entender el momento histórico en el que comenzó su enfoque social de la Ciencia de la Información (CI) mientras se institucionalizó con una fuerte tendencia a la influencia de Estados Unidos en su composición epistemológico. Eleva reflexiones que parten de las representaciones sociales que vienen de la Sociología y la Psicología Social trataremos de hacer realidad las influencias y / o equivalencia en relación con la aparición de enfoque social de la CI. También brevemente la opinión del Latour de la idea de la purificación y la ciencia moderna con el fin de entender cómo CI cae dentro de ese marco teórico. Como resultado, se dio cuenta y se discutió en retrasar la aparición o la adopción de carácter social en el campo teórico y metodológico de la IC, no una ciencia moderna, abierta a las soluciones interdisciplinarias (fuertemente ligados a la Sociología) por parte de su problemas de investigación y un miembro de una red de relaciones socio-técnicos horizontales.
Palabras clave: Ciencia de la Información - Epistemología. Representaciones sociales. Psicología Social.
Abstract
The purpose of this article is to reflect mainly based on Vygotsky and Moscovici, on the development of theories about the relationship between the studies in cognitive and social approaches that happened in the sixties Europe, to understand the historical moment in which it began its social approach by the Information Science (CI) as she institutionalized with a strong tendency to US influence in its epistemological composition. Raises reflections that depart from social representations coming from the Sociology and Social Psychology seek to realize influences and / or equivalence in relation to the emergence of social approach to CI. It also briefly the Latour's view of the idea of purification and modern science in order to understand how CI falls within that theoretical framework. As a result, it was noticed and it was discussed on delaying the onset or the adoption of a social nature in theoretical and methodological field of IC, not a science-modern, open to interdisciplinary solutions (strongly linked to Sociology) for some of their research problems and a member of a network of horizontal socio-technical relations.
Keywords: Information Science - Epistemology. Social representations. Social Psychology
|Resumen = 1115 veces | PDF = 841 veces|
Descargas
La descarga de datos todavía no está disponible.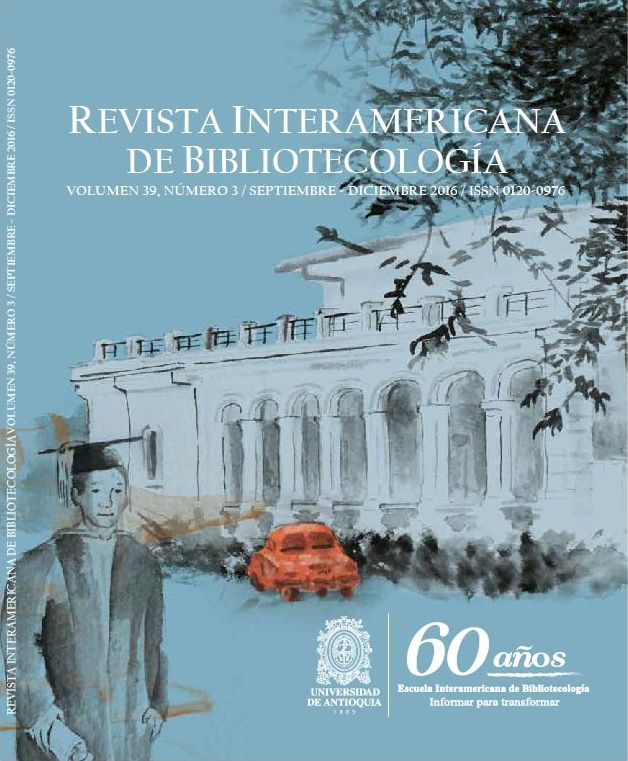 Cómo citar
Tabosa, H. R., da Silva Tavares, D. W., & Nunes, J. V. (2016). História e epistemologia da Ciência da Informação: Abordagem social em foco. Revista Interamericana De Bibliotecología, 39(3), 289-300. https://doi.org/10.17533/udea.rib.v39n3a06