Inocuidad citotóxica y mutagénica de los aceites esenciales de Rosmarinus officinalis. L y Ruta graveolens L. promisorios para el tratamiento complementario de la infección por Helicobacter pylori
Palabras clave:
aceites esenciales, citotoxicidad, Helicobacter pylori, mutagenicidad, Rosmarinus officinalis
Resumen
La infección por Helicobacter pylori afecta aproximadamente la mitad de la población mundial, se adquiere en la infancia y se ha asociado con desarrollo de gastritis crónica, úlcera péptica y cáncer de estómago en la edad adulta. El tratamiento que incluye dos o tres antibióticos ha generado problemas de resistencia bacteriana, efectividad, costo y seguridad; evidenciando la necesidad del desarrollo de nuevas terapias alternativas. El grupo de investigación Salud Pública de la Universidad de Nariño (Pasto, Colombia), determinó que los aceites esenciales puros de Rosmarinus officinalis L. y Ruta graveolens L. Presentan actividad anti-H. pylori in vitro; pero no analizaron su inocuidad para consumo humano. Este estudio evalúa la citotoxicidad de ambos aceites en linfocitos humanos mantenidos en cultivo y su mutagenicidad mediante el prueba de Ames con la cepa TA-100 de Salmonella typhimurium. El aceite esencial de R. officinalis no presentó efecto citotóxico ni mutagénico en ninguna concentración evaluada en comparación con los controles. El aceite esencial puro de R. graveolens fue citotóxico (viabilidad de linfocitos inferior al 40%); sin embargo, en diluciones 10-1 hasta 10-5, este aceite se considera seguro en los dos sistemas de ensayo. Estos resultados demuestran que ambos extractos son promisorios para el consumo humano y a futuro, podrían considerarse como una alternativa para tratamiento complementario de H. pylori.
|Resumen = 212 veces | PDF = 83 veces| | HTML = 51 veces|
Descargas
Los datos de descargas todavía no están disponibles.
Citas
Aboaba OO, Smith SI, Olude FO. 2006. Antibacterial effect of edible plant extract on Escherichia coli O157:H7. Pakistan Journal of Nutrition, 5: 325-327.
Aruoma OI, Halliwell B, Aeschbach R, Loligers J. 1992. Antioxidant and pro-oxidant properties of active rosemary constituents: carnosol and carnosic acid. Xenobiotica, 22: 257-268.
Bai N, He K, Roller M, Lai CS, Shao X, Pan MH, Ho CT. 2010. Flavonoids and phenolic compounds from Rosmarinus officinalis. Journal of Agricultural and Food Chemistry, 58: 5363-5367.
Bakkali F, Averbeck S, Averbeck D, Idaomar M. 2008. Biological effects of essential oils. Food and Chemical Toxicology, 46 (2): 446-475.
Barnes J, Anderson LA, Phillipson JD. 2007. Herbal medicines. London: Pharmaceutical Press. p. 710.
Boyum A. 1968. Isolation of mononuclear cells and granulocytes from human blood. Isolation of monuclear cells by one centrifugation, and of granulocytes by combining centrifugation and sedimentation at 1 g. Scandinavian Journal of Clinical and Laboratory Investigation, Supplement, 97: 77-89.
Bradley P. 2006. British herbal compendium: A handbook of scientific information on widely used plant drugs. Volumen 2. Bournemouth (Inglaterra): British Herbal Medicine Association. p. 409.
Burt S. 2004. Essential oils: their antibacterial properties and potential applications in foods - A review. International Journal of Food Microbiology, 94: 223-253.
Deguchi R, Nakaminami H, Rimbara E, Noguchi N, Sasatsu M, Suzuki T, Matsushima M, Koike J, Igarashi M, Ozawa H, Fukuda R, Takagi A. 2012. Effect of pretreatment with Lactobacillus gasseri OLL2716 on first-line Helicobacter pylori eradication therapy. Journal of Gastroenterology and Hepatology, 27 (5): 888-892.
Di Pascua R., Betts G, Hoskins N, Eewars M, Ercolini D, Mauriello G. 2007. Membrane toxicity of antimicrobial compounds from essential oils. Journal of Agricultural and Food Chemistry, 55: 4863-4870.
Gómez D, Morán M. 2005. Extracción e identificación de los metabolitos secundarios presentes en los frutos maduros de Carica candamarcensis Hooker filius [Tesis de Grado]. [Pasto (Colombia)]: Universidad de Nariño. p. 250.
Goodman KJ, Correa P, Tengana-Aux HJ, DeLany JP, Collazos T. 1997. Nutritional factors and Helicobacter pylori infection in Colombian children. Journal of Pediatric Gastroenterology and Nutrition, 25: 507-515.
Goodman KJ, Correa P, Mera R, Yépez M, Cerón C, Campo C, Guerrero N, Sierra M, Bravo L. 2011. Effect of Helicobacter pylori infection on growth velocity of school-age Andean children. Epidemiology, 22 (1): 118-126.
Hernández E, Ponce E, Jaramillo ME, Guerrero I. 2009. Antioxidant effect rosemary (Rosmarinus officinalis L.) and oregano (Origanum vulgare L.) extracts on TBARS and colour of model raw pork batters. Meat Science, 81: 410-417.
Huang S, Zheng R. 2006. Rosmarinic acid inhibits angiogenesis and its mechanism of action in vitro. Cancer Letters, 239: 271-280.
Izumi M, Satoh T, Inukai Y, Tutumi Y, Nakayama N, Kosaka K, Itoh K. 2007. Carnosic acid and carnosol as neuroprotective electrophilic compounds. Neuroscience Research, 58: 208-1208.
Kannan R, Babu UV. 2012. Identity and pharmacognosy of Ruta graveolens Linn. Ancient Science of Life, 32 (1): 16-19.
Kim SY, Park E, Park JA, Choi BS, Kim S, Jeong G, Kim CS, Kim-do K, Kim SJ, Chun HS. 2010. The plant phenolic diterpene carnosol suppresses sodium nitroprusside-induced toxicity in c6 glial cells. Journal of Agricultural and Food Chemistry, 58 (3): 1543-1550.
Li GS, Jiang WL, Tian JW, Qu GW, Zhu HB, Fu FH. 2010. In vitro and in vivo antifibrotic effects of rosmarinic acid on experimental liver fibrosis. Phytomedicine, 17 (3-4): 282-288.
Maron D, Ames B. 1983. Revised methods for the Salmonella mutagenicity test. Mutation Research, 113 (3-4): 173-215.
Maves RC, Castillo R, Guillen A, Espinosa B, Meza R, Espinoza N, Núñez G, Sánchez L, Chacaltana J, Cepeda D, González S, Hall ER. 2011. Antimicrobial susceptibility of Brucella melitensis isolates in Peru. Antimicrobial Agents and Chemotherapy, 55: 1279-1281.
Mena-Huertas J, Yépez-Chamorro MC. 2007. Actividad antibacteriana in vitro de extractos de plantas medicinales regionales promisorias sobre aislamientos de Helicobacter pylori. Revista Universidad y Salud, 1 (8): 7-15.
Mena-Huertas J, Embus-Córdoba C, Rosero-Ruiz VL, Navarro-Yépez J, Ortiz-Trujillo IC, Yépez-Chamorro MC. 2011. Ausencia de efecto citotóxico, mutagénico y genotóxico de extracto acuoso y aceite esencial de Carica candamarcensis Hook. (Plantae: Caricaceae). Actualidades Biológicas, 33 (95): 153-164.
Mortelmans K, Zeiger E. 2000. The Ames Salmonella/microsomemutagenicity assay. Mutation Research, 455 (1-2): 29-60.
Oluwatuyi M, Kaatz GW, Gibbons S. 2004. Antibacterial and resistance modifying activity of Rosmarinus officinalis. Phytochemistry, 65: 3249-3254.
Paulini H, Popp R, Schimmer O, Ratka O, Röder E. 1991. Isogravacridonchlorine: a potent and direct acting frameshift mutagen from the roots of Ruta graveolens. Planta Medica, 57 (1): 59-61.
Peng CH, Su JD, Chyau CC, Sung TY, Ho SS, Peng CC, Peng RY. 2007. Supercritical fluid extracts of rosemary leaves exhibit potent anti-inflammation and anti-tumor effects. Bioscience, Biotechnology and Biochemistry, 71: 2223-2232.
Preethi KC, Kuttan G, Kuttan R. 2006. Anti-tumour activity of Ruta graveolens extract. Asian Pacific Journal of Cancer Prevention, 7 (3): 439-443.
Ryuzo D, Hidemasa N, Emiko R, Norihisa N, Masanori S, Takayoshi S, Masashi M, Jun K, Muneki I, Hideki O, Ryuki F, Atsushi T 2012. Effect of pretreatment with Lactobacillus gasseri OLL2716 on first-line Helicobacter pylori eradication therapy. Journal of Gastroenterology and Hepatology, 27 (5): 888-892.
Satoh T, Izumi M, Inukai Y, Tsutsumi Y, Nakayama N, Kosaka K, Shimojo Y, Kitajima C, Itoh K, Yokoi T, Shirasawa T. 2008. Carnosic acid protects neuronal HT22 cells through activation of the antioxidant-responsive element in free carboxylic acid- and catechol hydroxyl moieties-dependent manners. Neuroscience Letters, 434 (3): 260-265.
Schimmer O, Kiefer J, Paulini H. 1991. Inhibitory effects of furocoumarins in Salmonella typhimurium TA98 on the mutagenicity of dictamnine and rutacridone, promutagens from Ruta graveolens L. Mutagenesis, 6 (6): 501-506.
Sienkiewicz M, Lysakowska M, Pastuszka M, Bienias W, Kowalczyk E. 2013 . The potential of use basil and rosemary essential oils as effective antibacterial agents. Molecules, 5: 18 (8): 9334-9351.
Silva NC, Fernandes A. 2010. Biological properties of medicinal plants: A review of their antimicrobial activity. Journal of Venomous Animals and Toxins including Tropical Diseases, 16: 402-413.
Trovato A, Monforte MT, Rossitto A, Forestieri AM. 1996. In vitro cytotoxic effect of some medicinal plants containing flavonoids. Bollettino Chimico Farmaceutico, 135 (4): 263-266.
Varamini P, Soltani M, Ghaderi A. 2009. Cell cycle analysis and cytotoxic potential of Ruta graveolens against human tumor cell lines. Neoplasma, 56 (6): 490-493.
Vijayan P, Raghu C, Ashok G, Dhanaraj SA, Suresh B. 2004. Antiviral activity of medicinal plants of Nilgiris. Indian Journal of Medical Research, 120: 24-29.
Wang YC. 2014. Medicinal plant activity on Helicobacter pylori related diseases. World Journal of Gastroenterology, 20 (30): 10368-10382.
Watanabe T, Hasei T, Takahashi Y, Otake S, Murahashi T, Takamura T, Hirayama T, Wakabayashi K. 2003.Mutagenic activity and quantification of nitroarenes in surface soil in the Kinki region of Japan. Mutation Research, 538 (1-2): 121-131.
Zegura B, Dobnik D, Niderl MH, Filipič M. 2011. Antioxidant and antigenotoxic effects of rosemary (Rosmarinus officinalis L.) extracts in Salmonella typhimurium TA98 and HepG2 cells. Environmental Toxicology and Pharmacology, 32 (2): 296-305.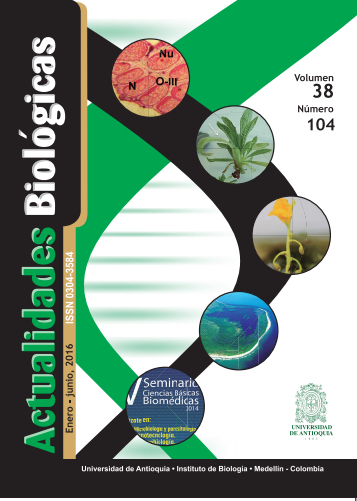 Cómo citar
Mena-Huertas, S. J., García-López, J. P., Nicola-Benavides, S. N., & Yépez-Chamorro, M. C. (2022). Inocuidad citotóxica y mutagénica de los aceites esenciales de <i>Rosmarinus officinalis</i>. L y <i>Ruta graveolens</i> L. promisorios para el tratamiento complementario de la infección por <i>Helicobacter pylori</i>. Actualidades Biológicas, 38(104), 37–44. https://doi.org/10.17533/udea.acbi.331463
Sección
Artículos completos
Licencia
Derechos de autor 2018 Actualidades Biológicas
Esta obra está bajo una licencia internacional Creative Commons Atribución-NoComercial-CompartirIgual 4.0.
Los autores autorizan de forma exclusiva, a la revista Actualidades Biológicas a editar y publicar el manuscrito sometido en caso de ser recomendada y aceptada su publicación, sin que esto represente costo alguno para la Revista o para la Universidad de Antioquia.
Todas las ideas y opiniones contenidas en los artículos son de entera responsabilidad de los autores. El contenido total de los números o suplementos de la revista, está protegido bajo Licencia Creative Commons Reconocimiento-NoComercial-CompartirIgual 4.0 Internacional, por lo que no pueden ser empleados para usos comerciales, pero sí para fines educativos. Sin embargo, por favor, mencionar como fuente a la revista Actualidades Biológicas y enviar una copia de la publicación en que fue reproducido el contenido.