Nuevos registros de macrohongos (Basidiomycota) para Colombia procedentes de un bosque seco tropical
Melissa Palacio

Universidad de Antioquia

Yossama Gutiérrez

Universidad de Antioquia

Ana E. Franco-Molano

Universidad de Antioquia

Ricardo Callejas-Posada

Universidad de Antioquia
Palabras clave:
biodiversidad, bosque seco tropical, macrohongos, taxonomía
Resumen
Se registraron en un bosque seco tropical en el noreste de Colombia (departamento Cesar), 12 especies de macrohongos previamente no conocidos para el país: Amanita aureofloccosa, A. crebresulcata (Amanitaceae), Daedalea flavida (Fomitopsidaceae), Ganoderma resinaceum (Ganodermataceae), Marasmius cohortalis (Marasmiaceae), Phellinus merrilli, P. aff. umbrinellus (Hymenochaetaceae), Phlebopus beniensis (Boletinellaceae), Podoschypha petalodes (Meruliaceae), Psathyrella murrilli (Coprinaceae), Rigidoporus ulmarius (Meripilaceae) y Trametes socotrana (Polyporaceae). Cada especie es descrita, sus relaciones taxonómicas se discuten y se proveen comentarios sobre su distribución y ecología.

|Resumen = 178 veces | PDF = 117 veces| HTML = 81 veces|
Descargas
La descarga de datos todavía no está disponible.
Citas
Baltazar JM, Baptista T. 2009. A checklist of the aphyllophoroid fungi (Basidiomycota) recorded from the Brazilian Atlantic Forest. Mycotaxon, 109: 439-442.
Baltazar JM, Trierveiler-Pereira L, Loguercio-Leite C. 2009. A checklist of xylophilous basidiomycetes (Basidiomycota) in mangroves. Mycotaxon, 107: 221-224.
Barbosa C, Ruiz C, García H, Gutiérrez T. 2008. Ubicación del Santuario de Vida Silvestre Los Besotes. En: Rodríguez-Mahecha JV,
Márquez W, editores. Guía ilustrada de plantas destacadas del Santuario de Vida Silvestre Los Besotes Valledupar, Cesar, Colombia. Conservación Internacional. Con descripciones y anotaciones sobre distribución, aspectos ecológicos y usos locales. Serie de Guías Tropicales de Campo. Conservación Internacional. Bogotá: Editorial Panamericana. p. 15-17.
Bas C. 1969. Morphology and subdivision of Amanita and a monograph of its section Lepidella. Persoonia, 5 (3): 285-579.
Bas C. 1978. Studies in Amanita I. Some Amazonian species. Persoonia, 10 (1): 1-22.
Bhatt RP, Tullos RE, Semwal K, Moncalvo J-M, Stephenson SL. 2003. Amanitaceae reported from India. A critically annoted checklist.
Mycotaxon, 88: 249-270.
Betancur MA, Calderón MH, Betancourt OG, Sucerquia AG. 2007.
Hongos macromycetes en dos relictos de bosque húmedo tropical montano bajo de la vereda la Cuchilla, Marmato, Caldas. Boletín Científico. Centro de Museos. Museo de Historia Natural, 11: 19-31.
Carranza J, Ruiz-Boyer A. 2005. Checklist of polypores of Costa Rica. Revista Mexicana de Micología, 20: 45-52.
Cepero-de García MC, Restrepo S, Franco-Molano AE, Cárdenas M,
Vargas N. 2012. Biología de hongos. Bogotá: Uniandes. p. 497.
Chalermpongse, A. 1987. Mycorrhizal survey of dry-deciduous and semi-evergreen dipterocarp forest ecosystems in Thailand. En: Kostermans AJGH, editor. Proceedings third round table conference on dipterocarps. Bogor: UNESCO, Jakarta. p. 81-102.
Chanona-Gómez F, Andrade-Gallegos RH, Castellanos-Albores J, Sánchez JE. 2007. Macrofungi from Parque Educativo Laguna Bélgica, Municipality of Ocozocoautla de Espinosa, Chiapas, Mexico. Revista Mexicana de Biodiversidad, 78: 369-381.
Chardon CE. 1928. Contribución al estudio de la flora micológica de Colombia. Boletín de la Sociedad Española de Historia Natural, 28 (2): 111-124.
Dennis RW. 1970. Fungus flora of Venezuela and adjacent countries. Kew Bulletin Additional Series III. Londres: J. Cramer. Vaduz. p. 531.
Dix JN, Webster J. 1995. Fungal Ecology. Londres: Champman y Hall. p. 549.
Etter A. 1993. Diversidad ecosistémica en Colombia hoy. En Nuestra diversidad biótica. Bogotá: Cerec y Fundación Alejandro Ángel Escobar. p 43-61.
Franco-Molano AE, Uribe-Calle E. 2000. Hongos Agaricales y Boletales de Colombia. Biota Colombiana, 1 (1): 25-43.
Franco-Molano AE, Aldana R, Halling R. 2000. Setas de Colombia (Agaricales, Boletales y otros hongos). Guía de campo. Medellín: Colciencias-Universidad de Antioquia. p. 156.
Franco-Molano AE, Vasco-Palacios AM, López-Quintero CA, Boekhout
T. 2005. Macrohongos de la región del medio Caquetá-Colombia, Guía de campo, Grupo Taxonomía y Ecología de Hongos. Medellín: Universidad de Antioquia, Multimpresos. p. 219.
García A, Bolaños AC. 2010. Macrohongos presentes en el bosque seco tropical de la región del Valle del Cauca, Colombia. Revista de
Ciencias, Universidad del Valle, 14: 45-54.
Gilbert GS, Gorospe J, Ryvarden L. 2008. Host and habitat preferences of polypore fungi in Micronesian tropical flooded forests. Mycological Research, 112 (6): 674-680.
Gilbertson RL, Ryvarden L. 1993. European Polypores. Oslo: Synopsis fungorum 6, Fungiflora. p 743.
Gomes-Silva AC, Gibertoni BT. 2009. Checklist of the aphyllophoraceous fungi (Agaricomycetes) of the Brazilian Amazonia. Mycotaxon, 108: 319-322.
González-Ball R., Ruiz-Boyer A, Carranza J. 2004. Lenzites acuta Berk. (Polyporaceae, Polyporales), un nuevo registro para Costa Rica y Panamá. Brenesia, 62: 75-76.
Guzmán G, Varela L. 1978. Los hongos de Colombia III. Observaciones sobre los hongos, líquenes y mixomicetos de Colombia. Caldasia, 12 (58): 309-338.
Guzmán G, Torres M, Ramírez-Guillen F, Ríos-Hurtado A. 2004. Introducción al conocimiento de los Macromicetos del Chocó, Colombia. Revista Mexicana de Micología, 19: 33-43.
Halling R. 1989. A Synopsis of Colombian Boletes. Mycotaxon, 34 (1): 93-113.
Hawksworth DL. 1991. The fungal dimension of biodiversity:
magnitude,significance and conservation. Mycological Research, 95: 641-655.
Hawksworth DL. 2001. The magnitude of fungal diversity: The 1.5 million species estimate revisited. Mycological Research, 105:1422-1432.
Hoang-Pham N-D, Yamada A, Shimizu K, Noda K, Tuan-Dang L-A, Suzuki A. 2012. A sheathing mycorrhiza between the tropical bolete Phlebopus spongiosus and Citrus maxima. Mycoscience 53 (5): 347-353.
Holdridge LR. 2000. Ecología basada en zonas de vida. Quinta reimpresión. San José (Costa Rica): Instituto Interamericano de Cooperación para la Agricultura (IICA). p. 216.
IavH (Instituto Alexander von Humboldt). 1998. El Bosque seco tropical (bs-T) en Colombia. Programa de inventario de la biodiversidad grupo de exploraciones y monitoreo ambiental GEMA. p. 24
Largent DL. 1986. How to identify mushrooms to genus. (I) Macroscopic features; (II; III) Field identification of genera and microscopic features. California: Mad River Press Inc. p. 166.
Largent DL, Johnson D, Watling R. 1977. How to identify mushrooms to genus III: microscopic features. California: Mad River Press Inc., Eureka Printing Co. Inc. p. 148.
Larsen MJ, Cobb-Poulle LA. 1990. Phellinus (Hymenochaetaceae) a survey of the world taxa. Oslo: Synopsis fungorum 3. Fungiflora. p. 206. Lodge JD, Chapela I, Samuels G, Uecker FA, Desjardin D, Horak E, Milller OK Jr, Hennebert GL, Decock CA, Ammirati J, Burdsall, HH Jr, Krik PM, Minter DW, Hailing R, Laessoe T, Mueller G, Huhndorf S, Oberwinkler F, Pegler DN, Spooner B, Peterson RH, Rogers JD, Ryvarden L, Watling R, Turnbull E, Whalley AJS. 1995. A survey of patterns of diversity in non-lichenized Fungi. Mitteilungen der Eidgenössischen Forschungsanstalt Wald Schnee Landschaft, 70 (1): 157-173.
Lodge JD, Mueller GM, O'Dell TE. 2004 Approaches to sampling
macrofungi. En: Mueller GM, Bills GF, Foster MS, editores. Biodiversity of fungi: inventory and monitoring methods. Elsevier. p 127-172.
Loguercio-Leite C, Campos-Santana M, Gerlach A, Guthjar M, Trierveiler-Pereira L, Drechsler-Santos R, Baltazar JM. 2009.
Sinopse de Macromicetes em Santa Catarina, Brasil. Revista de Botânica Insula, Florianópolis, 38: 1-14.
Mueller GM, Schmit JP. 2007. Fungal biodiversity: What do we know?
What can we predict? Biodiversity and Conservation, 16:1-5.
Newman EI, Reddell P. 1987. The Distribution of Mycorrhizas among families of vascular plants. New Phytologist, 106: 745-751.
Núñez M, Ryvarden L. 2000. East Asian polypores 1.
Ganodermataceae and Hymenochaetaceae. Oslo: Synopsis Fungorum 13. Fungiflora. p.168.
Núñez M, Ryvarden L. 2001. East Asian polypores 2. Polyporaceaes. lato. Oslo: Synopsis Fungorum 14. Fungiflora. p. 170-522.
Pegler DN. 1977. A preliminary agaric flora of East Africa. Kew Bulletin Additional series VI. Londres: H.M. Stationery Off. p. 615.
Pegler DN. 1983. Agaric flora of the Lesser Antilles. Kew Bulletin Additional series IX. Londres: Royal Botanic Garden. p. 668.
Pegler DN. 1987. A Revision of the Agaricales of Cuba 2. Species described by Earle and Murrill. Kew Bulletin: 42 (4): 855-888.
Pohsri Ch., Polme S, Taylor AF, Koljalg U, Suwannasai N, Thedersoo L. 2012. Diversity and community composition of ectomycorrhizal
fungi in a dry deciduous dipterocarp forest in Thailand. Biodiversity and Conservation, 21 (9): 2287-2298.
Pulido MM. 1983. Estudios en agaricales colombianos: los hongos de Colombia IX. Biblioteca José Jerónimo Triana N.o 7. Bogotá (Colombia): Instituto de Ciencias Naturales, Universidad Nacional de Colombia. p. 143.
Reid DA. 1965. A monograph of the stipitate stereoid fungi. Beihefte zur Nova Hedwigia. Heft 18. p. 483. Junk publ. Berlin
Robledo GL, Rajchenberg M. 2007. South American polypores: first annotated checklist from Argentinean Yungas. Mycotaxon, 100: 5-9.
Rogers JD, Dumont KP. 1979 Los Hongos de Colombia VI. Two New Applanate Species of Hypoxylon. Mycologia, 71 (4): 807-810.
Ryvarden L. 1976. Type studies in the Polyporaceae, 7. Species Described by J. M. Berkeley from 1836 to 1843. Kew Bulletin 31 (1): 81-103.
Ryvarden L, Johansen I. 1980. A preliminary polypore flora of East Africa. Oslo: Fungiflora. p. 636.
Ryvarden L, Gilbertson RL. 1993. Abortiporus-Lindneria. European
Polypores. Synopsis fungorum, 6. Oslo: Fungiflora. p. 387
Ryvarden L, Iturriaga T. 2001. Studies in Neotropical Polypors 9. A
critical checklist of poroid fungi from Venezuela. Mycotaxon, 78: 393-405.
Ryvarden L. 2004. Neotropical polypores. Synopsis fungorum 19. Oslo: Fungiflora. p. 229.
Singer R. 1976. Marasmieae (Basidiomycetes–Tricholomataceae). Bronx, New York: Organization for Flora Neotropica by the New York Botanical Garden. p. 347.
Singer R, Araujo I, Ivory MH. 1983. The ectotrophically mycorrhizal Fungi of the Neotropical Lowlands, especially Central Amazonia. Beihefte zur Nova hedwigia. Alemania: Lubrecht & Cramer Limited. p. 352.
Smith AH. 1972. The North American species of Psathyrella. Memories of the New York Botanical Garden, 24: 1-633.
Sulzbacher MA, Grebenc T, Jacques RJS, Antoniolli ZI. 2013. Ectomycorrhizal fungi from southern Brazil – a literature-based review, their origin and potential hosts. Mycosphere, 4 (1): 61-95.
Tedersoo L, Bahram M, Jairus T, Bechem E, Chinoya S, Mpumba R, Leal M, Randrianjohany E, Razafimandimbison S, Sadam A, Naadel T, Kõljalg U. 2011. Spatial structure and the effects of host and soil environments on communities of ectomycorrhizal fungi in wooded savannas and rain forests of continental Africa and Madagascar. Molecular Ecology, 20: 3071-3080.
Torres-Torres MG, Guzmán-Dávalos L, Gugliotta A. 2012. Ganoderma in Brazil: known species and new records. Mycotaxon, 121: 93-132.
Tulloss R, Ovrebo C, Halling R. 1992. Studies on Amanita (Amanitaceae) from Andean Colombia. Memories of the New York Botanical Garden. 66: 27-30
Vasco-Palacios AM, Franco-Molano AE. 2013. Diversity of Colombian macrofungi (Ascomycota-Basiciomycota). Mycotaxon, 121: p. 48.
Vasco-Palacios AM, Franco-M AE, López-Q CA, Boekhout T. 2005. Macromicetes (Ascomycota, Basidiomycota) de la región del Medio Caquetá, departamentos de Caquetá y Amazonas (Colombia). Biota Colombiana, 6 (1): 127-140.
Wannathes N, Desjardin DE, Retnowati A, Tan YS, Lumyong S. 2004. A redescription of Marasmius pellucidus, a species widespread in South Asia. Fungal Diversity, 17: 203-218.
Wartchow F, Maia LC. 2007. The Neotropical Amanita crebresulcata Bas: new citation from Northeast Brazil. Hoehnea, 34 (2): 131-134.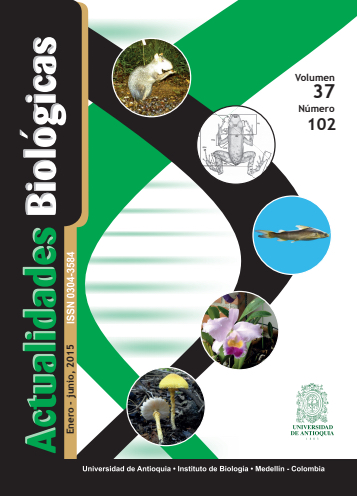 Cómo citar
Palacio M., Gutiérrez Y., Franco-Molano A. E., & Callejas-Posada R. (2017). Nuevos registros de macrohongos (Basidiomycota) para Colombia procedentes de un bosque seco tropical. Actualidades Biológicas, 37(102), 79-99. Recuperado a partir de https://revistas.udea.edu.co/index.php/actbio/article/view/331466
Sección
Artículos completos
Los autores autorizan de forma exclusiva, a la revista Actualidades Biológicas a editar y publicar el manuscrito sometido en caso de ser recomendada y aceptada su publicación, sin que esto represente costo alguno para la Revista o para la Universidad de Antioquia.
Todas las ideas y opiniones contenidas en los artículos son de entera responsabilidad de los autores. El contenido total de los números o suplementos de la revista, está protegido bajo Licencia Creative Commons Reconocimiento-NoComercial-CompartirIgual 4.0 Internacional, por lo que no pueden ser empleados para usos comerciales, pero sí para fines educativos. Sin embargo, por favor, mencionar como fuente a la revista Actualidades Biológicas y enviar una copia de la publicación en que fue reproducido el contenido.