A opacidade do sofrimento humano decorrente de desastres sob a perspectiva do jornalismo humanitário
Resumen
O Jornalismo Humanitário começa a erguer os seus primeiros alicerces no contexto da maior crise humanitária desde o final da Segunda Guerra Mundial. São milhões de vítimas da fome, dos conflitos armados, das guerras civis, da violência generalizada, dos desastres e das mudanças climáticas. Embora o sofrimento humano seja o retrato de milhões de pessoas em várias partes do mundo, agências humanitárias denunciam que esse sofrimento tem sido em silêncio, resultado da omissão e da indiferença dos meios de comunicação. Este ensaio, parcialmente escrito na primeira pessoa do singular, adota os preceitos e caminhos da compreensão para contar como vamos construir um jornalismo capaz de reduzir o sofrimento humano e, sobretudo, impedir que ele se dê em silêncio e na opacidade, marcada pelo "véu do esquecimento" e pela "rotina da normalidade".
|Resumen = 53 veces | PDF = 34 veces|
Descargas
La descarga de datos todavía no está disponible.
Citas
ACNUR – United Nations High Commissioner for Refugees. 2017. Global trends – Forced Displacement in 2016. UNHCR.
ARENDT, Hannah. 2008. A condição humana. 10a. ed. Rio de Janeiro: Forense Universitária.
BAUMAN, Zygmunt. 2017. Estranhos à nossa porta. Rio de Janeiro: Jorge Zahar.
BECK, Ulrich. 1999. World risk society. Cambridge: Polity Press.
GIDDENS, Anthony. 2010. A política da mudança climática. Rio de Janeiro: Zahar.
IDMC – Internal Displacement Monitoring Centre. 2018. Global report on internal displacement 2018. Genebra: IDMC. Disponible en: <http://www.internal-displacement.org/global-report/grid2018/>. [consultado el 20 dec. 2018].
KEMPF, Willhelm. 2016. Dangers of Peace journalism. Conflict & Communication Online. Vol. 15, n. 2. Disponible en: <http://www.cco.regener-online.de/2016_2/pdf/kempf2016_engl.pdf>. [consultado el 20 dec. 2018].
KI-MOON, Ban. 2016. Agenda for humanity. United Nations. Disponible en: <https://sustainabledevelopment.un.org/content/documents/2282agendaforhumanity.pdf>. [consultado el 20 dec. 2018].
MARTÍNEZ ALIER, Joan. 2007. O ecologismo dos pobres: conflitos ambientais e linguagens de valoração. São Paulo: Contexto.
SCOTT, Martin; BUNCE, Mel; WRIGHT, Kate. 2018. The state of Humanitarian Journalism. Norwich, England: University of East Anglia. Disponible en: <http://humanitarian-journalism.net/wp-content/uploads/2018/10/7_Humanitarian-News-Report.pdf>. [consultado el 20 dec. 2018].
SCOTT, Martin. 2017. What makes news humanitarian? The dilemmas of reporting on suffering. In: Public Media Alliance. Maio de 2017. Disponible en: https://www.publicmediaalliance.org/what-makes-news-humanitarian/>. [consultado el 23 dec.2018]
SHINAR, Dov. 2009. Jornalismo de guerra e de paz no Oriente Médio. Líbero. São Paulo. V. 12, n. 24, p. 9-20.
UNISDR. 2015. Sendai framework for disaster risk reduction 2015-2030. Disponible en: <http://www.unisdr.org/we/inform/publications/43291>. [consultado el 20 dec. 2018].
UNISDR. 2010. Disaster through a different lens: behind every effect, there is a cause. Disponible en: <https://www.unisdr.org/files/20108_mediabook.pdf>. [consultado el 20 dec. 2018].
VEYRET, Yvette. 2007. Os riscos: o homem como agressor e vítima do meio ambiente. São Paulo: Contexto.
VICTOR, Cilene. 2014. Diálogo nos cenários de riscos de desastres. En: KÜNSCH; AZEVEDO; BRITO; MANSI (Orgs.). 2014. Comunicação, diálogo e compreensão. Plêiade, p. 179-191.
YOUNG-BRUEHL, Elisabeth. 1997. Hannah Arendt: por amor ao mundo. Rio de Janeiro: Relume Dumará.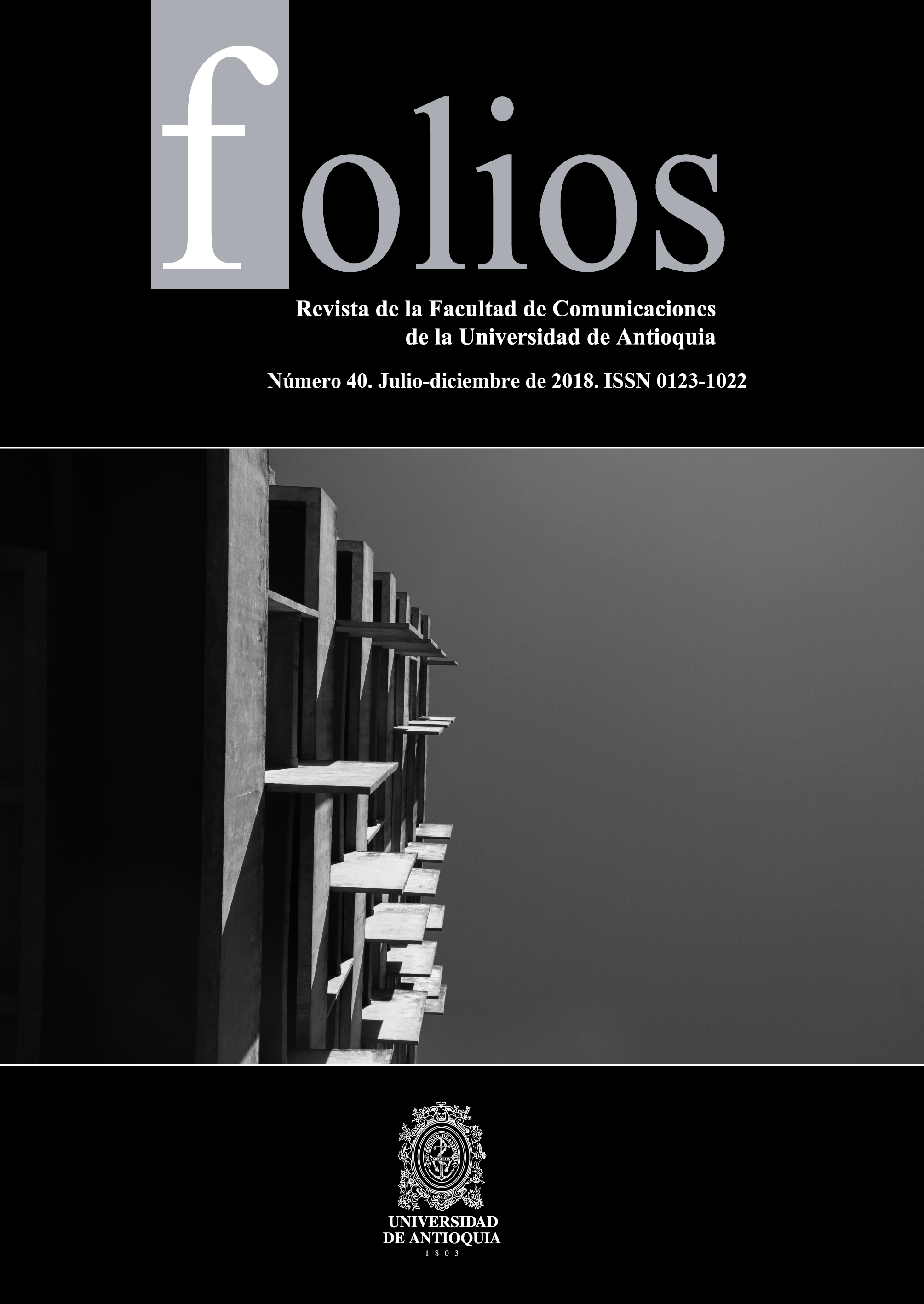 Cómo citar
Victor, C. (2019). A opacidade do sofrimento humano decorrente de desastres sob a perspectiva do jornalismo humanitário. Folios, Revista De La Facultad De Comunicaciones, (40), 97-109. Recuperado a partir de https://revistas.udea.edu.co/index.php/folios/article/view/338479
Los documentos deberán ser inéditos y no podrán ser sometidos a
consideración simultánea de otras publicaciones. Los textos enviados tampoco pueden estar publicados en un sito web y de ser así el autor, una vez aprobada su publicación en FOLIOS, debe comprometerse a retirar el artículo del sitio web donde sólo quedará el título, el resumen, las palabras clave y el hipervínculo de la revista. Para el caso de las traducciones la revista le exigirá una carta al traductor donde conste que el autor original y la editorial, donde ha sido publicada previamente, le han cedido los derechos de publicación del artículo y cuya consecución es exclusiva responsabilidad del traductor.