Evaluación de la bioestimulación de un consorcio microbiano para la degradación de PCB en suelo
Palabras clave:
biorremediación, PCB, bioaumentación, biodegradación
Resumen
En este trabajo se aislaron dos microorganismos con capacidad de degradar "capacidad de degradar policlorobifenilos (PCB)", a partir de suelo contaminado y se evaluó su efecto como inoculo para realizar bioaumentación con el fin de recuperar suelos contaminados con PCB. Los microorganismos fueron identificados como Pseudomonas spp. y Stenotrophomonas spp. Se determinó su capacidad de degradar PCB usando los congéneres 44, 66, 118, 138, 153, 170 y 180. En medio líquido usando los PCB como fuente de carbono, se obtuvo porcentajes de degradación de 37%, 32,6% y 15% para los PCB 44, 66 y 118. En los ensayos de bioaumentación se utilizó suelo estéril y suelo no estéril, obteniéndose mayores porcentajes de degradación para todos los congéneres en el suelo estéril, lo cual demostró el efecto negativo de la microbiota autóctona sobre el inoculo adicionado.
|Resumen = 457 veces | PDF 16-24 = 934 veces|
Descargas
Los datos de descargas todavía no están disponibles.
Citas
Vasilyeva G, Strijakova E. Bioremediation of Soils and Sediments Contaminated by Polychlorinated Bi-phenyls. Microbiology 2007; 76 :639-53
Gomes H, Dias-Ferreira C, Ribeiro A. Overview of in situ and ex situ remediation technologies for PCB-contaminated soils and sediments and obstacles for full-scale application. Sci Total Environ 2013; 445-6:237-60
Aken BV, Correa PA, Schnoor JL. Phytoremediation of polychlorinated biphenyls: new trends and promi-ses. Environ Sci Technol 2009; 44: 2767-76
Hornbuckle K, Robertson L. Polychlorinated Bi-phenyls (PCBs): Sources, Exposures, Toxicities. Environ Sci Technol 2010; 44:2749-51
Wolska L, Mechlińska A, Rogowska J, Namieśnik J.Polychlorinated biphenyls (PCBs) in bottom sedi-ments: Identification of sources. Chemosphere 2014; 111:151-6
Xu L, Teng Y, Li Z, Norton J, Luo Y. Enhanced removal of polychlorinated biphenyls from alfalfa rhizosphere soil in a field study: The impact of a rhizobial inocu-lum. Sci Total Environ 2010; 408:1007-13
Fiedler H, Abad E, Van Bavel B, De Boer J, Bogdal C, Malisch R. The need for capacity building and first results for the Stockholm Convention Global Monito-ring Plan. Trend Anal Chem 2013; 46:72-84
Passatore L, Rossetti S, Juwarkar A, Massacci A. Phytoremediation and bioremediation of polychlorina-ted biphenyls (PCBs): State of knowledge and research perspectives. J Hazard Mater 2014; 278:189-202
Hornbuckle K, Robertson L. Polychlorinated Biphen-yls (PCBs): Sources, Exposures, Toxicities. Environ Sci technol 2010; 44:2749-275110. Giesy J, Kannan K. Dioxin-like and non-dioxin like effects of polychlorinated biphenyls: Implications for risk assessment. Lakes & Reservoirs: Research& Mana-gement 2002; 7:139-181
Pu X, Lee L, Galinsky R, Carlson G. Bioavailability of 2,3' pentachlorobiphenyl (PCB118) and 2,2' model and a physiologically based extraction test. Toxicolo-gy 2006; 217:14-21
Dorneles P, Sanz P, Gauthier E, Alexandre F, Caro-lina A, Bertozzi P, Martínez M, et al. High accumu-lation of PCDD, PCDF, and PCB congeners in marine mammals from Brazil: A serious PCB problem. Sci Total Environ 2013; 463-464:309-18
Rajaei F, Bahramifar N, Esmaili Sari A, Ghasempou-ri M, Savabieasfahani M. PCBs and Organochlorine Pesticides in Ducks of Fereydoon-kenar Wildlife. Bull Environ Contam Toxicol 2010; 84:577-81
Brown T, Kuzyk Z, Stow J, Burgess N, Solomon S, Sheldon T, et al. Effects-based marine ecological risk assessment at a polychlorinated biphenyl-contamina-ted site in Saglek, Labrador, Canada. Environ Toxicol Chem 2013; 32:453-467
Vasilyeva G, Strijakova E. Bioremediation of Soils and Sediments Contaminated by Polychlorinated Bi-phenyls. Microbiology 2007; 76:639-653
Tandlich R, Brezná B, Dercová K. The effect of ter-penes on the biodegradation of polychlorinated biphenyls by Pseudomonas stutzeri. Chemosphere 2001; 44:1547-55
Dudášová H, Lukáčová L, Murínová S, Puškárová A, Pangallo D, Dercová K. Bacterial strains isolated from PCB-contaminated sediments and their use for bioaugmentation strategy in microcosms. J Basic Mi-crobiol 2014; 54:253-60
Fagervold SK, Watts JEM, May HD, Sowers KR. Effects of bioaugmentation on indigenous PCB de-chlorinating activity in sediment microcosms. Water Res 2011; 45:3899-907
Mrozik A, Miga S, Piotrowska-Seget Z. Enhance-ment of phenol degradation by a soil bioaugmenta-tion with Pseudomonas spp. JS150. J Appl Microbiol 2011; 111:1357-70
Guimarães BCM, Arends JBA, van der Ha D, Van de Wiele T. Microbial services and their management: recent progresses in soil bioremediation technology. Appl Soil Ecol 2010; 46:157-67
Ionescu M, Beranovaa K, Dudkovaa V, Kochanko-vac L, Demnerovaa K, Macekb T, et al. Isolation and characterization of different plant associated bacteria and their potential to degrade polychlorinated biphen-yls. Int Biodeterior Biodegradation 2009; 63:667-72
M AV DT. Ministerio de Ambiente, Vivienda y Desarro-llo Territorial. Inventario preliminar de Compuestos Bifenilos Policlorados- PCB existentes en Colombia, Informe final; 2006.
Pham T, Tu Y, Sylvestre M. Remarkable abilities of Pandoraea pnomenusa B356 biphenyl dioxygenase to metabolize simple flavonoids. Appl Environ Microb 2012; 78:35-60
Dercova K, Cicmanova J, Lovecka P, Demnerova K, Mackova M, Hucko P, et al. Isolation and identifica-tion of PCB-degrading microorganisms from conta-minated sediments. Int Biodeterior Biodegradation 2008; 62:219-25
EPA. Method 8082A Polychlorinated Biphenyls (PCBs)24by Gas Chromatography 2007
Randall J, Goldberg N, Kemp J, Radionenko M, French M, Olsen M, et al. SGenetic Analysis of a Novel Xylella fastidiosa Subspecies Found in the Southwestern United States. Appl Environ Microb 2009; 75: 5631-8
Li Y, Liang F, Zhu Y, Wang F. Phytoremediation of a PCB-contaminated soil by alfalfa and tall fescue single and mixed plants cultivation. J Soil Sci 2013;13:925-31
Salihoglu G, Salihoglu N, Aksoy E, Tasdemir Y. Spatial and temporal distribution of polychlorinated biphenyl (PCB) concentrations in soils of an industria-lized city in Turkey. J Environ Manage 2011; 92:724-32
Fairey J, Wahman D, Lowry G. Effects of natural orga-nic matter on PCB-activated carbon sorption kinetics: implications for sediment capping applications. J En-viron Qual 2010; 39:1359-68
Backe C, Cousins IT, Larsson P. PCB in soils and es-timated soil-air exchange f uxes of selected PCB con-geners in the south of Sweden. Environ Pollut 2004; 128: 59-72
Furukawa K, Fujihara H. Microbial degradation of polychlorinated biphenyls: Biochemical and molecu-lar features. J Biosci Bioeng 2008;105:433-49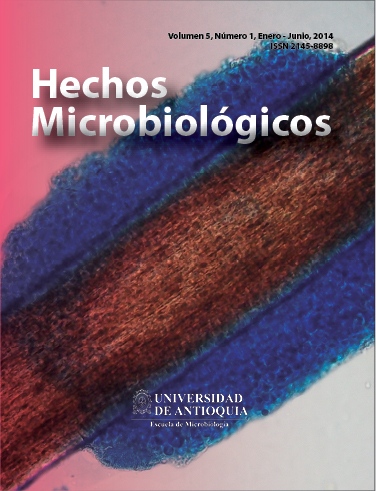 Descargas
Cómo citar
Pino R., N. johanna ., Munera, L., & Peñuela, G. . (2016). Evaluación de la bioestimulación de un consorcio microbiano para la degradación de PCB en suelo. Hechos Microbiológicos, 5(1), 16–24. https://doi.org/10.17533/udea.hm.323246
Sección
Artículos de investigación original