Detección y seguimiento de la mastitis en un hato de ganado Brahman en el trópico bajo colombiano
Abstract
In a Brahman cattle farm (573 breeding cows) located in the lowland tropics of Colombia the weight gain of nursing calves decreased with no apparent cause and several cows had non-functional udders. Objective: to assess udder health by means of the presence of subclinical mastitis using CMT or clinical mastitis. Methods: all the cows of the farm were monitored. During 41 months, from September 2002 until January 2006, a total of 8,460 udder quarters were sampled to establish the evolution of mastitis. Cows with clinical or subclinical moderate or severe mastitis were treated with one of five antibiotics, and the effect of the treatment was determined. Descriptive statistics was conducted and disease evolution was analyzed taking in account the results of CMT in time determined to understand the evolution of the disease. Results: a total of 1,013 cows were evaluated for a first CMT. Out of 4,048 quarters examined, 17.5% (708) showed some degree of mastitis, and 249 (6.1%) of these had clinical or subclinical type 3 mastitis (49 or 1.2%, and 200 or 4.9%, respectively). One udder quarter was diagnosed useless in 5.68% of the observations. Treated cows were followed up in subsequent CMTs until complete cure was established. Conclusion: a positive effect of the antibiotic treatment was observed in 77.7% of the cases.

Key words: antibiotics, beef cattle, brahman, mastitis, tropical pasture, Zebu cattle.

Resumen

En una hacienda de ganado Brahman con 573 vacas de cría, ubicada en el trópico bajo colombiano, se observó que la ganancia de peso de los terneros lactantes se disminuía sin una causa aparente y que varias vacas tenían los cuartos perdidos. Objetivo: realizar una evaluación de la salud de la ubre para determinar la presencia de mastitis subclínica a través del CMT o clínica. Métodos: el seguimiento se hizo en el total de vacas presentes en el hato, se muestrearon 8.460 cuartos, durante 41 meses desde septiembre de 2002 a enero de 2006, con el fin de determinar la evolución de la mastitis en los cuartos afectados. Las vacas que fueron detectadas con mastitis clínica o subclínica moderada o severa, fueron tratadas con uno de cinco antibióticos y luego se determinó el efecto del tratamiento aplicado. Se utilizó la estadística descriptiva y se analizó la evolución de la enfermedad teniendo en cuenta los resultados del CMT en el tiempo. Resutados: para un primer CMT se evaluaron 1,013 vacas; de 4,048 cuartos examinados se encontró que el 17.5% (708 cuartos) se encontraban con algún grado de mastitis, de los cuales 249 (6.1%) presentaban mastitis clínica y mastitis subclínica tipo 3 (49 (1.2%) y 200 (4.9%) respectivamente). Se detectó un cuarto perdido en el 5.68% de las observaciones. Las vacas con mastitis que fueron tratadas se observaron en posteriores CMT hasta determinar su curación completa. Conclusión: se observó un efecto positivo de la utilización del tratamiento antibiótico luego del diagnóstico de mastitis y su posterior evaluación con el CMT en el 77.7% de los casos.

Palabras clave: antibióticos, brahman, cebú, ganado de carne, mastitis, pastoreo tropical.

Resumo

Em uma fazenda de gado bovino com 573 vacas Brahman, localizado na região de trópico baixo da Colômbia foi observado que o ganho de peso de bezerros em lactação foi reduzido sem uma causa aparente e que várias vacas tinham perdido um quarto. Objetivo: foi decidido realizar uma avaliação da saúde do úbere para a presença de mastite clínica e subclínica através do teste de CMT. Métodos: o monitoramento foi realizado no total de vacas do rebanho. 8.460 quartos foram amostrados durante 41 meses (setembro de 2002 até janeiro de 2006) com o propósito de determinar a evolução da mastite no quarto afetado. As vacas que foram detectadas com mastite clínica ou subclínica moderada ou severa foram tratadas com diferentes antibióticos, com posteriores exames para determinar o efeito do tratamento aplicado na perda da quarto. Utilizou-se estatística descritiva e algumas interações foram realizadas para tentar compreender a evolução da doença. Resultados: no inicio do estudo, 1.013 vacas foram avaliadas com o teste do CMT durante o período de amostragem. De 4.048 quartos examinados foram encontrados 708 quartos (17.5%) com algum grau de mastite, dos quais 249 (6.1%) apresentaram mastite clínica e mastite subclínica tipo 3 (1.2% e 4.9%, respectivamente). Encontrou-se um 5.68% de quartos perdidos. Vacas com mastite foram tratadas e mais tarde foi realizado o teste de CMT para determinar a sua cura completa. Conclusões: Houve um efeito positivo do uso do tratamento com antibiótico após o diagnóstico da mastite e avaliação posteriores com CMT em 77.7% dos casos.

Palavras chave: antibiótico, bovinos de corte, Brahman, mastite, pastagens tropicais, zebuínas.
|Abstract = 62 veces | PDF = 29 veces| | HTML = 159 veces|
Downloads
Download data is not yet available.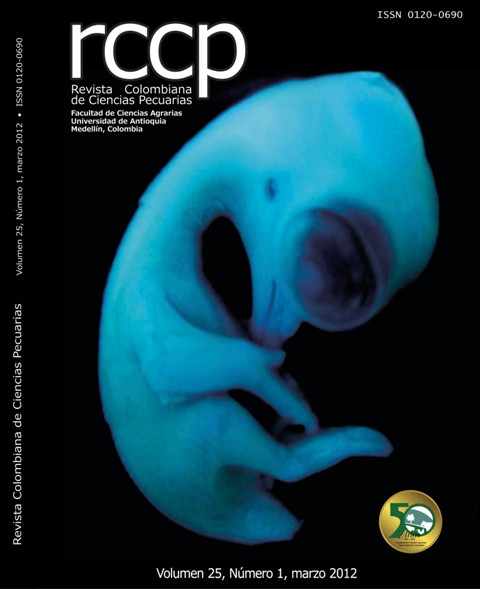 How to Cite
Ruiz J, A. F., Tobón, C., & Olivera, M. (2012). Detección y seguimiento de la mastitis en un hato de ganado Brahman en el trópico bajo colombiano. Revista Colombiana De Ciencias Pecuarias, 25(1), 71–80. https://doi.org/10.17533/udea.rccp.324735
Section
Original research articles
License
The authors enable RCCP to reprint the material published in it.
The journal allows the author(s) to hold the copyright without restrictions, and will allow the author(s) to retain publishing rights without restrictions.